To update you all, Baby J and I are still here in Pensacola visiting Hubby, but we'll be heading back up north soon. Hubby will be heading to Texas for a few more months of training, then we'll all be reunited and move to the Baltimore/DC area together this summer. Busy, but fun times are coming! …Along with family outing posts about the Northern Virginia/DC/Maryland area.
Two Saturdays ago, the three of us visited the National Naval Aviation Museum on Naval Air Station Pensacola, Florida. This was Baby J's first air museum, and he clearly loved it. I took dozens of photos of him and could not get him to stand still for most of them. They're almost all blurry!
Museum admission and parking are both free. The guided tours and flight line trolley tours are also free! You do need to sign up for those at the information desk. Attractions that charge include the IMAX, flight simulators, and the Blue Angels X4D Experience. See the website for current ticket info.
You will need a valid ID to enter base and the museum. Concealed weapons are not allowed on the naval station, and you cannot carry a backpack into the museum. We did bring a small diaper bag that we placed in the bottom of the stroller. Also, you're not supposed to bring food or drinks in, but nobody stopped me over Baby J's sippy cup, and I did have some of his snacks along (no one questioned that).
Other than Thanksgiving, Christmas, and New Year's, the museum is open all year, from 9am to 5pm. The IMAX theater, gift shop, and cafe hours differ, so check online before heading out there.
The museum has more than 150 restored aircraft on display. The exhibits include Homefront U.S.A., World War II, Pacific Island, and Naval Aviation in the Persian Gulf. There are really too many to mention here, but you can find a list on the museum's website.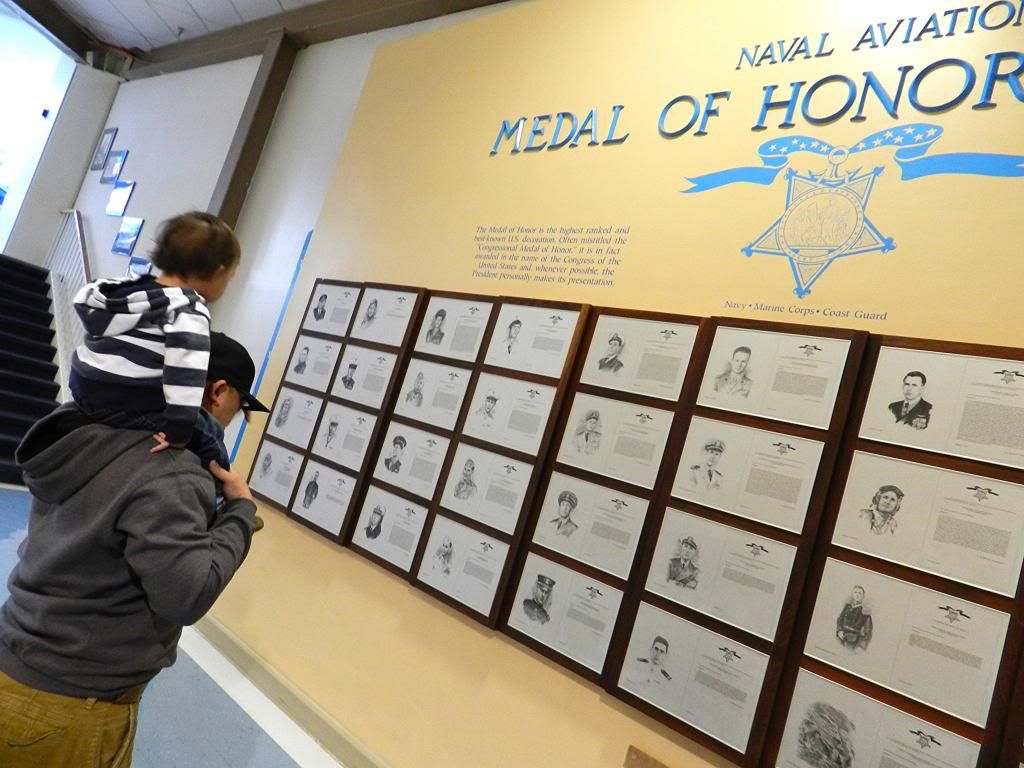 It's been years since I visited this museum, so it was really neat to see how it's changed and grown. There's an entire second building now (a hangar) dedicated to more "modern" aircrafts including an unmanned aerial vehicle and Marine One.
One of Baby J's favorite places in the museum was the Kiddie Hawk play area. It's modeled after the island of an aircraft carrier, completely with rope ladders, binoculars, periscopes, and more. There's also a slide, but Baby J was too chicken to go down by himself, and people older than 5 are not allowed on the play equipment. =D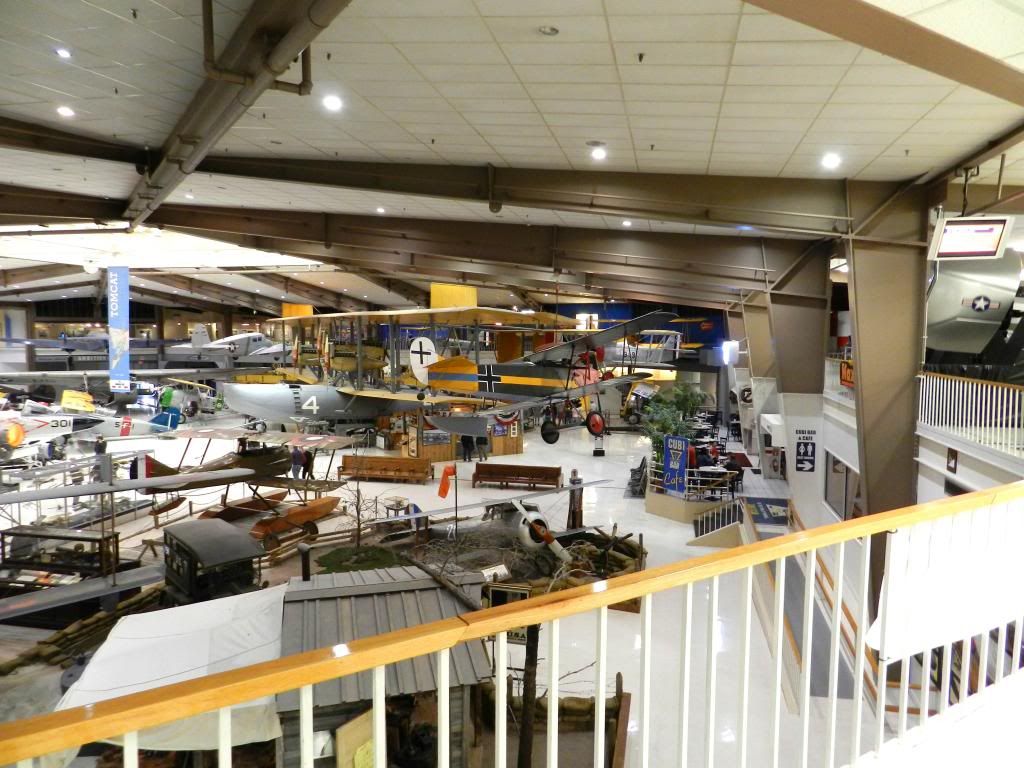 Baby J kept pointing at the air planes and yelling, "Oh, wow!" so I definitely think he's ready for an air show! I'm really enjoying taking him to museums and attractions now that he's getting older; seeing the wonder on his little face is an amazing thing.
There were raised areas here with steps, but ramps were always easy to find. We did have a little trouble locating the elevators for the Second Deck. We ended up taking an elevator up, but carrying the stroller down the stairs to get back down (I wouldn't recommend this). There are (supposedly) two elevators from the First to the Second Deck. I should confess that we never checked for a museum map.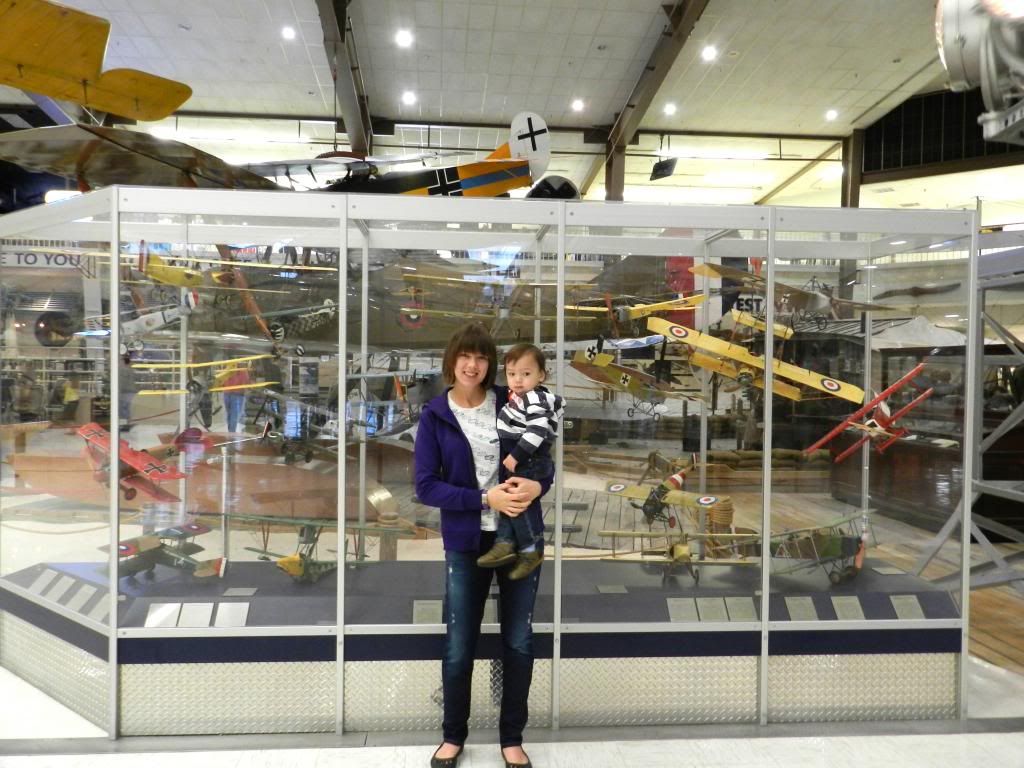 We went spent a couple of hours there total, but you could definitely spend more time if you read all the plaques, watched the movies, and perhaps visited the simulators. Baby J refused to sit in his stroller -he wanted to run everywhere- and he was starting to really lag, so we ended up calling it a day without seeing everything.
If you're in the Pensacola area, I recommend spending a morning or afternoon at the museum. If the Blue Angels are in town, you can even head outside, sit on the available bleachers, and watch them practice overhead! You can usually see them Tuesday and Wednesday mornings for about an hour beginning at 11:30, March to November. After Wednesday practices, the pilots will often come inside the museum to sign autographs.
Unfortunately, we weren't able to see them flying during our Pensacola visit, as the Blues are currently in California for some air shows. You can read the Blue Angel's show schedule for more information.
Are you a homeschooling family? They have a distance learning program with on-demand video courses. Learn about air pressure, altitude, and more. The museum property is also home to the National Flight Academy, and registration is now open for their six-day educational summer camps.
Have you ever been to the National Naval Aviation Museum? Do you enjoy going to air shows and/or museums?