Have you seen the Nûby iMonster products? Nûby sent me an iMonster cup to review!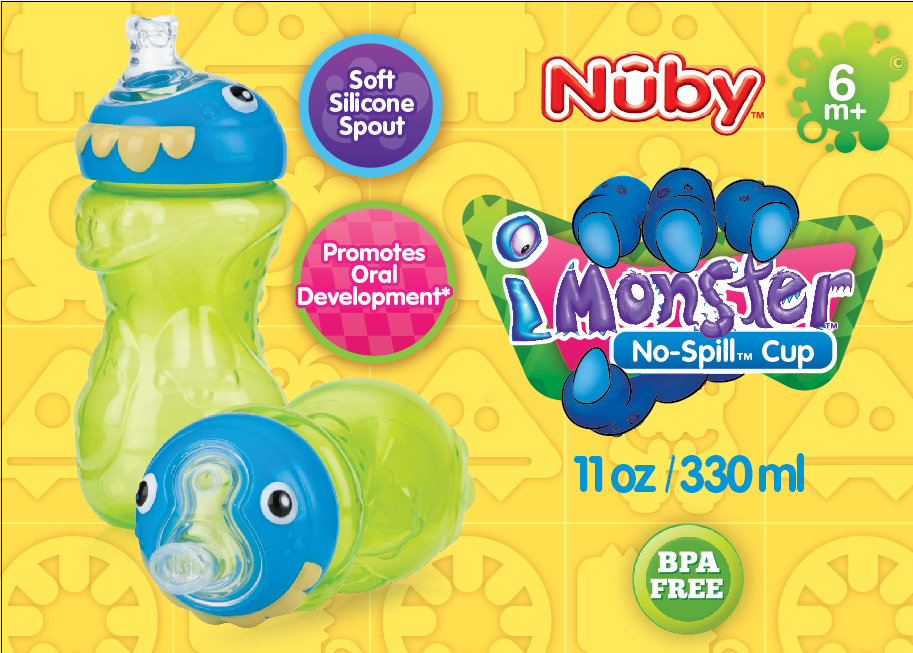 About:
The Nûby iMonster No-Spill Cup is a Step 2 cup designed for little ones six months and older. This BPA-free, 11oz cup holds plenty of liquids while encouraging natural drinking action and oral development.
The iMonster series also includes a snack keeper, fork and spoon, toddler plate, and toddler bowl.
Our Experiences:
I've enjoyed all of our Nûby cups, and this was no exception. I prefer the one-piece spout that the iMonster No-Spill Cup has to other designs. Although I see benefits to having a removable spout, it can be hard to keep track of a loose spout in the sink or dishwasher.
If you're unfamiliar with the one-spout design, they are "no-spill" if they're just tipped or waved around. However, keep in mind that if your child drops the cup directly onto its spout, the pressure on the spout will allow liquid to escape. So in most, but not all, circumstances this cup is no-spill.
Most of Baby J's sippy cups have handles, but he does fine with this style. It's probably time I start the transition toward a regular cup. He started using cups late, so I haven't been too worried about it. I also like how much milk or water this cup holds. As he's getting older, he really drinks a lot.
Besides working great, this cup is cute!

Purchase:
buybuy BABY
dd's Discounts
For updates on new Nûby products, follow them on their social media accounts (listed below). They always have fun contests and giveaways going on!