Fitness Friday Details:
Each Friday, I'm linking up with some awesome bloggers at JillyConyers.com and Wedonthaveitall.com. We motivate each other on our fitness and/or weight loss journeys. We'd love for you to join! If you're a blogger, visit their sites to add your post to the linkys. If you don't have a blog, leave a comment here and tell me what your goals are and how you did this week.
Challenges:
Well, it's another cold week, but the snow is gone at least. I know those of you who are in the single digits or negatives are probably rolling your eyes when I say that 30s are cold, but hey! It's what I'm used to! The weather is unusually cold for this area.
Last week I did end up not meeting my Winter Miles Challenge goal of 10 miles per week. I missed it by one mile! I was really disappointed, but my son was sick, so I just couldn't get out there to run. I ended up taking Baby J to the ER last Saturday night where they treated him for vomiting, fever, and his throat (croup). He's much better now, fortunately, but I think since I've already met my challenge for this week (woohoo!), I won't take him out in the cold today or tomorrow. I'll probably start taking him back to the family workout room in the base gym next week.
I'm also participating in the Lorna Jane Move Nourish Believe Challenge throughout the month of February. You can see me and others meet our daily challenges on Instagram. My account is emegburg. I'll post a recap here later today or tomorrow.
With the snow, cold, and illness, it's been incredibly frustrating this year at how difficult it's been for me to meet my goals. I decided this week that I really do need to start focusing on what I do accomplish. I have a dozen reasons (excuses) to not exercise or eat right, but I'm doing it anyway. That's a victory. Maybe it's not as grand as I'd planned, but any progress is a GOOD THING.
Progress:
Diet:
I do have something exciting to tell you! Did you see last week's Fitness Friday post? One of the things I brought up was that I'd come to the conclusion that I needed to eat more. I wasn't losing weight anymore, and I'm also trying to build muscle. I decided to eat 700-800 more calories a day. It sounds like a lot, but turns out my body needed it. After being stagnant for weeks, I dropped 3 pounds! Eating less is not always the answer to weight loss.
If you want, please add me on MyFitnessPal. I use it to track both quantity and quality of my foods. It's very helpful to ensure I'm eating enough protein and fiber, but not too much fat.
One of these days, I need to post an updated photo of myself! I'll try to ask a friend to take one of me next week or this weekend, and then I can post it with next Fitness Friday.
Exercise:
Monday– Jogged 1. 8 miles and leisurely walked for about an additional 25-30 minutes.
Tuesday– Took a break from running and did a home workout for about 40 minutes.
Wednesday– Jogged 2 miles at an 8:40 pace, woohoo! That's an improvement. I haven't run that quickly since probably October or November. Also did some light core and arm exercises at home.
Thursday– Jogged over 6 miles and walked about 1 mile. Did some core and arm exercises at home.
Friday– Well, nothing yet! I'm planning on doing a home workout today and tomorrow. Yesterday was really hard to run. Actually, it's been hard all the week with the cold. That wind really catches the jogging stroller! So home stuff this weekend, definitely.
I did meet my goal to workout 4 days this week, woohoo!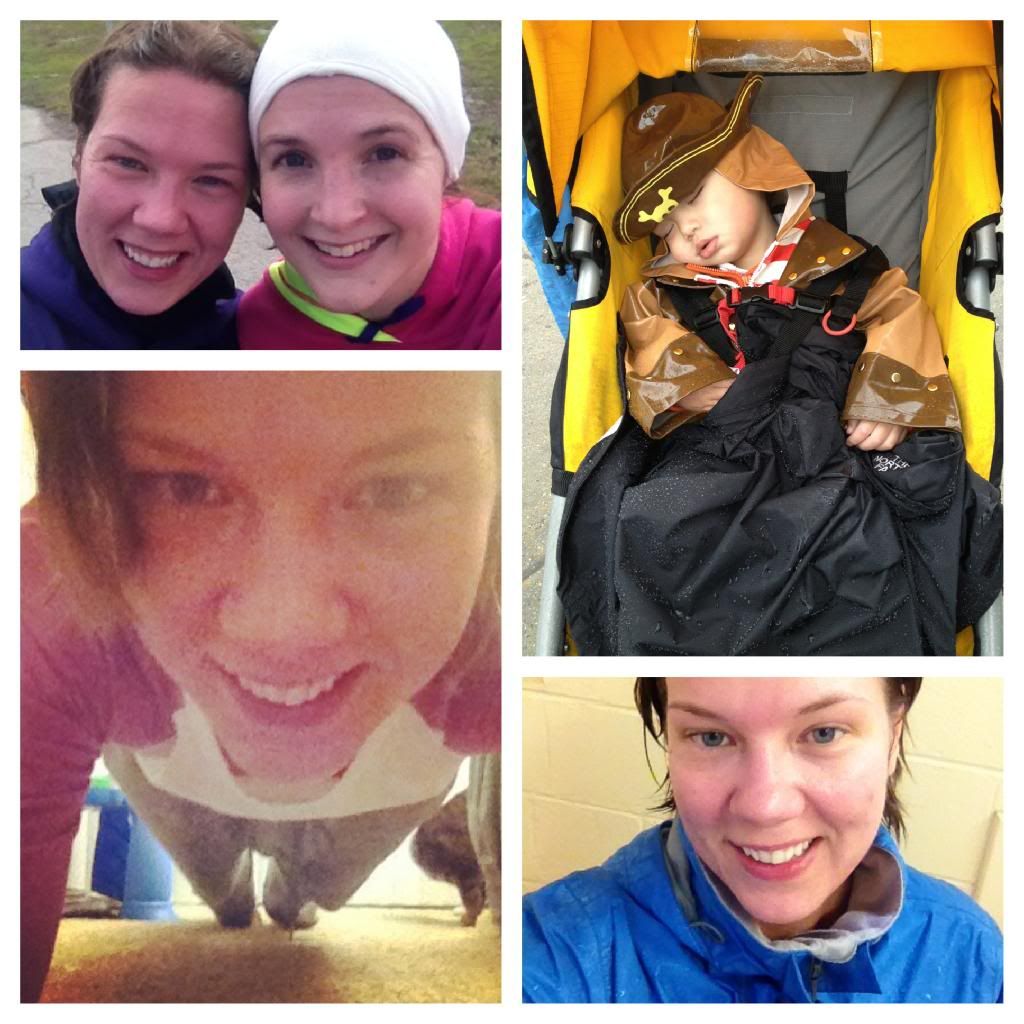 Stats/Measurements:
As I mentioned above, I held steady at 152 lbs. for two weeks, until I started eating more. I'm now at 149 lbs., woot woot! I don't think I've seen the 140s in about 7 or 8 years! Of course my body composition is completely different than when I was younger, but that's okay. I'm a mommy now, so I've had body changes. That doesn't mean I'm not going to be toned and trim, but it means my body won't look like it did when I was 20. Baby J is totally worth it. 🙂
The last day I posted measurements was my January 10 Fitness Friday post. My measurements are taken according to Weight Watcher's Guidelines.
Previous Measurements (1/10/14):
Height: 5'10″
Weight: 154lbs.
Upper Arm: 12″
Abdomen: 34.5″
Waist: 31″
Hips: 38″
Thighs: 23.5″
Today's Measurements (2/7/14):
Height: 5'10″
Weight: 149lbs.
Upper Arm: 11″
Abdomen: 33.5″
Waist: 30″
Hips: 36.5″
Thighs: 22″
Goals:
I'd like to see my arms get bigger- with muscle! I'm not working hard enough at strength training. I've been saying I want to build muscle, but I'm not putting enough effort in. The weather next week doesn't look great either, so my goal will be to just keep up with running (get at least 10 miles in), but work harder at lifting weights and calisthenics… do more sets of each exercise.
And now it's your turn! Did you meet any fitness or weight loss goals this week? Do you have any goal's for next week? Or what are your plans for this weekend?