My cowriter, Ruth, is back today, bringing us some of her time-tested appetizer recipes.- Elisebet
Long ago before the advent of internet and cable network television brought culinary expertise into everyone's kitchen, I was living in Norway, and the diet was pretty bland. Boiled potatoes and fish were the staple dinner foods, albeit served smothered in butter. (Maybe Paula Deen is Norwegian?)
There was one gastronomic dish, however, where Norwegians excelled. Every housewife (as we were back then) had standard stores in the cupboard and fridge to set out a concoction so pleasing to the eye that one hesitated to spoil the creation with a first bite. Upon succumbing and actually tasting, the fare was never disappointing.
From that time up to the present day—open-faced sandwiches have been the go-to party provision for our household. My American/Canadian variation is a slightly smaller version, frequently used as a type of appetizer. (In Norway we ate the open-faced sandwich with a knife and fork, but then, in Europe they eat pizza that way, too!) Try them for a company brunch or Sunday evening late supper. It's a unique food to bring to a church activity and works, as well, for breakfast with the kids. (Lay out the ingredients and let them help you assemble with their own "creations." They'll be getting more veggies in their diet.) Remember—the Scandinavian open-faced sandwich is not just layers of sliced meat and veggies: the components are thinly sliced (or small chopped) and arranged artistically on the bread.
Here are the basics followed by some suggestions and a couple of recipes.
There are four main components to Smørbrød:
1)     Bread. It must be firm. French and Italian loaves work well; also use English muffins, rye/pumpernickel, frozen waffles (toasted first), home-made bread maker bread, or "party" rye and whole-wheat for a smaller appetizer.
2)    Spread. Each bread slice needs to be coated to keep out moisture from your other ingredients. (This also allows you to make the sandwiches ahead of time and refrigerate until serving.) Try butter (or margarine), cream cheese (whatever flavor goes with your toppings), mayo (or salad dressing), and mustard.
3)    Protein. Thinly sliced meats (turkey, ham, beef); cheese (any kind that will slice thin); egg (boiled, scrambled); fish (herring, crab, sardines, salmon, shrimp, etc.); salads (from any of the above, also from veggies – carrot slaw, for example, or olive salad).
4)    Veggies/fruit and/or garnish. Just about anything goes here, as well. The key is to make attractive choices, as well as combinations that taste good together. Cut the veggies in strips or slice thin (the Scandinavian cheese slicer is what I use for making the cucumber curls). Chop herbs, veggies, or pickles for the garnish.
Here are some suggestions, though remember to provide your guests with choices; the sandwiches shouldn't all be identical. Particularly for company, I suggest making up the sandwiches with a variety of meats and veggies plus a salad (or two). These are very economical—you're only going to use one thin slice of meat or a couple of tablespoons of a salad per sandwich.
Smørbrød Ideas:
1)   The Breakfast Treat. Cream cheese spread on a toasted waffle. Add pineapple ring, a few banana slices, and a fresh strawberry. Garnish with mint.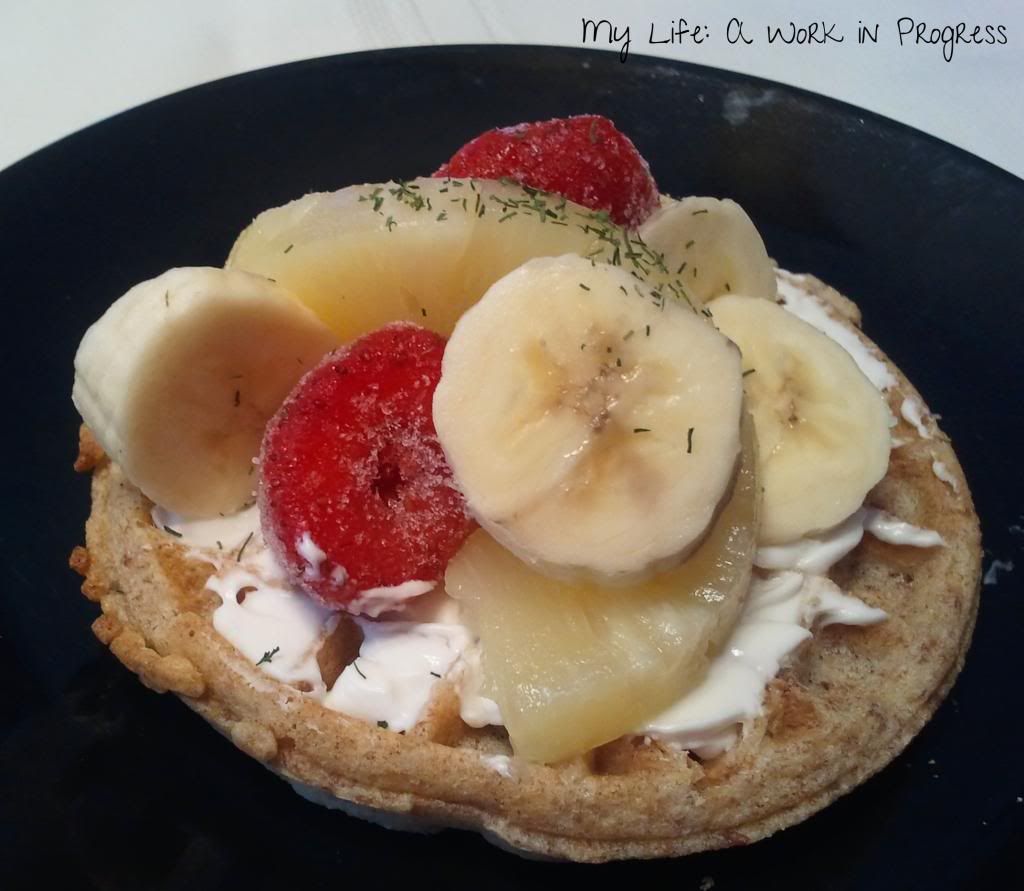 2)   The Mexican Breakfast. Scrambled eggs on buttered rye bread with chopped tomatoes (or salsa) for garnish.
3)   The Hawaiian. Pineapple ring on an English muffin half spread with cream cheese. A thinly-sliced ham roll-up through the center of the ring and parsley garnish on top.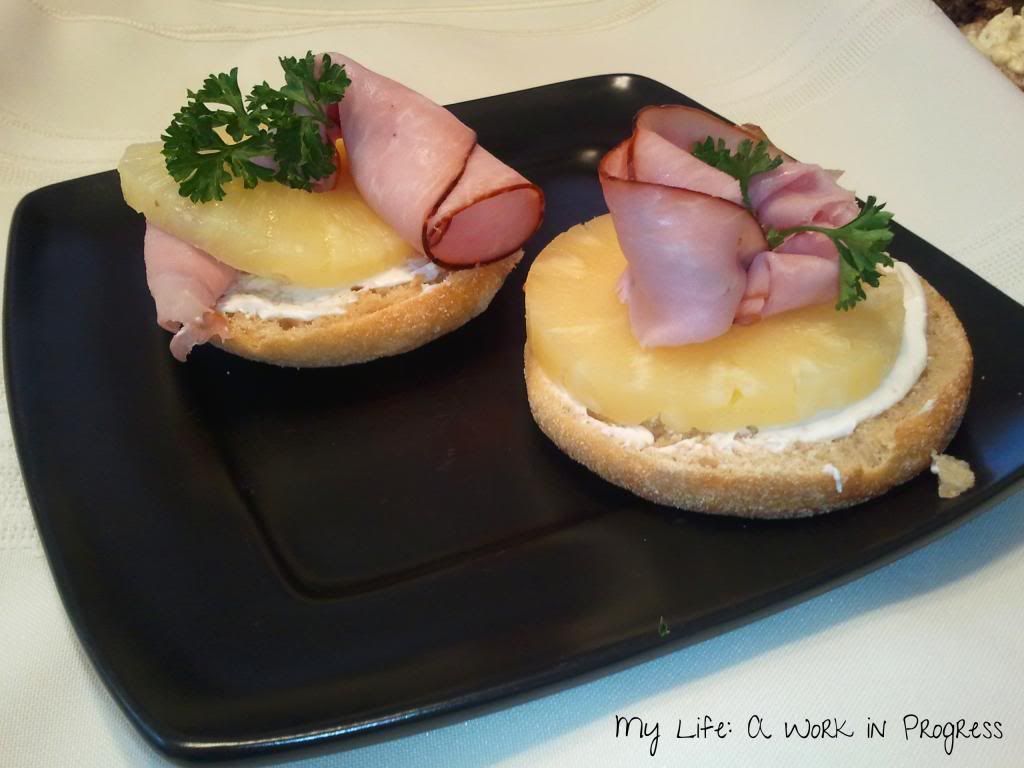 4)   The Fisherman. Buttered "party" whole wheat bread slice (or use English muffin half for a larger appetizer) with salmon salad (recipe provided below) and chopped dill pickle garnish.
5)   The Valentine Appetizer. Mustard spread (horseradish if you're brave) on a slice of French bread topped with a thin roast beef slice folded or rolled; thinly sliced cucumbers with a red pepper "heart" garnish.
6)   The Italian.  Buttered Italian bread with an Italian cheese slice and Italian salami. Both sliced, rolled and placed over leaf lettuce; thinly sliced tomatoes and cilantro garnish.
7)   The Greek. Olive salad (recipe provided below) on a buttered English muffin half with cucumber curls and crumbled feta garnish.
Salmon Salad with Dill Pickle Garnish
Ingredients:
7-8 oz. can of salmon
6 T. light mayonnaise (or salad dressing)
½ t. dill weed (optional)
1 T. brown or Dijon mustard
Salt and pepper (to taste)
Two dill pickles (chopped small)
Directions:
Drain the salmon well, removing skin and bones. Mix mustard with the mayo, then add with dill weed to the drained salmon. Stir until well mixed. Depending on amount used per slice, makes enough for 6 English muffin half sandwiches or 1 ½ dozen "party" size slices. (For English muffin halves, use a teaspoon of chopped dill pickle in the center of the sandwich; "party" slices will need less.)
Kalamata Olive Salad
Ingredients:
5-7 ounces Kalamata olives (pitted), coarsely chopped
1/3 cup light mayonnaise (or salad dressing)
¼ t. olive juice
½ T. minced garlic (optional)
½ t. chopped parsley or cilantro
Directions:
Mix all ingredients together; place on bread slices and add veggie garnish.
What are some of your favorite appetizers? Have you ever tried Smørbrød or open-faced sandwiches like this before?