*Please join me for weekly Fitness Friday! You don't have to be a blogger. Let's motivate each other to be healthier and stronger in this new year!*
It just hit me that it's 2014- wow! Time flies. The last time I blogged a Fitness Friday post was June 28, 2013. At that time, I'd met my weight loss goals, so I'd decided to stop doing a dedicated "Fitness Friday" series. But now I have actual fitness goals, so it's time to start again. The original series probably should've been "Weight-loss Wednesday" or some such thing, since postpartum weight loss was the goal. If you're interested, check out my last Fitness Friday post as well as before and after photos. I lost 17 lbs during that series.
So now I'm back.
The numbers on the scale don't really matter at this point. Last June, I weighed in at 156 lbs (for reference, I'm 5'10"). This morning I weighed 154 lbs, but I can tell you for a fact that I look much smaller than I did in June, even though there's only a 2 lb difference. And that's simply because I've been losing fat but building muscle. So I don't expect the numbers on the scale to change that much.
Of course there needs to be photos, to mark where I'm starting! These photos were taken this morning: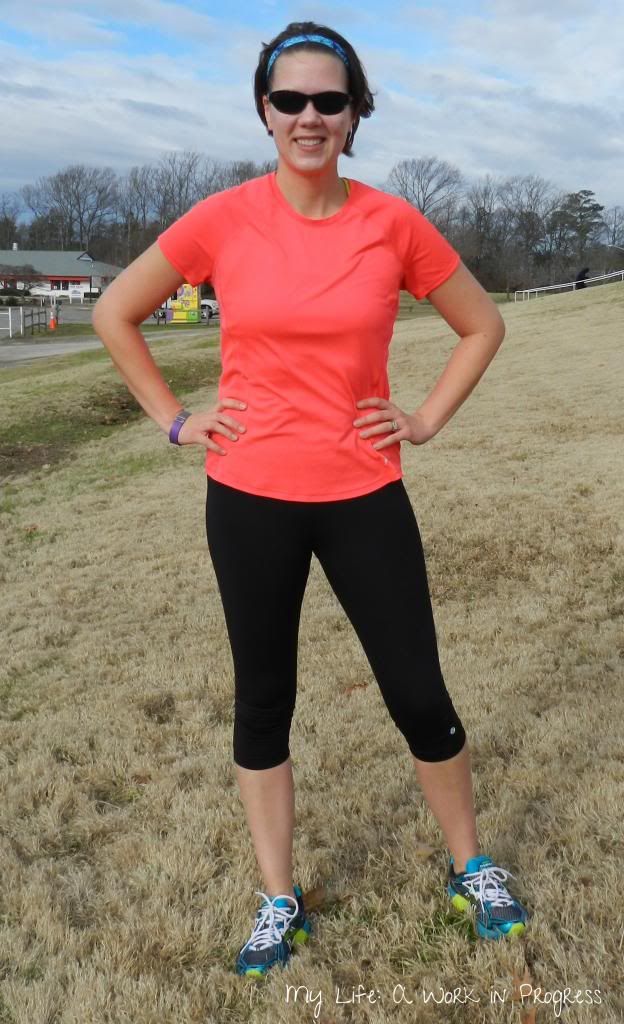 Measurements: (taken according to Weight Watchers guidelines)
Height: 5'10"
Weight: 154lbs.
Upper Arm: 12″
Abdomen: 34.5″
Waist: 31″
Hips: 38″
Thighs: 23.5″
Goals:
I wish I had hard and fast numbers I could spout out, but I really don't know, other than my waist. I'd like to tone my abs; my stomach is still a bit soft from pregnancy. I was surprised that my waist was at 31," since I've been wearing jeans with a 29-30″ waist. I would like to lose a couple inches, to approximately 27-28″ waist. There are jeans in my closet that I haven't worn in years. I'd love to pull them out!
I want to build more muscle on my arms and rear. At this point, I want to do push-ups, ab and leg exercises every day. I don't care how many sets yet. It's just a matter of getting into a habit of doing them. Run 4-5 days a week, and increase my distance and speed as I get closer to my April half marathon. If you're curious, I keep track of my running times on my personal fitness blog, This Mama Runs.
I've been doing great with my diet, but I probably need to start eating more. Since I had my son, I've been using MyFitnessPal to track my intake, and I aim for around 1500 calories a day. That has served me well to this point, but as I'm working out more and definitely as I'm running more, I'm going to need to eat more. My goal this week will be to determine what my optimum caloric intake would be, as well as what type of calories (protein vs. carbs, etc).
From now on, I'll be linking up on Fridays with Jill Conyers at Fitness, Health, and Happiness. Jill is a wife, mom, fitness blogger, and ultra runner. Following her blog is keeping me motivated!
So now it's your turn. As I said at the beginning of this post, I'd love to have you join in, whether you blog or not. You don't have to have any crazy goals like run a triathlon (but if you do, that's very cool!). Your goal can be something as simple as determining to walk an extra 30 minutes a week throughout January. Start with a small, quickly-attainable goal. That will help you give you confidence and motivation to meet the next!
Did you meet your fitness goals this week? What are your goals? What areas of your body or life would you like to improve?