If you have any hair at all (and maybe even if you don't!), you probably need a reliable headband for your workout sessions. While researching online, one company that continually stood out to me was Sweaty Bands. I contacted Sweaty Bands, and they happily sent me two headbands- one to review and one to give away.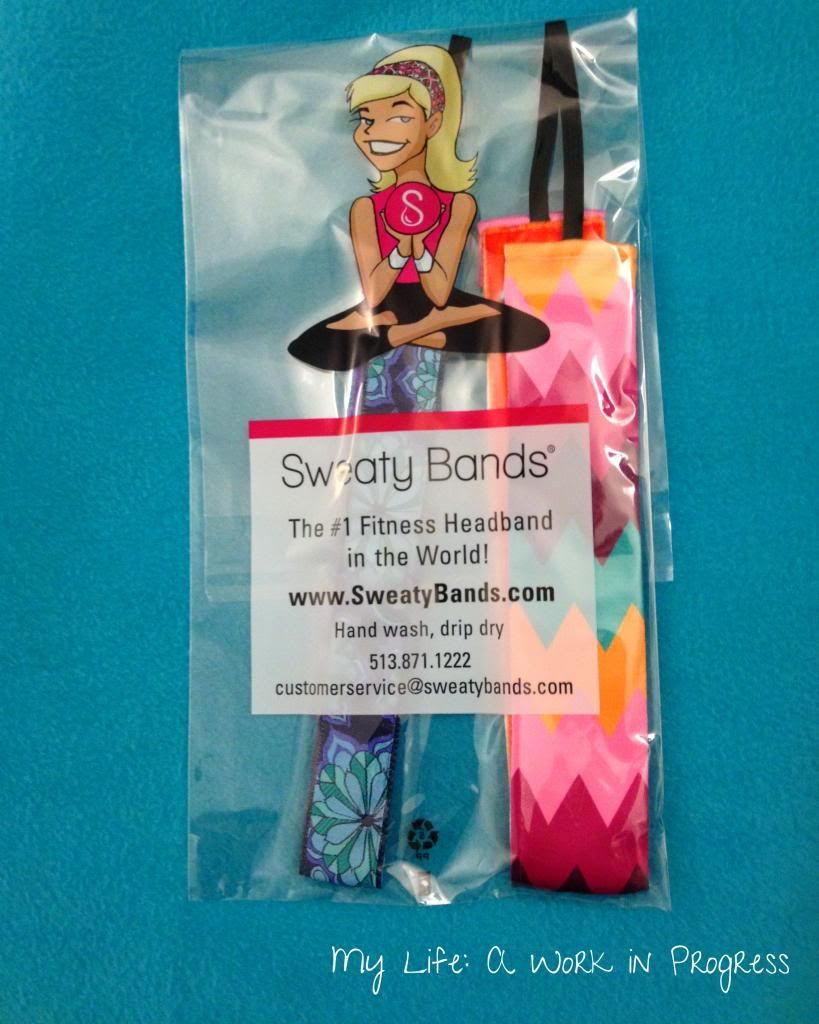 About and My Experiences:
Sweaty Bands are no-slip headbands that feature a ribbon-like material on one side and felt on the other. Available in two sizes -narrow and wide- Sweaty Bands come in dozens of patterns and colors. Custom designs are available.
One thing I really like about Sweaty Bands is that the founder -Donna- started this business sewing headbands in her basement. Since then, her company has grown until her headbands are now sold in more than 1,000 locations including all Nordstrom stores. Since I've started looking, I've spotted Sweaty Bands in two different fitness stores here in Hampton Roads. I think it's fantastic that this female-founded business has grown at such a rate and still makes its headbands right here in the U.S.
My contact at Sweaty Bands let me know that the best way to wear my headband was near my hairline, so that's what I've been doing. It has never slipped. I have not had to readjust the band even one single time while it was on my head. I've worn my Sweaty Band for numerous runs over the last three weeks, including a six-mile jog. My Sweaty Band has stayed on during aerobics, running errands, cleaning, and even while sleeping.
I have read a few negative reviews online (a very small fraction compared to the positive reviews), so obviously these bands don't work for everyone. We all have different head shapes, head size, and hair texture. But I'm confident that Sweaty Bands will work for the majority of women, because I'm one of those people who has never had good luck with a headband until now.
For reference, I'm 5'10", and usually wear a 7 1/4 cm hat size. My hair is fine and quite slippery. My Sweaty Band is also the narrower version.
At around $15 each band, they may seem pricey, but if Sweaty Bands work, it's worth it in my opinion. It's always driven me batty when I'm trying to exercise, and I have pieces of hair sticking to my face! Plus, these are made here in the U.S., so yes, they're going to be more expensive than headbands sewn by little kids in certain foreign countries.
As far as keeping the sweat out of your face, the Sweaty Band does help. It's not going to keep all the sweat from your face though, because these bands go over your hair, not your lower forehead. If you sweat below the band, the sweat is still going to run into your eyes. I have noticed a difference wearing my Sweaty Band, so I know it's keeping my head sweat (yuck!) out of my eyes.
Hand wash your bands to ensure they last. I take mine in the shower with me to wash, then hang to dry. My band is usually almost dry by next morning. I'm planning on buying a second one, so I can rotate between the two bands.


If you'd like to see some of their styles and learn more about Sweaty Bands, click HERE.
Want to win your own Sweaty Band? Stand by for a Body after Baby Fitness Event Giveaway. It's starts later today!
What's your favorite Sweaty Band color or design?