Have you noticed the stores are already rolling out the Halloween supplies? It's not even October yet! I'm wondering if poor Thanksgiving is even going to have a chance this year, or if they'll start putting Christmas stuff out next month.
I've been to Mickey's Not-So-Scary Halloween Party several times with friends, but this was my first opportunity to take Baby J. We had so much fun! The only thing that would've made this experience better was if Hubby could've been there. That's the life of a military family, though. =D My mother-in-law was with Baby J and me, so it was still a family outing.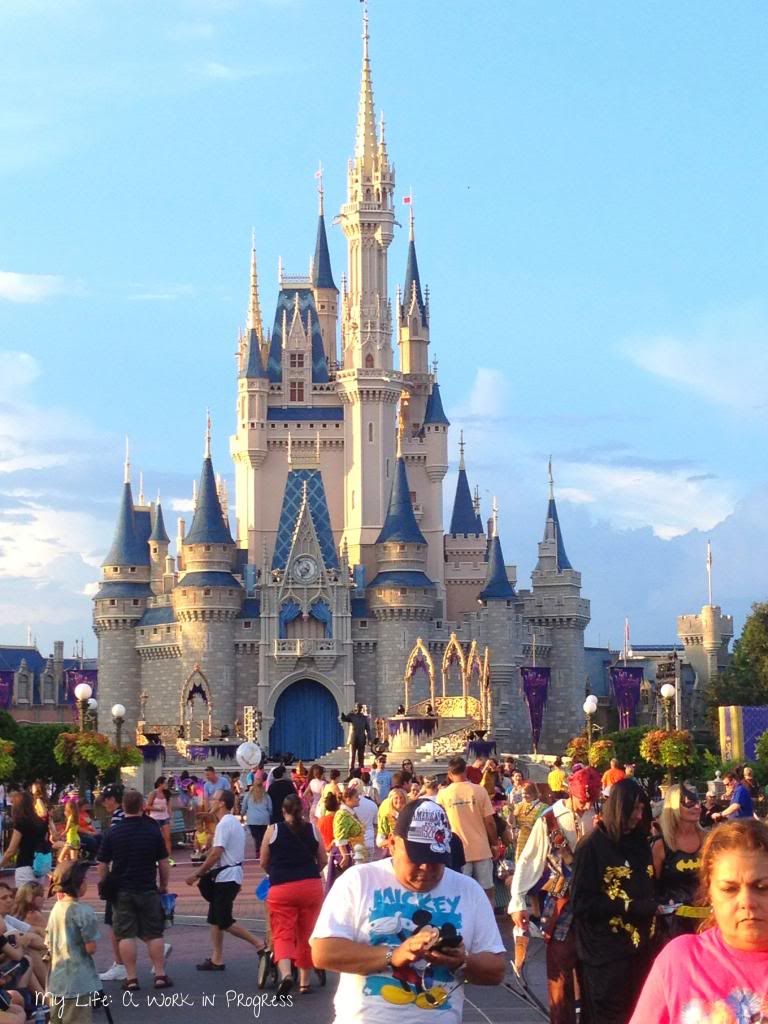 The "party" is held on select nights at Disney World's Magic Kingdom, Orlando, Florida. The park closes for regular guests at 7pm, and partygoers with special tickets are allowed in from 7pm until midnight. You can actually arrive a little earlier. We parked at around 6:15, took the tram and then the monorail. I think we got on our first ride (The Pirates of the Caribbean) at 6:50.
There are a few reasons why I like going to the party: it's cooler in the evening, the lines aren't as long, and tickets are cheaper. I think the longest we waited for any ride was 15 minutes. Of course, it's only September. As it gets closer to Halloween, the parties will get busier. Regular tickets to Magic Kingdom are $95 right now but only $59 for the party. As far as I could tell, all the rides are still open, but some of the restaurants are closed.
It's neat to see families dress-up in costumes together. That's something I have yet to do. I would recommend that you be practical with your costume choice. Even though it's evening and a little cooler than daytime, it was still in the upper 80s. I saw people walking around with thick stockings, long sleeves, and boots as part of their costumes. I also noticed quite a few sky-high heels. Personally, I think an uncomfortable costume choice would put a damper on my experience.
I flip flopped for a while on whether or not to bring the stroller. I was considering just using our mei tai. I ended up bringing the stroller and our SUPPORi sling for standing in lines. The sling worked perfectly! I think the mei tai would've taken too long to get Baby J in and out for each ride. The lines were moving quite quickly.
As far as strollers, there are some important things to note. You have to leave your stroller outside of the rides. There are designated areas for strollers. If you leave yours outside of a designated area, more than likely a staff member will move it (I witnessed this). Even in the designated area, your stroller may get moved by staff organizing the area. Just be prepared for that, and don't freak out if your stroller isn't where you left it. If you have a common stroller, I'd put something on it like a bandana, so it's easier to recognize.