Even though it was not the path I took, I've always wanted to be a wildlife biologist. I love animals in general, and think I would enjoy working with them. Because of this, I'm always up for a trip to the zoo! Although ideally animals should be free in the wild, zoos exist for multiple important reasons: education, research, reintroduction programs, and so on. Read more about animal conservation at the Association of Zoos & Aquariums.
Smithsonian's Zoological Park is located in Washington, D.C., off Connecticut Avenue. We visited the zoo back in October. It was a cool day, but there were still plenty of animals outside for us to see. The zoo charges for park maps, but there are signs throughout the park telling you the directions to go.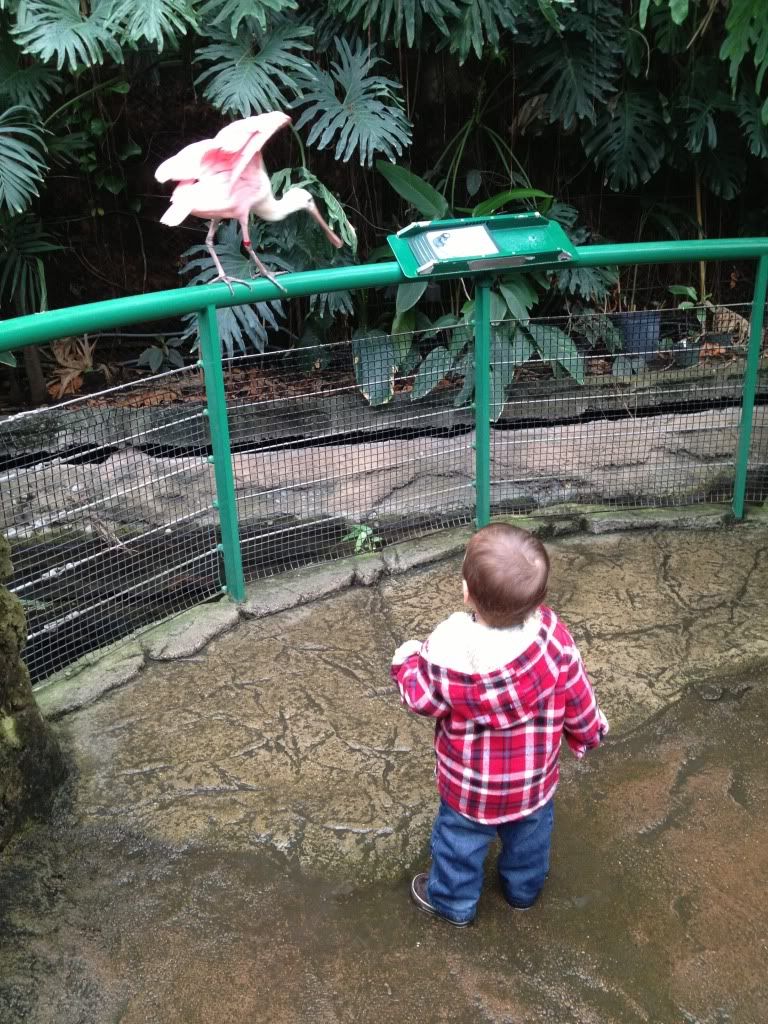 A highlight of the National Zoo is the giant panda bear exhibit. We missed the show, but we did see the male panda bear Tian Tian afterwards. The Panda House is open from 10am to 4:30pm, although the pandas may be away, sleeping. You can always watch the famous Panda Cam to see the mother, Mei Xiang, and her baby, Bao Bao.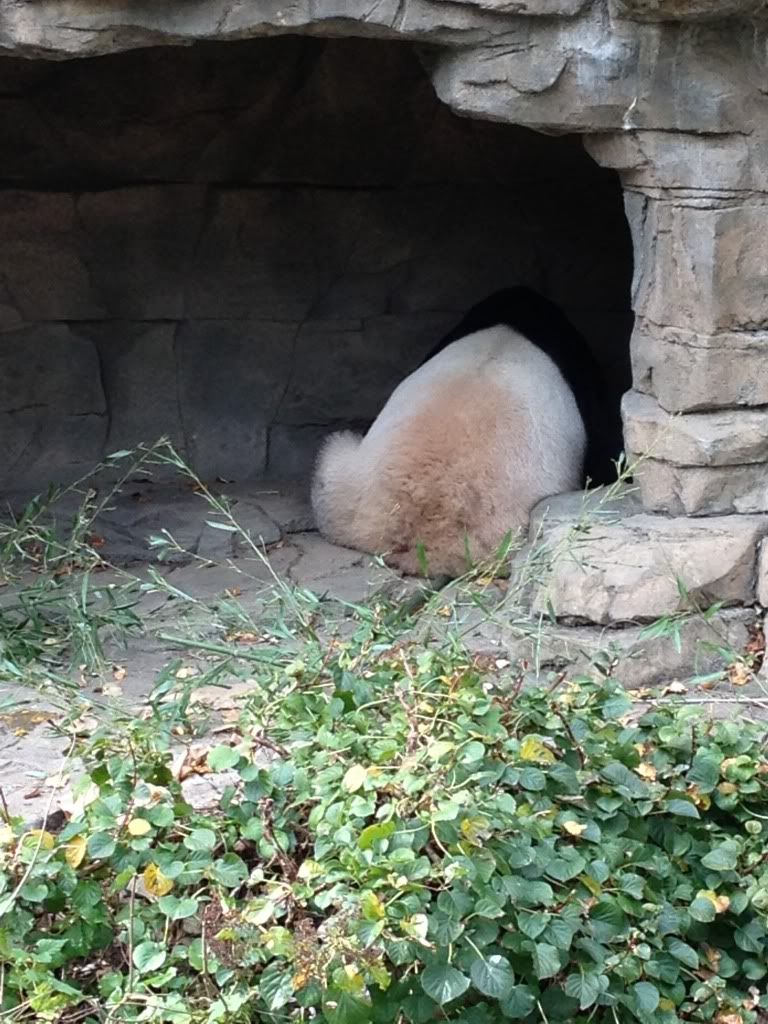 The National Zoo exhibits include the Bird House, American Trail, Elephant Trail, Gibbon Ridge, Great Ape House, and Amazonia. There are also animals in their own exhibit, not grouped in a building or themed exhibit like the ones I've just listed.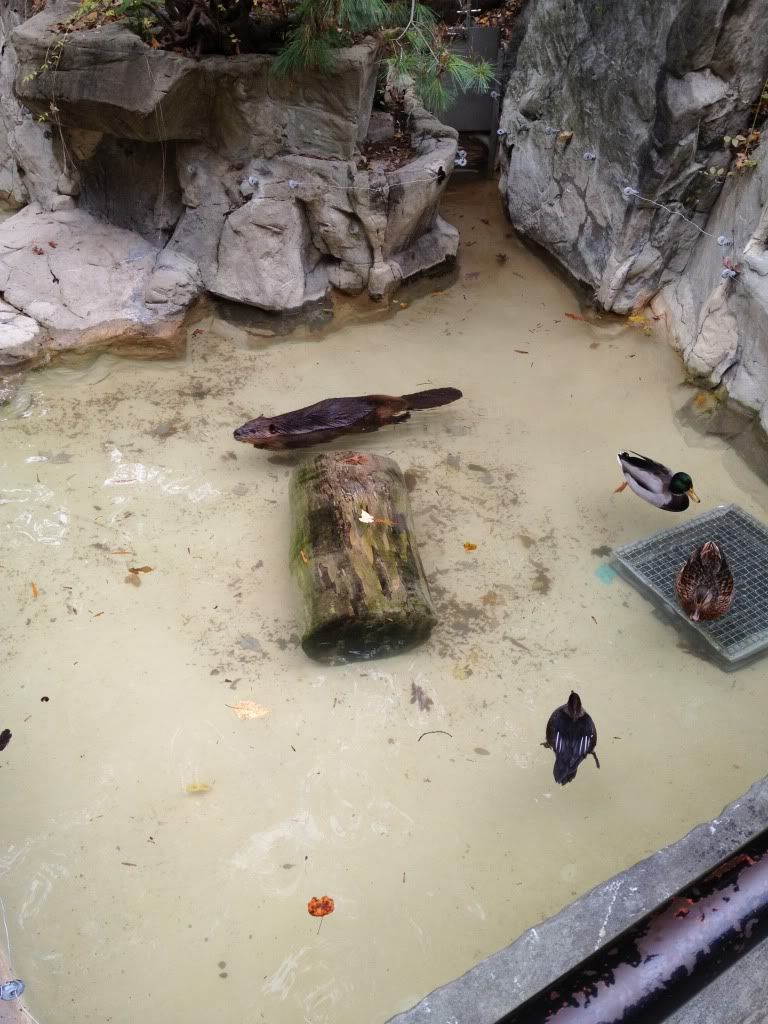 The Amazonia exhibit has an indoor tropical rainforest with monkeys! These little guys (and gals) were very interested in the human visitors and swinging on vines overhead. But be careful! They may try to pee on you. True story.
The boys especially enjoyed the Great Ape House. Many of the gorillas and orangutans came right up against the glass and interacted with us. It's a great photo opp.
We didn't get to see the Orangutan Crossing, but there's a wire or cable of some sort that leads from one building to another (outside), high up in the air. This is called the "Orangutan Transport System" or "O Line" for short. The primates will actually swing on the O Line and move to a different building.
Another area we really liked was the Great Cat Exhibit. The male lion, Luke, gave us a great show when he decided to perch on a large rock and roar for several minutes. It had just occurred to me that I should film him, when he decided to stop. 🙁 Luke has been a busy boy. One of the two female lions has new cubs, and the second is due to give birth any day now!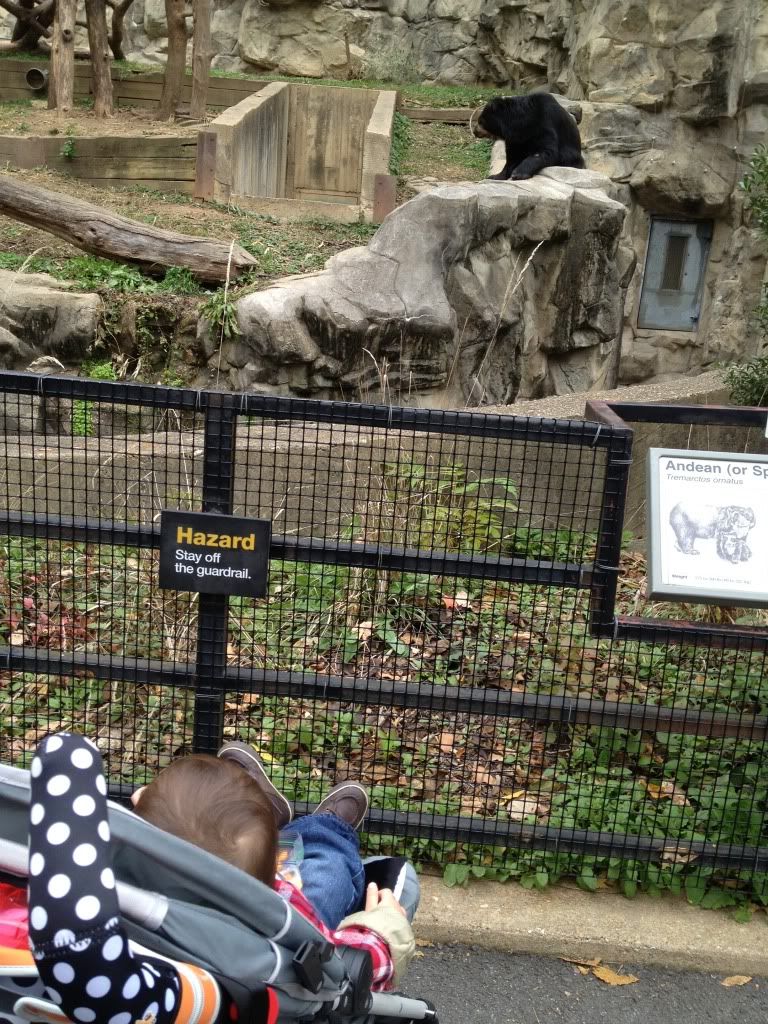 It was a fun trip overall and great for the family, but here's a little more info about our experiences and, hopefully, some tips to help you plan your trip:
The zoo is spread out and covers a lot of area. I know some of ya'll are diehard babywearers, but I prefer bringing a stroller for museums, amusement parks, etc., when I'm going to do a ton of walking, far from the car. The main stretch of the zoo -Olmsted Walk- is almost a mile long. When you add in all of the side trails to different exhibits, you're putting in a good workout. AND the zoo is basically built on a hill, so at some point you're going to be climbing up (it's not steps…more like a wide ramp or road).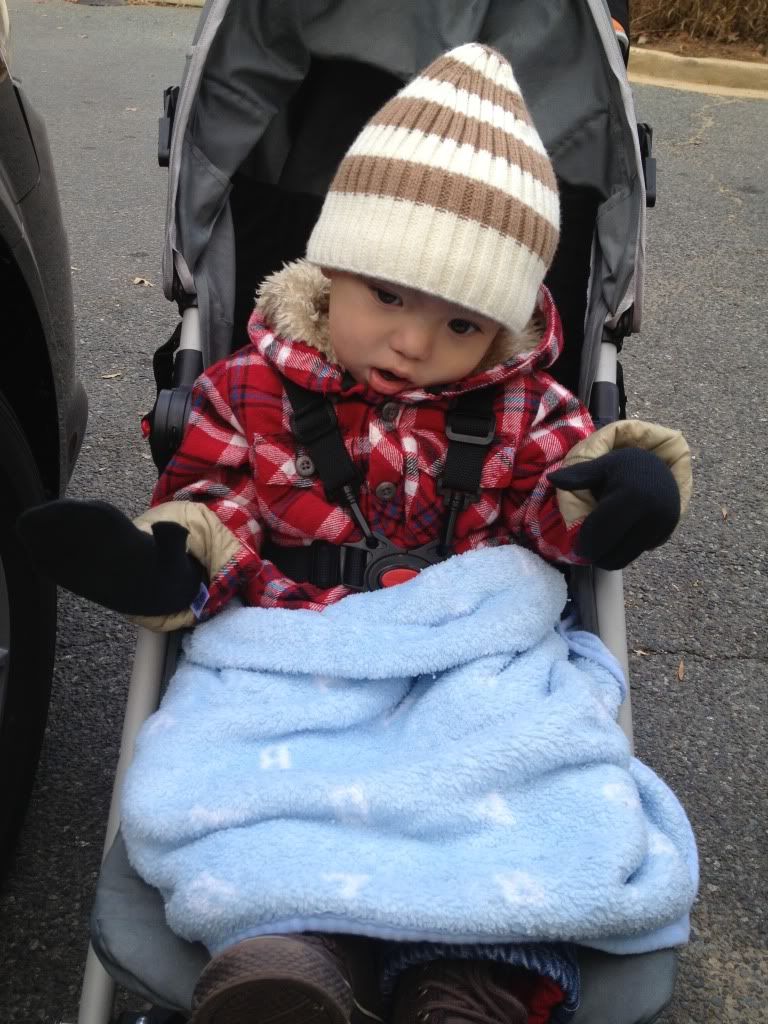 I'm not a fan of carrying a toddler and a bag or backpack, so I keep all my junk in the bottom of the stroller. HOWEVER, at busy times of the year, strollers are not allowed inside of smaller exhibits like Amazonia. You have to leave the strollers outside (like at Disney). Since it wasn't busy the day we were there, we were allowed to take strollers everywhere, inside the exhibits too.
We parked in Lot D, which is at the bottom of the hill. It worked out well, because we started off near the Kid's Farm (fun to see). It also means we were heading downhill when everyone was tired. It's much easier to climb when you're fresh!
You should know that although admission to the zoo is free, parking is not cheap (like anywhere in D.C.). Currently, the zoo charges $16 for three hours of parking and $22 for more than three. It may seem like a lot, but if that's all you're paying for your entire family to visit, it's not bad at all! I've also heard parking can be difficult to get after 10:30am during peak times of year.
If you're coming up from Hampton Roads, you could park at the Franconia-Springfield station and then take the metro all the way to the zoo. Metro parking at that station is just $4.75 for all-day parking. If you're planning on visiting more places than just the zoo, buying a 24-hour pass could be cost-effective. Check out my tips for visiting DC with kids.
Definitely check the current Metro fares online beforehand, but children four years and younger generally ride free with adults paying full fare (two children per adult).
The food at the National Zoo is limited and expensive. So we brought our own lunches (also in the stroller). My breastfeeding days are over (at least until I have another little one), but there are plenty of benches to sit on. I also noticed quiet sitting areas inside some buildings.
And that's about it! If you have any questions, please leave a comment, and I'll see if I can answer them.
Do you like to visit zoos? What's your favorite zoo?