It's Fitness Friday! I'm not even sure I want to link up with my usual groups this week, because it was kind of a FAIL. I've been eating too much junk, and I also went almost all week without working out. I probably gained some fat back! It's probably because I had a great stats update last Friday. When I've made good progress, I sometimes slack off for a bit. It doesn't make sense, but that's what I do. I had excuses all week for not running outside (too cold, too wet). And my reasons for not going to the base gym? Timing never worked out/bad traffic/etc. Lots of excuses.
I did do some crunches here in there, and I did a light cardio DVD for about 20 minutes a couple days ago.
There's a little good news too. When I lifted weights yesterday, I was able to do more reps and heavier weights than previous weeks! This mama's getting some muscles! Just imagine how much progress I'd make if I'm ever actually consistent!
Today was the first day I ran all week, so I pushed myself. It was TOUGH! Today was the warmest day all week (upper 40s), but the wind was biting and strong. I put 10.24 miles in, but that was walk/jog intervals. After the first 2 miles I realized that I could walk against the wind almost as fast as I was jogging, and without being nearly so exhausted. There was a stretch…probably a mile long…where the wind either wasn't blowing strong, or it was helping push me and the jogging stroller forward, so I ended up jogging that stretch every lap and walking the really windy areas.
My average pace was 12:32, and you can see my splits below. It really wasn't bad at all! I'm not sure why mile 3 was so slow. I did fumble around with my phone a bit, looking for the pause button Run Keeper, so perhaps that's why. I had to pause to get my son his water bottle and snack. Maybe today's run was enough motivation to kick me in the pants, so I'll actually not be lazy next week!
Since I ran over 10 miles today, I did meet my Winter Miles Challenge for the week. I'm hoping to get a quick, easy 2 miles in tomorrow morning, and then take Sunday off. I'm also still doing well with Lorna Jane and Sweat Pink's Move, Nourish, Believe Challenge. I'll post a weekly recap tomorrow.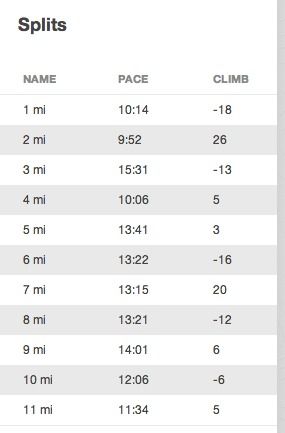 How was your week? Any big plans for this weekend?