Week two of Lorna Jane and Sweat Pink's "Move, Nourish, Believe Challenge" is already complete! I really can't believe how quickly time has gone by.
During the first week, participants focused on "Move," with a variety of physical challenges. This week our Nourish challenges were:
Monday

– Go Meatless. Try vegetarian or vegan meals.

Tuesday

– Take Your Lunch to Work Today. Choose a recipe from movenourishbelieve.com to inspire your packed lunch.

Wednesday

– Write it Down. Keep a food journal today.

Thursday

– Smoothie Day. Make a healthy smoothie.

Friday

– Go Raw Today. Choose a recipe from Movenourishbelieve.com and go raw.
Here's my photo recap of the week: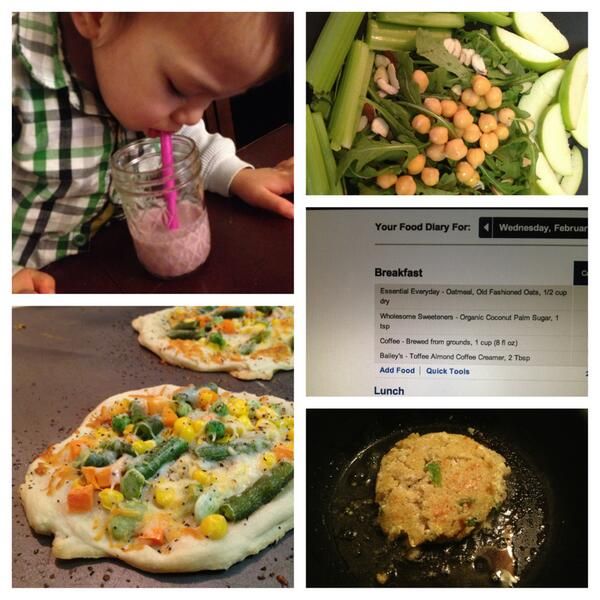 Meatless Monday was actually really easy for me. I don't eat a lot of meat, for both health and budget reasons. Don't get me wrong, I think there's plenty of nutritional benefits from lean meats and fish, but it's easy for me to go overboard. We had quinoa burgers, potato/veggie stir fry, lentils, yogurt, and fruit.
As a Stay-At-Home-Mom, every day is a take your lunch to work day. Coincidentally, it was another meatless meal on Tuesday! We had mini veggie pizzas.
Wednesday I just filled out MyFitnessPal is usual. Again, that was part of my normal routine. Easy peasy!
On Thursday I made a delicious, healthy smoothie for Baby J and I as an after-dinner treat. I used plain Greek yogurt, honey, frozen berries, bananas, whole milk, and natural peanut butter. Packed full of nutrition and filling.
Friday wrapped up the week with raw foods. I had plenty of fresh carrots, celery, chick peas, arugula, almonds, peanuts, apples, and cucumbers to go around. Fiber's always a good thing, right? 🙂
Follow me on Instagram and Twitter for more photos of the challenge! And feel free to visit my latest Fitness Friday post. Every week I link up with other bloggers to share and motivate each other on our fitness and/or weight loss journeys. If you're a blogger, you're welcome to link up with us. If not a blogger, please feel free to share your goals and successes in the comments section of each Fitness Friday post.
Have a happy weekend!