Disclosure: I got this product as part of an advertorial.
As a cloth diapering family, there are certain challenges we face, notably the "cloth diaper booty." Maybe there's another popular term for this errr problem, but cloth diaper booty is what I call it, anyway! Baby J is quite skinny, but because of his stuffed cloth diapers, his bum always needs to be in a larger size of pants than he would normally wear. But if the pants fit in the bum, they're usually too long. I usually roll the pants legs up, but they're forever coming back down. Toddlers play hard, you know?
I was given the opportunity to receive a complimentary set of My Hikes. As colorful pant cuff fasteners, My Hikes allow you to easily transition your child to the next size of pants, even if they're still too long. These simple accessories allow children to get more wear out of their clothes or wear brands that are typically a little long. Stepping on the heels of their pants will cause your kids' clothes to wear out sooner, and cuffing them…well, do their cuffs stay up? Baby J's don't, and neither do mine (yes, adults can wear My Hikes too).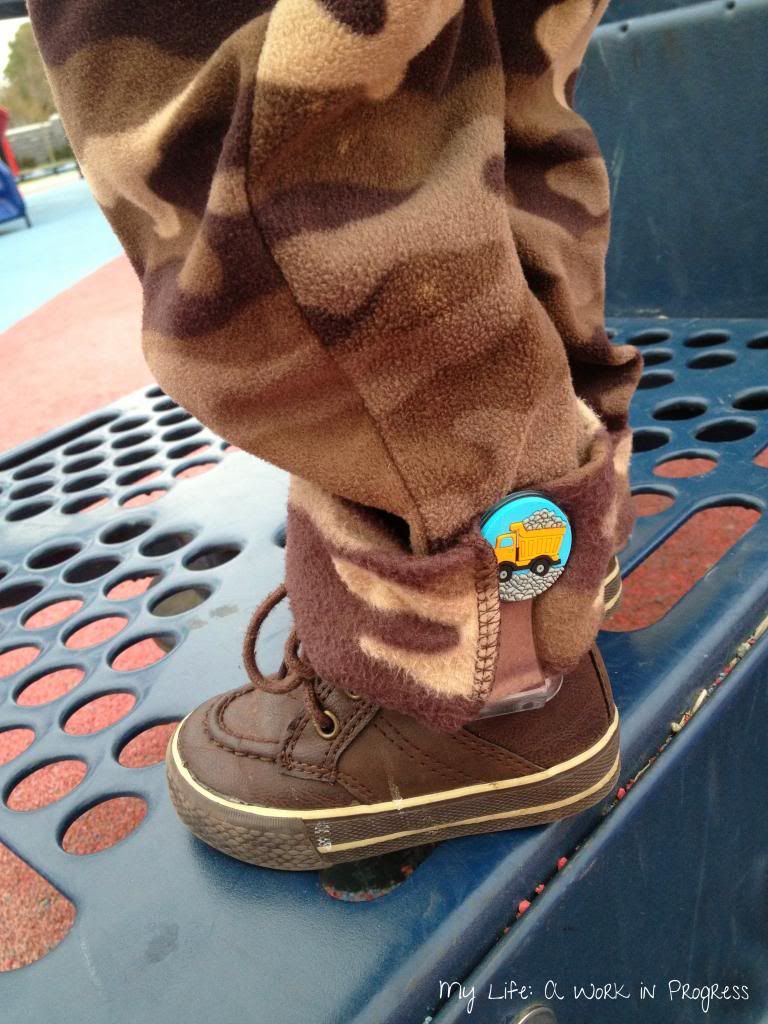 Don't forget to take your My Hikes off before putting clothes in the wash! I forgot. You're supposed to clean them by hand, but Baby J's My Hikes did survive a cycle through the wash on cold and permanent press. They didn't go through the dryer though. Since then I've remembered to take them off.
Over time, the My Hikes do start to slip off my son's pants. Update: He had My Hikes on his sweatpants all afternoon, and they stayed completely put. I'm not sure why they slide a little bit sometimes and other times they don't. They've never come all the way off, but they'll come about half way off (they still work at this point), then I refasten them. I attribute this to both the material in his pants and how hard he plays (rolling around, crawling, climbing, etc.).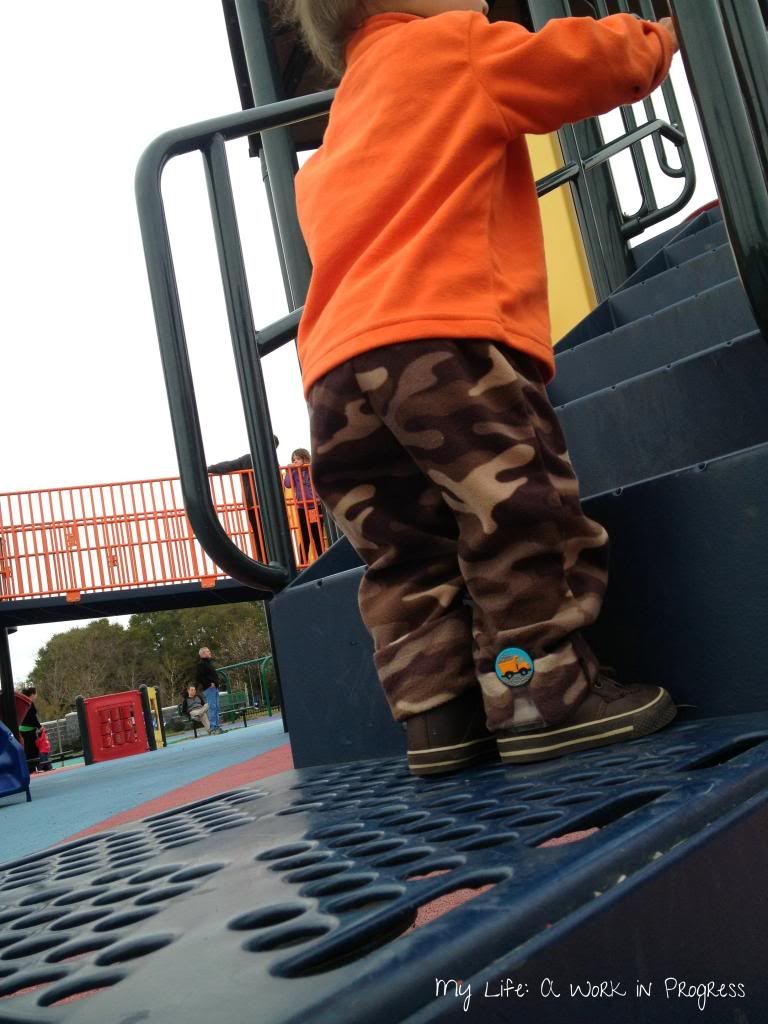 I chose the "Dump Truck" design because at that time, Baby J was really into trucks. I like the design; it's cute and three dimensional. I have to put his My Hikes towards the back of his pants and put them on when he's not paying attention. If he sees them, he tries to pull them off!
In the photo below, Baby J is actually wearing a disposable diaper. We were out of town for Thanksgiving, and although sometimes we do cloth diaper on trips, I was trying to take as little luggage as possible. Well, with a now-flat bum, all of his pants were suddenly sagging and too long, even if they fit before! We used his My Hikes for most of the trip.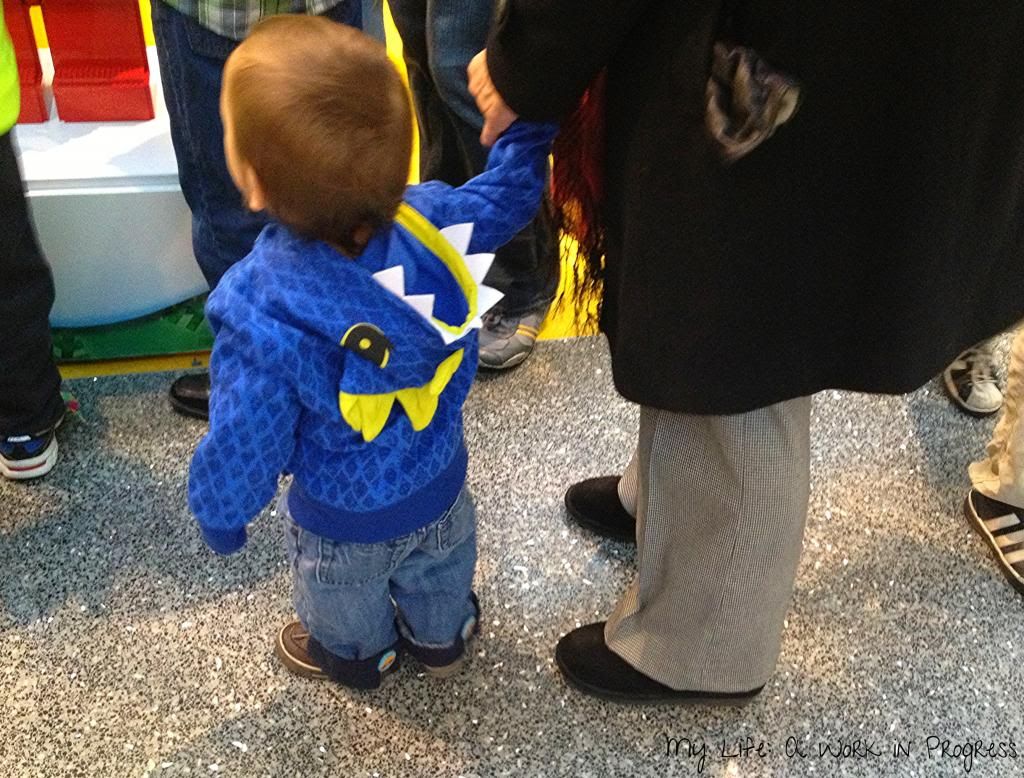 The princess design is sold out, but My Hikes still sells the train, dump truck, butterfly, flower, soccer, and baseball.
Overall I'm pleased with how well they work, and will probably be buying the train set of My Hikes. I was forever rolling up Baby J's pant cuffs, and these aren't nearly as much work!
To see My Hikes in action, watch this video:
You can purchase My Hikes on (affiliate link>) Amazon
 for $11.99 a set (free shipping). Do a quick search to see more options. Or purchase My Hikes from their website. Use coupon code MyHikes40off  to get 40% off (bringing the website price down to $11.99 as well).
Visit My Hikes at the links below: 
My Hikes online | My Hikes on Facebook
Which is your favorite My Hikes style?
Note: I received one or more of the products mentioned above for free using Tomoson.com. Regardless, I only recommend products or services I use personally and believe will be good for my readers.