UPDATE- Dec. 18, 2013
Did you catch my review on the Halo Pocket Power? It's a handy little portable device that charges your electronics like your phone or camera. The Starlight version even has a built-in LED flashlight! I also received a Halo Scanner Mouse and mouse pad from Halo2Cloud.com.
I'd like to introduce you to Ruth, a new contributor to My Life: A Work in Progress. Ruth brings years of writing experience to MLAWIP. She's also an attorney, wife, mother, and grandmother. You'll see her review products and contribute from time to time. Welcome to her first review! -Elisebet
From Ruth:
The Halo scanner mouse from Halo2cloud.com is a great product. It works as a regular mouse and a scanner. Just plug the mouse into your device, swipe over a photo or printed document, and save or share. I'm very pleased at how it functions, but my husband is practically ecstatic. He wants to take it along to the coffee shop, office, etc. (Great gift for the man in your life!)
You will need to download the software (disc provided for Windows users or available online for MAC). The Halo memory is sufficient for a photo or one-page document at a time. The scanned doc can then be saved in a multiple of formats (PDF, JPEG, TIFF, etc.) or shared via email, Facebook, etc. There are multiple resolution settings possible and editing functions. A special mouse pad (fits 8/12 x 11 inch pages) is available (and I would recommend, though not obligatory if you just want to quickly scan a paragraph in a book or small photo).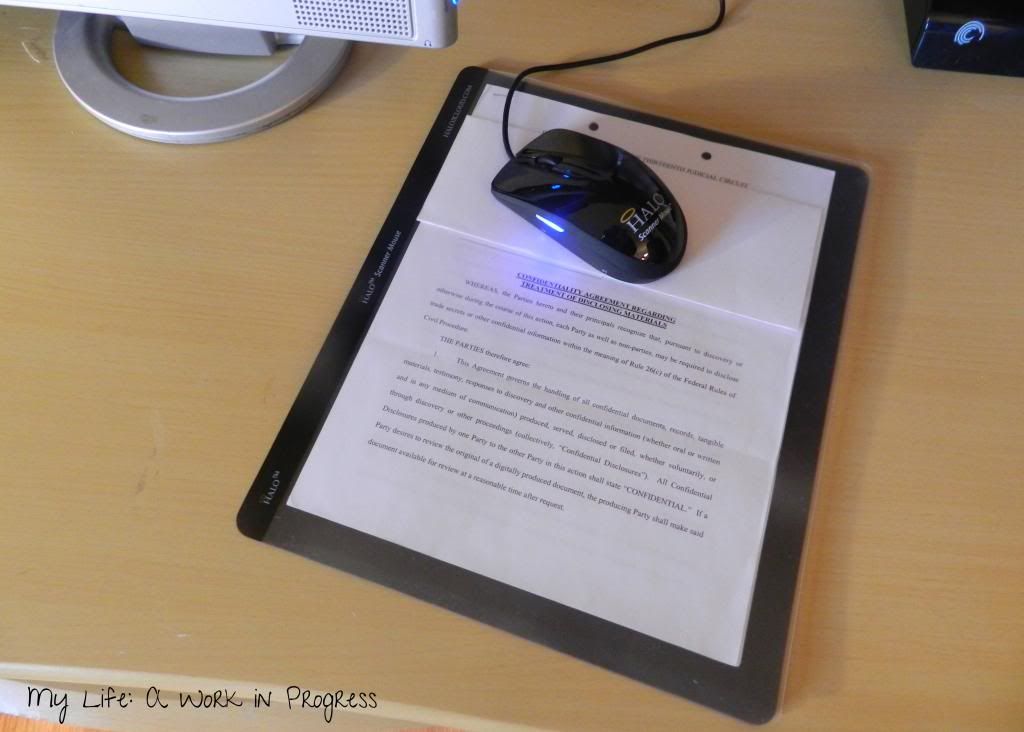 In addition to coffee shop, hotel, and office use—the Halo can be used at meetings where literature is being passed around to attendees. With your laptop and Halo—just scan the pages and email back to your office for printing. Printing quality is good for the documents and photos that I have tried, though if you need something that will be passed out at a business meeting (or in court!)—you may want to spend a little more effort with the editing function to get perfect printed copies.
On the other hand, if you just need to save and/or print for yourself—it's fast and no particular editing is needed. It's definitely user-friendly (I'm no computer geek).
The mouse works as a regular mouse for your office or home computer; however, my husband is going to want to keep our Halo mouse in his notebook case for the coffee shop! Halo sells the mouse online for $111.95 and the pad is $10.95.
UPDATE- We had a reader ask whether the mouse would scan through glass. Ruth tried it out, and this is what she had to say:
The Halo mouse scanner works fine under glass.  The Halo mouse pad that can be purchased with the scanner actually has a plastic overlay that you insert your photos or documents under, so under the glass does not seem to be any problem.  However, I actually found it easier to still use the mouse pad–inserting the photo under glass under the plastic sheet of the Halo mouse pad. (It's just easier to get a quicker, clean scan when using the mouse pad.)
The original "old" photos attached were scanned under their glass, using the Halo mouse scanner and mouse pad with plastic overlay.  I did no editing of either photo, though this can be done, as well, with the Halo mouse scanner program. (So you can see the scratch in one photo and red smear courtesy of one of my children with a red marker years ago.) By the way, the pictures are of my Great-Aunt Mary and of my father with one of his older brothers.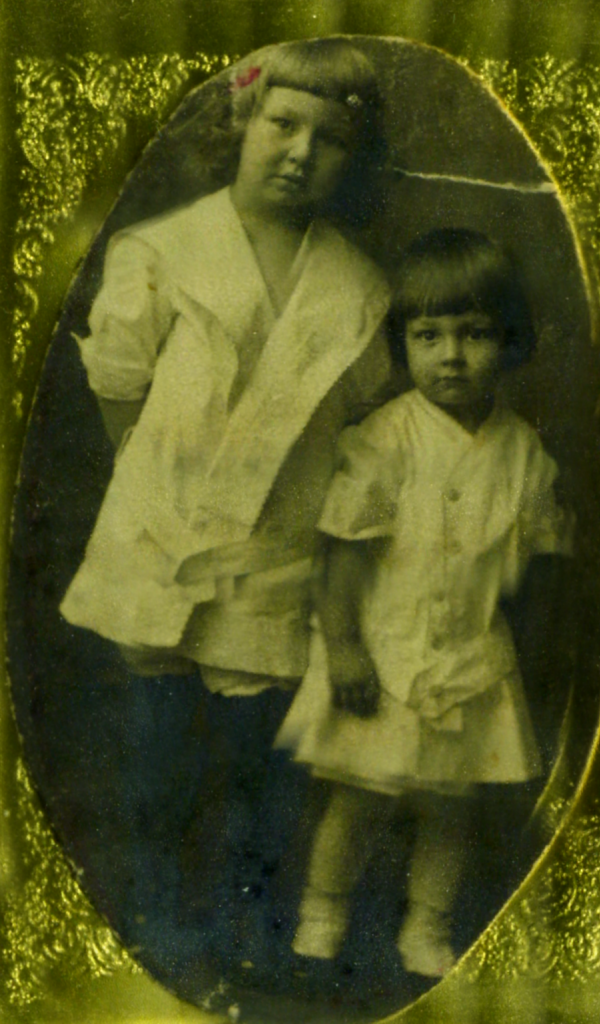 Visit Halo2Cloud.com to see what they have to offer.
Where would you take your scanner mouse? Business trip, coffee shop, or somewhere else?