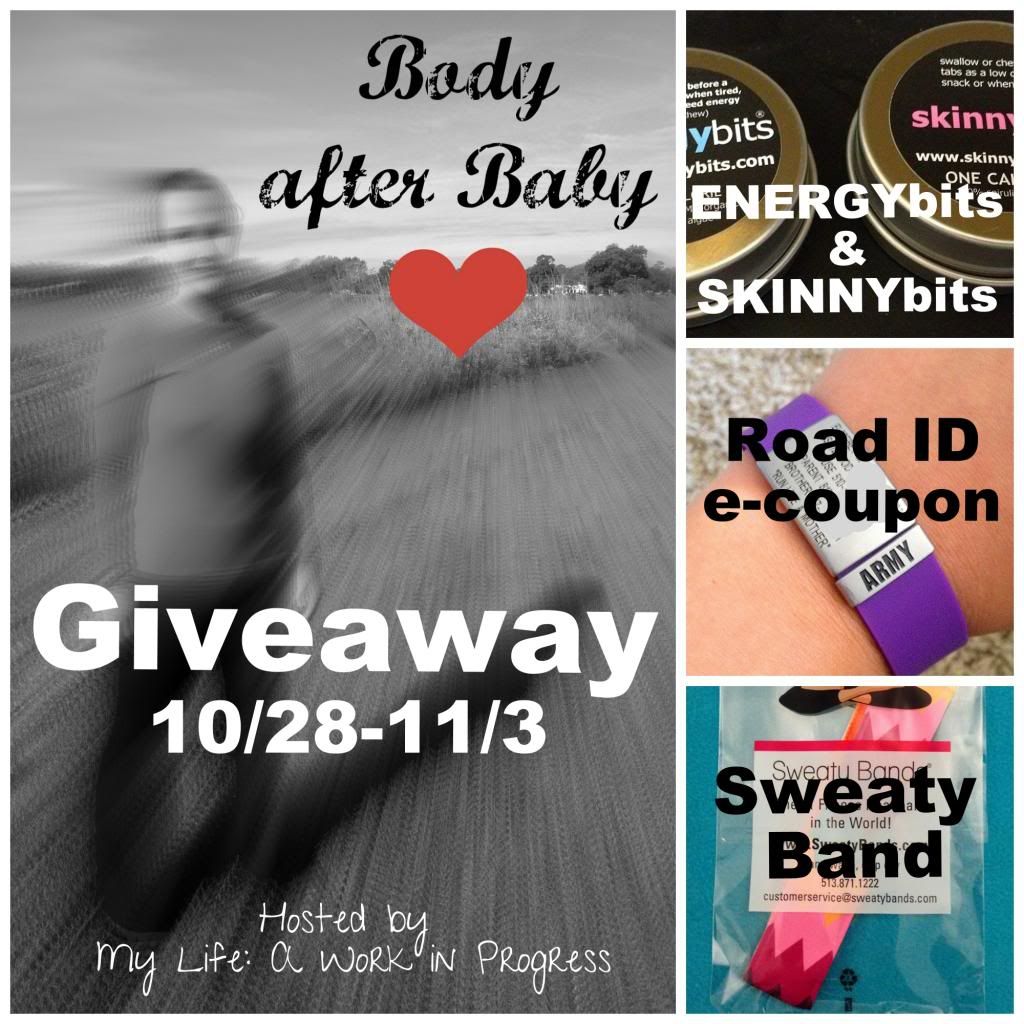 Welcome to the Body after Baby Giveaway!
The "Body after Baby" fitness event kicked off October 21 and runs into November. If you haven't read them yet, you can see the guest posts and reviews HERE. Writers have included the creator of The Babywearing Workout, a personal trainer and fitness model, a Zumba instructor, and more. What do all these women have in common? They're all mothers!
For this giveaway, one winner (US resident) will receive the following awesome prizes to help them on their fitness journey:
Two sample tins of ENERGYbits® and SKINNYbits® ($10+)
A Sweaty Band ($15)
An e-coupon to Road ID ($35)
The Prizes:
*ENERGYbits® & SKINNYbits®–
Made with 100 percent organically-grown spirulina algae, ENERGYbits® and SKINNYbits® are small bits of food loaded with 40 nutrients. With just one calorie per tab, they have an exceptionally high concentration of protein. Considered a superfood by many, spirulina algae has even been endorsed by the United Nations as a means to fight malnutrition. Both types of bits can increase your energy and endurance, curb hunger, and even more. Read my review HERE.
SKINNYbits® and ENERGYbits® are only available at ENERGYbits.com. Jonathan (their brand manager) has shared with me that he'd be happy to connect anyone with a current ambassador to share a discount on a bag of bits. You can email him at jlevitt@energybits.com.
*Sweaty Bands-
With their no-slip design, these American-made headbands stay put, no matter the task. Running, yoga, golfing, aerobics, and even skydiving have all put Sweaty Bands to the test, with these trendy and colorful bands coming out on top. Sweaty Bands are available in dozens of prints, patterns, and colors. Read my review HERE. 
*Road ID-
Launched in 1999, RoadID.com provides identification products for runners, cyclists, triathlete, or anyone with an active lifestyle. Current products include variations of the Wrist ID, the Shoe ID, the Ankle ID, and even high visibility gear to keep you safe. Customize your ID to feature things like your name, emergency contacts, blood type, and anything you'd like first responders to know in an emergency. Read my review HERE.
The Giveaway:
If you agree to the Terms & Conditions listed at the bottom of this post, enter to win using the Giveaway Tools form below.
Terms & Conditions: Sweepstakes open to residents of the US. Must be 18 years or older. Void where prohibited by law. Two entrants allowed per household. Odds of winning depend on total number of eligible entries received. Once winner has been selected and emailed, winner will have 48 hours to respond or new winner will be selected. Winner's name may be posted on this blog and other social media and Web sites. My Life: A Work in Progress (MLAWP) and participating blogs are not responsible for prize fulfillment, with the exception of the Sweaty Band. MLAWP will ship Sweaty Band to winner. Sweepstakes not associated with Facebook or any other social media platform. Entrance into the sweepstakes indicates acceptance of these terms and conditions.