Thank you to my co-writer, Ruth, for her second post on My Life: A Work in Progress! -Elisebet
It's that time of year again. Football fans, whether it's their team or not, are excited about THE big game. Not a fan? Doesn't matter—someone in your family or office is. Food for THE BIG game? It's got to be filling and tasty, and there better be plenty of it. Preparation needs to be simple, and it must be easy to eat in front of the big screen. Here are four fabulous, family-favorite bowl dips that meet all these requirements for THE BIG GAME.
#1 CHILI CHEESEY DIP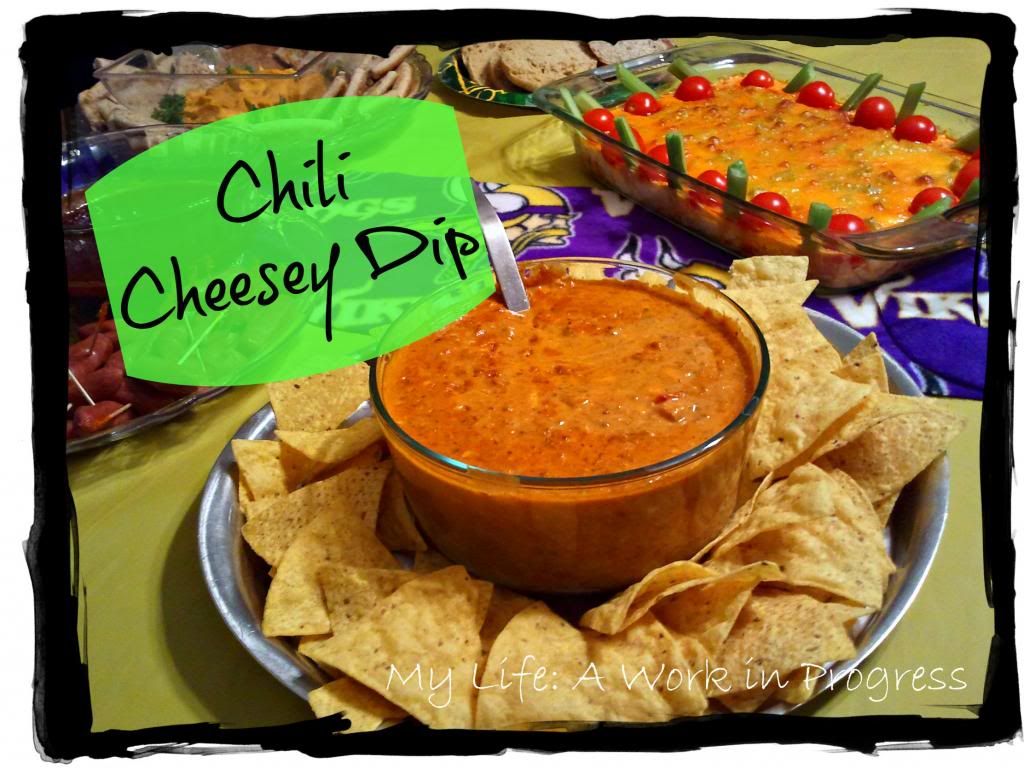 Ingredients:
1 can (15 oz) chili without beans
1 can (15 oz) tamales
1 can (10 oz) diced tomatoes & green chilies
½ lb. processed cheese (Velveeta or generic)
Steps:
Put contents of the canned chili and tomatoes/green chilies (including liquid) into a slow cooker. Remove the paper from the tamales and mash with a fork. Add to the slow cooker mixture, including the liquid from the tamale can. Cube the cheese and mix into the slow cooker contents. Cook on high for about one hour (or low for longer) until the cheese is melted; then keep on warm until serving with your favorite tostada or taco chips on the side.
#2 BUFFALO CHICKEN DIP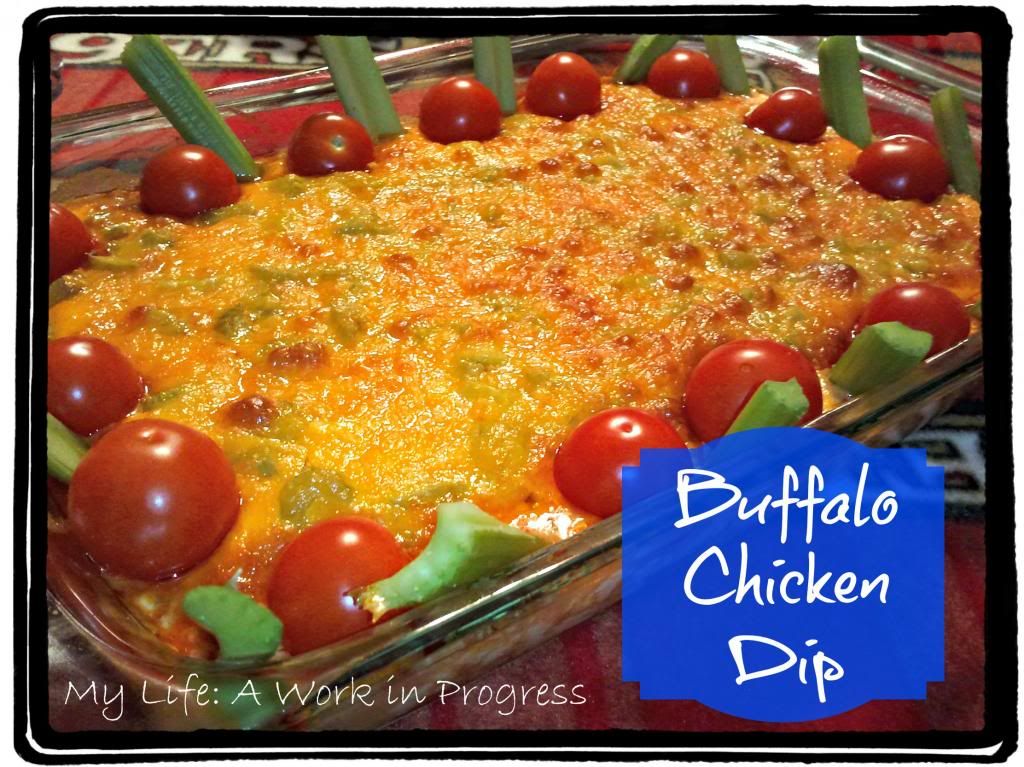 Ingredients:
2 boneless chicken breasts
1 (12 oz) bottle of hot sauce (I always use Frank's Original Red Hot)
2 (8 oz) packages of cream cheese (I use lite or Neufchâtel)
1 (16 oz) bottle of ranch dressing (I use lite)
1 cup of finely chopped celery
8 ounces (2 cups) grated Cheddar Cheese (or Colby or Monterey Jack)  (I like sharp Cheddar)
Steps:
Boil and shred the chicken breasts. (This can be done a day or two ahead of time and refrigerated until assembling the dip for baking.) Combine the cream cheese and dressing in a sauce pan, heating until smooth. Place shredded chicken in the bottom of a sprayed 13x9x2 pan and cover with the hot sauce—mixing it into the chicken. Pour the cream cheese mixture over the chicken/hot sauce layer. Layer the chopped celery next and top with the cheese. Heat in a 350 degree oven for about 30 minutes until the cheese is melted and mixture bubbling. Serve with celery sticks, crackers, and sliced baguette bread.
Variation:  If you like blue cheese, use 1 cup ranch and 1 cup blue cheese dressing instead of the bottle of ranch.
#3 Red Pepper Hummus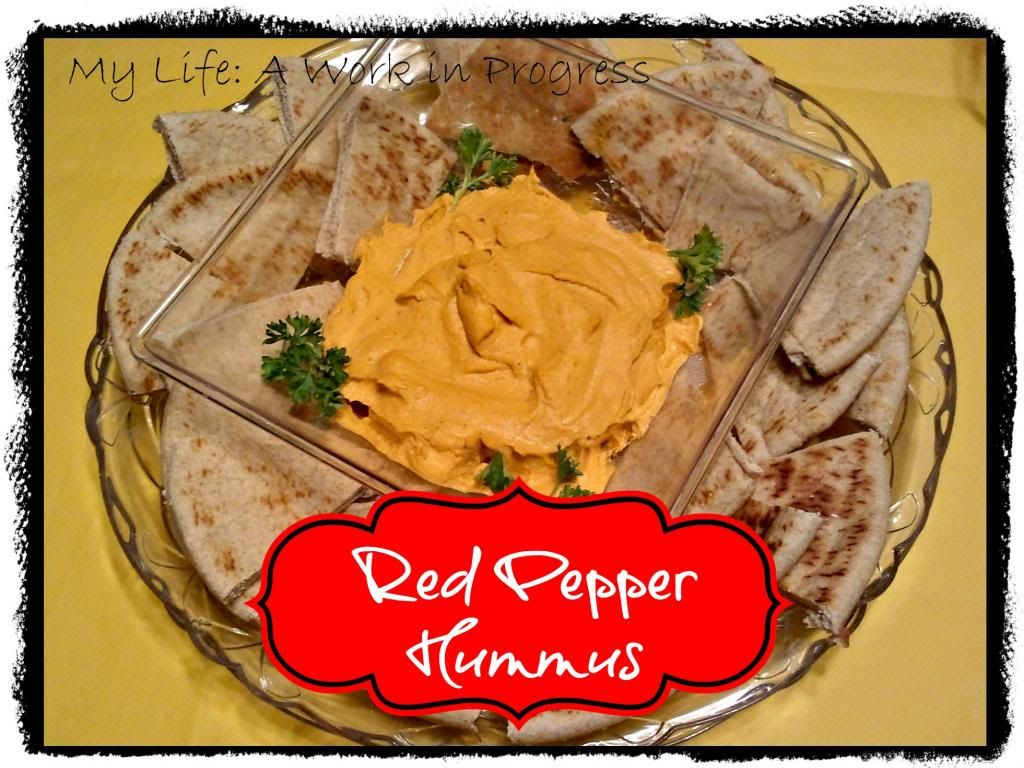 Ingredients:
1 can (15 oz) garbanzo beans (chick peas), drained  (if you cook your own beans, you will need 2 cups cooked)
¼ cup tahini
4 tablespoons lemon juice (juice of about 3 lemons)
2 tablespoons olive oil
2 cloves garlic
1 teaspoon cumin
½ jar (12 oz) of roasted red peppers (if you roast your own—2 red peppers)
2 tablespoons parsley
Salt & pepper to taste
Steps:
Puree ingredients together in a food processor or blender. Add salt & pepper to taste; add more lemon juice if needed for tartness.  (It will thicken slightly when refrigerated.) Best if chilled several hours or overnight before serving, so make it ahead! Serve with pita bread cut into triangles.
#4 Sweet and Saucy Dip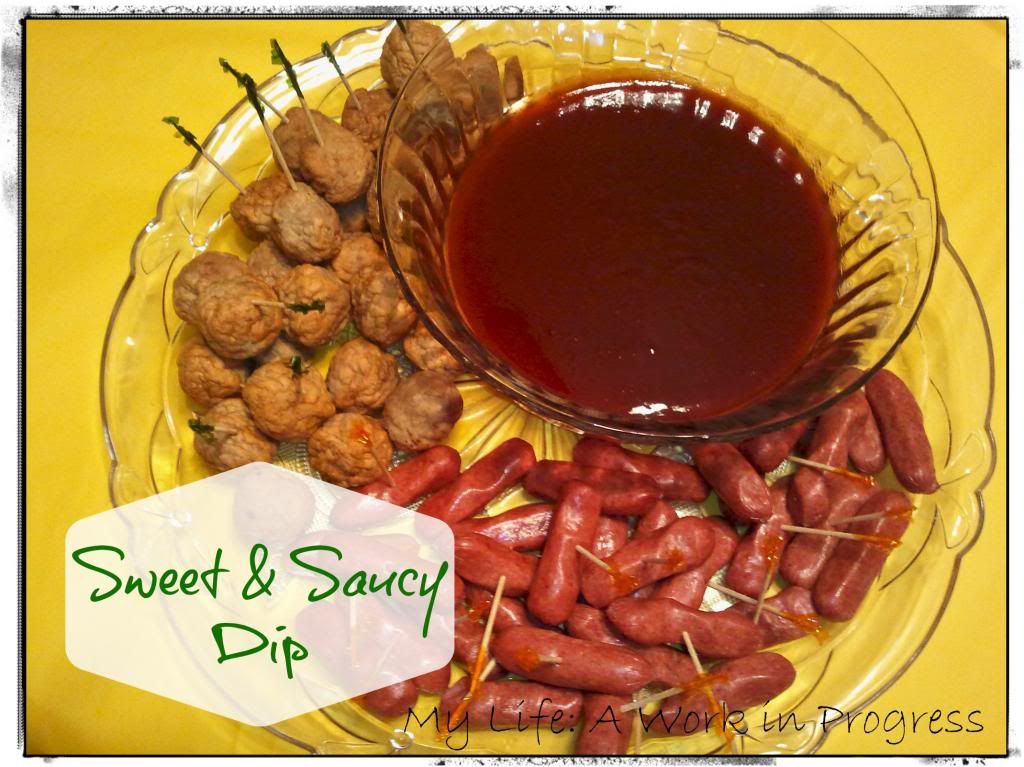 Ingredients:
1 jar (12 oz) grape jelly
1 jar (12 oz) chili sauce
Steps:
Empty contents into a sauce pan and heat (medium) until jelly is melted into the chili sauce, stirring as needed. This can also be made in a slow-cooker. Serve with meatballs and little smokies (cocktail wieners).
 What are your favorite game-day dips?