Confession time- I don't like team sports. I'd rather go hiking or skiing than play a football game or watch March Madness. But, if there's going to be food, count me in! Tailgating parties have the best comfort food for me, and hot wings or buffalo chicken dip are at the top of my game day food list.
Frank's® RedHot® sauce is celebrating its 50th birthday, and I received some RedHot swag because of it as well as two free product coupons. I used one of my coupons to purchase RedHot's Hot Buffalo Wings sauce. Then I made this delicious, RedHot Buffalo Chicken Dip!
Ingredients:
1 (8 oz.) package Cream Cheese, softened
1/2 cup Blue Cheese or Ranch salad dressing*
1/2 cup any flavor Frank's RedHot Sauce
1/2 cup crumbled blue cheese or shredded mozzarella cheese
2 cans (12.5 oz each) premium chunk chicken breast in water, drained**
*After spending some summers and winter holidays in Buffalo, NY, I became a huge fan of the traditional buffalo wings and celery dipped in blue cheese. That's why I chose to use the blue cheese salad dressing and the Hot Buffalo Wings sauce. However, I did use mozzarella instead of blue cheese, because I already had a huge bag in the fridge.
**I couldn't find any 12.5 oz cans of chicken, but I did find and use 10 oz cans. It was still plenty of chicken.
Steps:
1. Heat oven to 350ÂşF. Place cream cheese into deep baking dish or casserole dish. Stir until smooth.
2. Mix in salad dressing, Frank's RedHot sauce and cheese. Stir in chicken. If the chicken chunks are bigger than you like, use a fork to chop them up.
3. Bake 20 minutes or until mixture is heated through; stir. Garnish as desired. I served mine with homemade crackers, carrots, and celery.
Recipe notes:
This dip was super easy to make and so delicious! You can also make this in the microwave or slow cooker. To reduce calories, use neufchatel cheese instead of cream cheese and low-fat salad dressing instead of regular. For more tips, visit FranksRedHot.com.
FLASH Giveaway!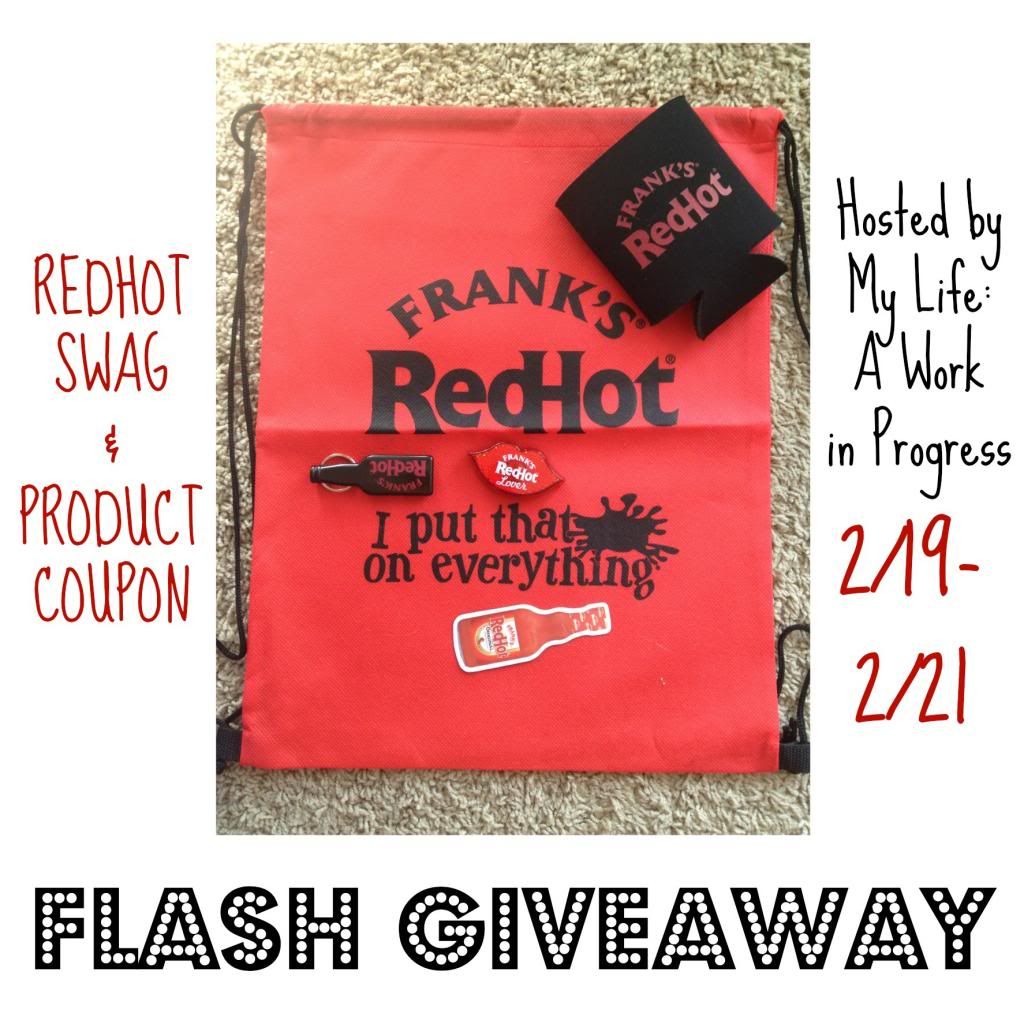 Giveaway starts at 4pm EST 2/19 (today) and ends at 11:59pm EST 2/21 (Friday). US only.
Frank's RedHot Back-pack
Frank's RedHot Drink Coozie
Frank's RedHot Keychain
Frank's RedHot Blinking Hot Lips
Frank's RedHot Magnet
Coupon for product
If you agree to the terms and conditions listed directly below, keep scrolling and enter to win!
Terms & Conditions: Sweepstakes open to residents of the continental US. Must be 18 years or older. Void where prohibited by law. Two entrants allowed per household. Odds of winning depend on total number of eligible entries received. Once winner has been selected and emailed, winner will have 24 hours to respond or new winner will be selected. Winner's name may be posted on this blog and other social media and Web sites. My Life: A Work in Progress is not responsible for prize fulfillment. Sweepstakes not associated with Facebook or any other social media platform. Entrance into the sweepstakes indicates acceptance of these terms and conditions.
Note: I received complimentary coupons for Frank's RedHot sauce and some other promotional items but was not otherwise compensated for this post or giveaway.