Today is the last day of the Move, Nourish, Believe Challenge by Lorna Jane and Sweat Pink. I'll be posting my recap tomorrow, and there's a big Twitter party for the event next Wednesday (woohoo!).
I'm still participating in the Winter Miles Challenge, although I believe next week is the last week.
Activity:
Today has been a good week! The weather has been gorgeous- possibly the best week all winter. We've had temps up in the 50s and 60s for highs, perhaps even the low 70s. I've definitely taken advantage of it, and we've been outside, getting active.
I didn't keep track, but most days this week, I have been doing pushups, crunches, various ab exercises, and free weights.
I've been reading a lot lately online about the benefits of heavy lifting for women. I don't have barbells or a bench, but I do have adjustable dumbbells (they go up to 50 lbs) and an ottoman. That will have to work for now!
Obviously I need to be consistent about which days I lift and for how long. Right now my exercising is all over the place, which is totally me, unfortunately. I'm rarely organized and have difficulty sticking to schedules. :/
Monday– I skipped running today. Since I didn't work out on Saturday or Sunday (other than some weights here and there), I probably should've done some cardio, but it was the coldest day of the week (high of 30s), so I decided to wait for warmer weather. Why didn't I do a home cardio workout? Good question. Being more motivated and consistent is a constant battle for me.
Tuesday– I put 5.88 miles in. After reading about the benefits of interval training, I completed walk/jog/run intervals. I didn't time them; I just went by landmarks, how I was feeling, and the wind. If I was on a really windy area of the trail, I walked. If the wind died down, I sprinted and then slowed to a jog after 30 seconds or so.
Interestingly, I felt exhaustion in my hamstrings more from the speed walking than the sprinting.
The Army has an alternate physical training test. Certain Soldiers that have "profiles" (due to injury, etc.) may be allowed to speed walk the 2-mile run, instead of running it. The first time I heard that, I rolled my eyes. But when I actually witnessed how fast some of these troops have to walk in order to pass their test…it's no joke. Speed walking can be a great workout.
I think because I was trying to walk fast and push the jogging stroller into the wind, I must have been digging into the ground with my heel and pushing off more. Somebody who actually understands muscle can probably explain this more, but anyway, I did get a good burn from it.
My averaged out pace was 11:13 min a mile.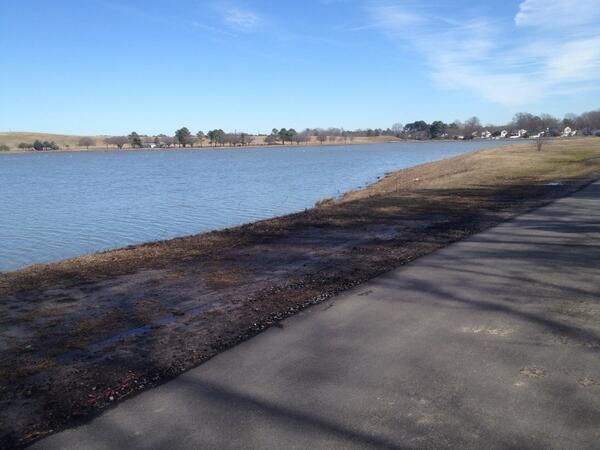 Wednesday– I was busy cleaning and blogging earlier in the day, but Baby J and I broke out the bike and toddler seat in the afternoon! We just did 3.34 miles, but it was very refreshing.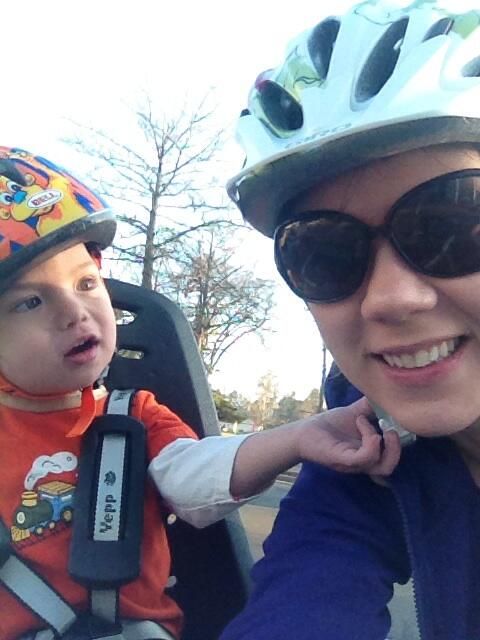 Thursday– More walk/jog/run intervals for us today. We did 3.35 miles. I also spent probably 45 minutes chasing Baby J around the playground and climbing equipment with him. It was a lot of fun!  Average pace was 10:40 min a mile.
Friday– Well, the day's not over yet! While I was babysitting earlier this morning, I spent a bit of time just playing outside with the boys, tossing and kicking a ball around. That's one of the reasons I want to be in shape- just to be active with my family and friends.
I'll update later this weekend, but my plan is to do a Brazil Buff Lift workout DVD this afternoon (it's supposed to storm outside), and put a long run in tomorrow morning. I don't know how far. Ten miles would be great, but I'll be satisfied with 6.
As I mentioned above, I've been doing strength training every day this week, and that will continue today.
Diet:
I'm really struggling with this, but not quite as bad as last week. Earlier this week I bought ice cream from the grocery store and ate 2/3 of the pint in one night (Baby J ate the rest). Usually I can pass the frozen foods aisle, and yes, my mouth will start watering, but I'll ignore it and resist. I just couldn't do it! Then Tuesday I ate over at some friends' home and instead of sticking to one brownie, I had two and a piece of cake. Yesterday at the grocery store, I couldn't resist buying a deeply-discounted box of mini apple Danish. Today I've already eaten half a cinnamon crust bagel from Panera that someone gave me (this bagel is in no way healthy).
So clearly I'm having an issue with processed sugars. On a positive note, I've been eating lean protein, legumes, and tons of raw veggies and some fruit.
Statistics:
Next month I'll measure inches and report back. My weight is still at 149 lbs., which is fine. I'm assuming this is a combination of building muscle and the crap I've been eating. But my arms look more muscular, so that's great! I feel good too.
Goals:
I would like to get my sugar cravings under control, first of all. I did well for months, so I'm not sure why it's flaring up suddenly. I guess I should do some research.
A big goal for me right now is to lift heavier weights and build muscle. I would like to see my jeans size go down, even if my weight goes up.
As far as running, I'm confident I could finish a half marathon in decent time if it were today or tomorrow. However, I may have to walk some of it. Because of this, my goal in the next 50 days would be to continue interval training and run longer distances, so I can at least jog all of the half (if not actually RUN).
Fitness sites I'm loving this week:
I've found a couple of websites this week that have really inspired me: NerdFitness.com and NiaShanks.com. They both share practical, realistic advice about fat loss and muscle gain. You won't find any fat diets on these sites.
NerdFitness also has a couple of great articles that explain why the number on the scale doesn't matter, lower body fat isn't always best, constricting calories often backfires, and that what you eat is 80 percent of the weight loss/fitness battle.
And how about you? How was your week? Did you meet your goals? Do you have any plans for this weekend? Goals for next week?