If you read my first post on weaning, you know that my son's weight was down at his one year appointment to the 20th percentile. The pediatrician was encouraging me to feed him more whole cow's milk and solids instead of/in addition to breastmilk. You'll also know I was concerned about nursing my son while meeting my Army Reserve obligations. Well, these two concerns are what started the weaning process for Baby J and I. We went from about 6 feedings a day to 3 pretty much overnight. I tried to take him out during the day to the park, the mall, or the beach, so he had things other than nursing on his mind. I also offered him a sippy cup of whole cow's milk constantly. My supply started to dwindle, and Baby J was getting frustrating by the nursing process. What used to take 5 minutes was sometimes taking 20 minutes. That's a long time to stay still (relatively) for a one year old!
Baby J and I arrived back in Virginia just a few days ago after spending a week in Florida. Several days of that week away, I worked for my Army Reserve unit. My mom was watching my son nearby, but the hours varied, and I wasn't always able to get back to nurse him at his regular times. I nursed him Sunday night on the 16th and left a few hours later for work. I didn't get back until lunch time on Monday the 17th. I tried to nurse him, but his tummy was already full on solids and cow's milk. He just smiled, poked me, and sat up. All right! I wasn't going to argue with him. So I didn't offer to nurse him anymore from that point on.
I thought I'd have issues with engorgement, but other than feeling a little tight and itchy for a couple of days, I haven't had any issues. Baby J seems fine and happy. I think I'm struggling with it more! There was a time when I hated nursing so much. It was so painful those first 6-8 weeks. And constant! Baby J used me as a pacifier when he was a newborn. He wanted to be latched 24/7. I despised it, and sometimes I resented him for it. But now…now I miss those cuddly bonding moments. I miss snuggling my baby. I love my toddler. I love watching him discover new things, say new words, and just be adorable. But I miss him needing me in that way. I mean, anyone could feed him and take care of him now, right? 🙁 He doesn't "need" me anymore. Okay, yes, he does. But not in the same way.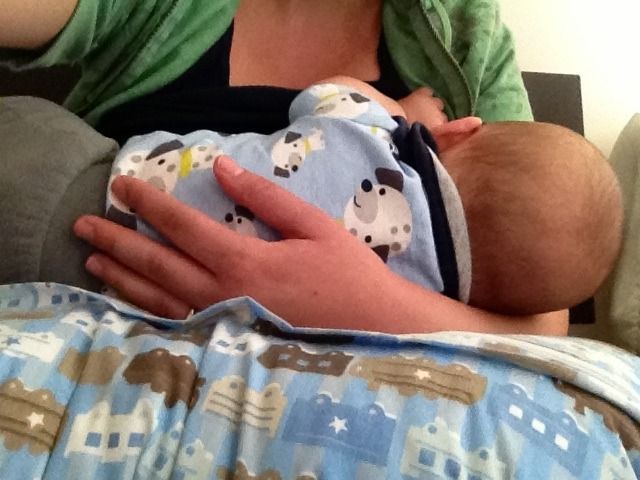 How old was your little one when he/she weaned? Was it an easy process or difficult?