This is a Sponsored post written by me on behalf of Miracle-Gro for SocialSpark. All opinions are 100% mine.
As Baby J grows older, I try to include him in more projects around our home. I even bought a small watering can just for him to help me water our little balcony garden. In reality, it's more like he's bashing the tops of the plants with the watering can! It's cute though, and I want him to grow up being helpful, so it's all okay!
Miracle-Gro has several fun garden projects (<<check this out!) on their Pinterest and Facebook pages, and as soon as I saw the "Toyarium" project, I knew I had to try it with Baby J! As you can see, the "Toyarium" is a terrarium with toys in it.
To make your own Toyarium, you need:
Step 1: Add rocks to bottom of container (they help with drainage).
Step 2: Use your spoon to scoop moisture-control potting mix into the container.
Step 3: Place your succulents into the container (if they have barbs, be careful!).
Step 4: Add your toys. Then scoop potting mix around the plants and toys as necessary.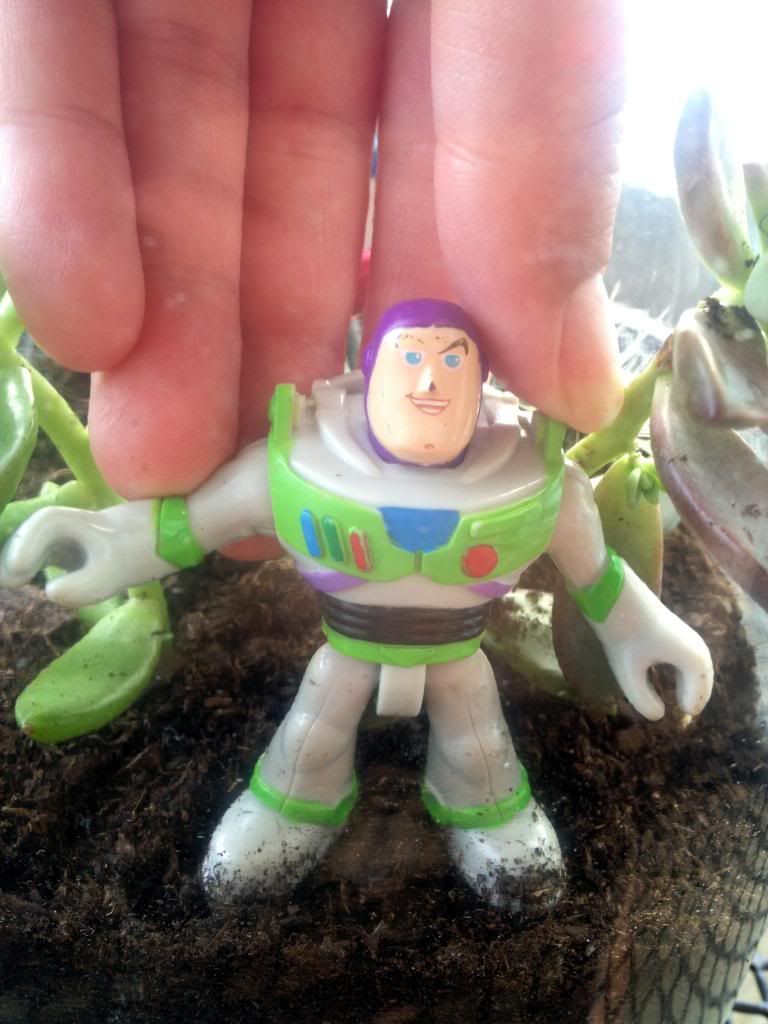 And that's it! This project is easy and fast to do.
Tips:
To save money, use a glass jar, vase, or other container you have around the home. Just make sure it's cleaned thoroughly first, and that the mouth is wide enough that you can easily place the plants and toys inside.
For the drainage layer, you can buy rocks polished specifically for this purpose. Or try small pieces of gravel or broken pottery.
To help your plants grow, try the LiquaFeed All Purpose Plant Food Advance Starter Kit by Miracle-Gro.
Regarding the toys, I started off with a rubber snake we had in the toy bin. I thought it looked cool! But most people would find it creepy (see below), so I took it off and went with Buzz. When I get the chance, I'll check the dollar store for toy dinosaurs. I think they'd look perfect peeking through the foliage!
Too creepy, eh?
If you want to get your green thumb on, check out The Gro Project and join the movement!