I received a Smitten fitted cloth diaper to review.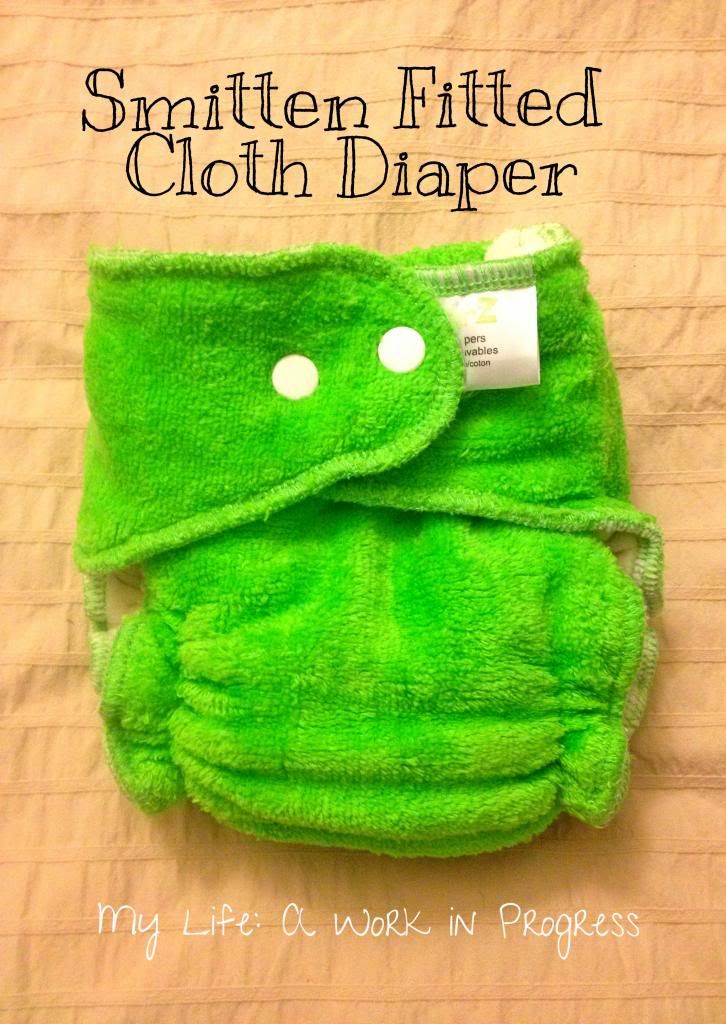 About:
Smitten fitted cloth diapers by RearZ are made with soft, absorbent velour cotton and certified bright, organic dyes. This diaper is not waterproof and needs a diaper cover.
The pocket opening and tongue design allows for faster drying time, and gives you a designated spot for a night-time booster. Just pull the tongue out before putting the diaper in the wash.
(Confession time, I actually leave the tongue in until it's time to put it in the dryer. If it starts getting stinky, I'll have to pull it out before the wash.)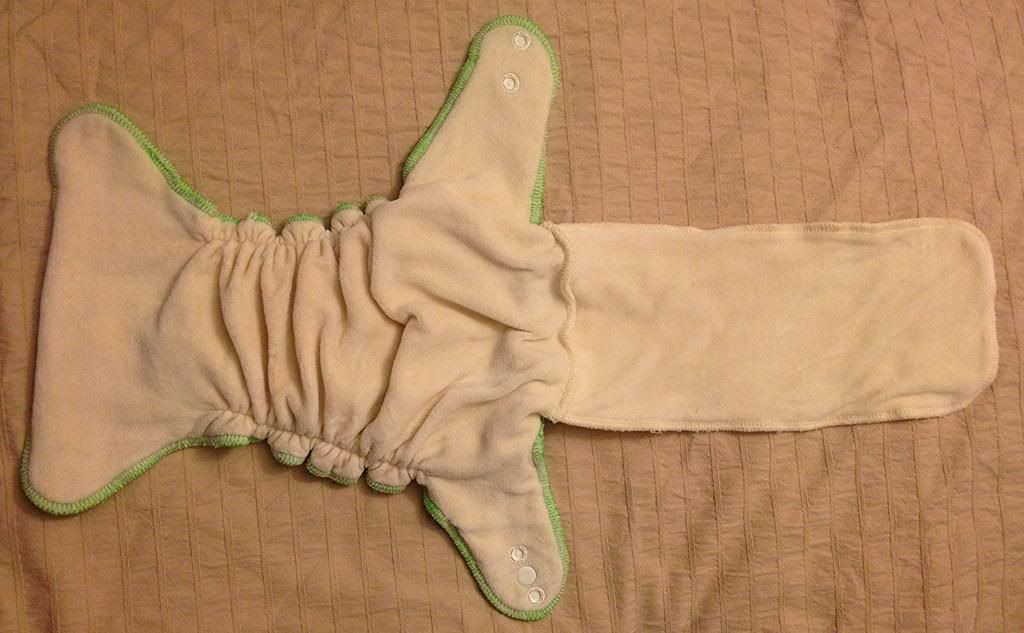 These diapers are available with snaps or oversized velcro closures. The snaps and velcro closures both cross over, in order to fit snuggly on skinny babies. Smitten fitted cloth diapers can be purchased in four sizes: small (7-15lbs), medium (14-28lbs), large (29-40lbs), and extra large (40+lbs).
Purchase a five pack of Smitten fitted cloth diapers for just $69.99. They come in red, orange, yellow, green, and brown.
Our Experiences:
Well, you already saw my laundry confession above! This diaper is easy to wash. It does take a couple cycles in the dryer on hot to dry, but that's normal for Baby J's fitted diapers. Since it's a natural fabric -cotton- it did take several wash and dry cycles for this diaper to reach its full absorbency. When Baby J uses this diaper at night, I add a doubler for extra absorbency. That probably wouldn't be necessary for a younger child or light wetter.
The diaper is a little narrower in the middle than some of Baby J's fitted diapers. That's nice to reduce some of that night-time diaper booty bulk. On the other hand, the narrowness made it difficult for me to place a doubler inside the pocket. I ended up just placing it on top of the diaper. It was also difficult to stuff the tongue back into the diaper after laundering, because my hand couldn't fit all the way into the pocket. I couldn't get the very end smoothed out, which was frustrating. Maybe with future designs, RearZ will take that into consideration and widen the diaper a little.
I do love how soft this diaper is. I know it has to be comfortable for Baby J to wear, which is always my primary concern.
It's also plenty absorbent. I would say that with one doubler, it holds up as well as our bamboo fitted diapers at night. I also use a doubler with them, so it really is the same. But the difference is in the price. The Smitten diaper works out to around $13 to $14, whereas our bamboo diapers cost $20-30 each. The Smitten only comes in packs of 5, but it's very reasonable, in my opinion. Even if you only use fitted diapers at night, you'll still want several. We started with just two "overnight" diapers for Baby J, because I thought I'd rotate them and wash every other day. Then he'd soil them right before bed or in bed, and I'd have to change him into the spare. Or I would miss a wash day, because I was too busy. So we added on until we had five or six diapers suitable for night-time use.
Here are some photos of Baby J wearing his. He's almost 17 months in these photos. At 16 months he was 21 1/2 lbs and 80cm long. He's wearing a medium, and at this rate, it'll probably fit my skinny boy until he's potty trained!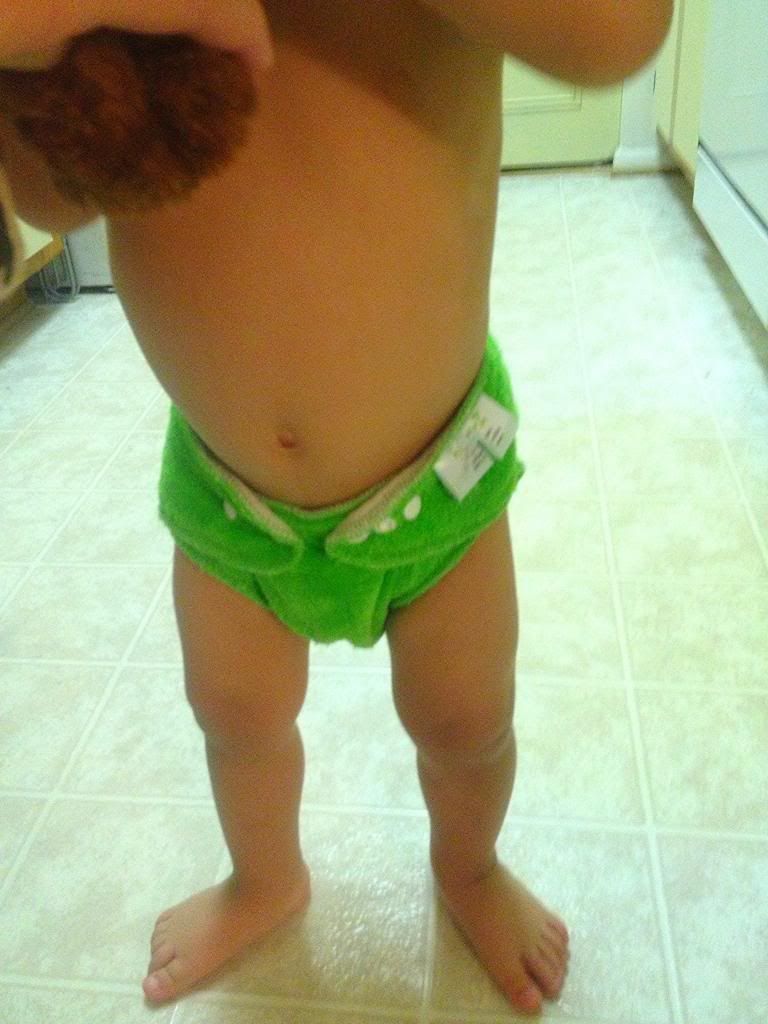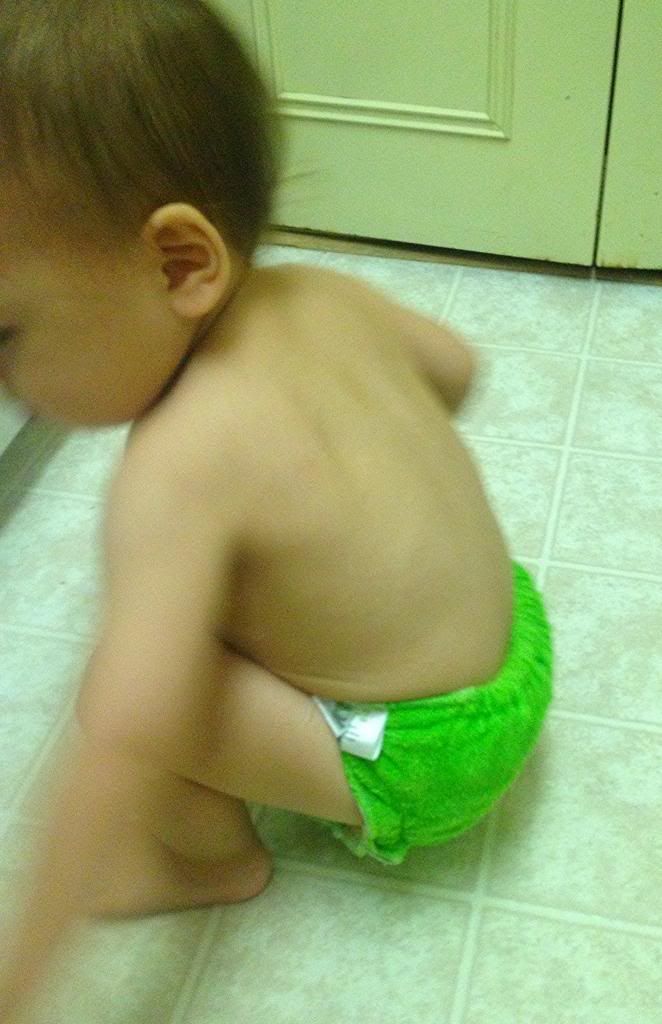 Want to win your own? Click HERE to go to the Fresh Fluff Giveaway.
Note: I received one or more of the products mentioned above for free using Tomoson.com. Regardless, I only recommend products or services I use personally and believe will be good for my readers.