This year I started doing my own canning. So far I've made and canned chilli jam, fig jam, and muscadine grape jelly. It's a great and delicious way to use up your surplus produce. What to do with all the empty mason jars afterwards can be a conundrum. But I have an obsession with reusable containers, especially reusable drink cups (probably related to my coffee addiction?). Upcycling my empty canning jars into a travel mug or lunch containers is an easy, eco-friendly solution! Cuppow sent me two of their canning jar lids and their BNTO jar lunchbox adaptor to review.
About:
Cuppow products are one hundred percent American-made. The company is founded on the goal to reduce environmental impact, both in their own production and supply chain, and through the use of their reusable products. Their durable products are made from food-grade polypropylene and free of BPA, phthalates, and BPS. The minimal recyclable packaging is made from recycled materials.
The Cuppow's jar drinking lid is available for regular or wide mouth mason jars. Use it for your water, juice, tea, and coffee, and eliminate waste in the process. The newer version is now designed to fit straws (the original does not).
The BNTO jar lunchbox adaptor is a six-ounce container that sits down inside of a wide mouth canning jar and allows you to take both wet and dry ingredients with you on the go. Grab your mason jar and use it for a yogurt parfait, salad with dressing, carrot sticks and ranch, celery and peanut butter, cereal and milk, etc. The list goes on!
Both the drinking lid and lunchbox adaptor are dishwasher safe and available in a variety of colors.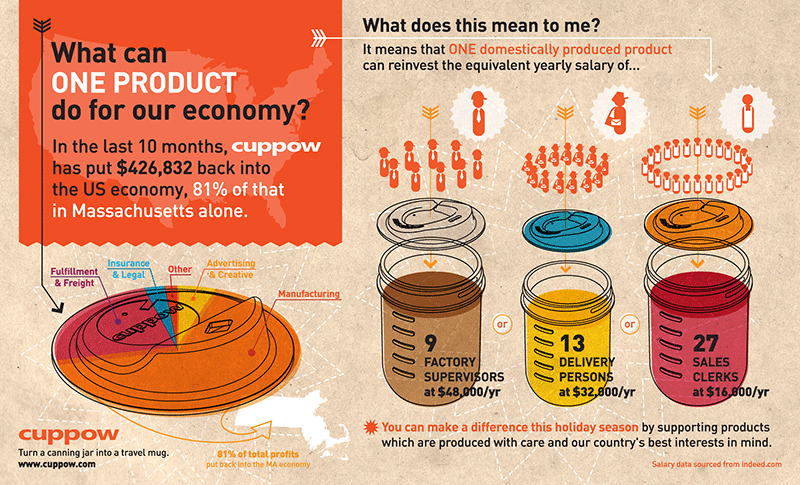 Our Experiences:
I kept the wide-mouth canning jar lid for myself and gave the narrow-mouth lid to a friend. Her kids love using it to drink water, and she's received several compliments at church, when she took the Cuppow along with her. My friend has mentioned that when she drinks from her jar and Cuppow, her nose touches the little air hole on the lid, so she has to tilt the jar to the side while drinking. I guess that is a long-nose-person problem, because it doesn't happen to me!
The first time I used my Cuppow lid for coffee, the jar did get really hot, so I'm planning on crocheting a little jar cozy for my mason jar. If you don't sew or crotchet, you could make a no-sew cozy with fleece. Cut out a piece that will fit neatly around your jar. Then cut the ends of the fabric into little tabs that you can tie together. You could also make a fabric cozy that snaps around your jar. If you don't fancy making your own cozy, the Cuppow website sells a jar insulator that stretches to fit different sizes of jars. A quick search on Etsy for "jar cozy" or "jar cozie" will bring up dozens of handmade cozies of all different types, colors, and designs.
Yesterday evening, I carried my Cuppow and jar with me when we were running some errands. I had knit gloves on, because it was cold outside, and that actually worked perfectly with the bare glass jar. The heat from the coffee warmed my hands, and the gloves kept me from being burned. I actually really like to use my Cuppow for drinking water. I don't know what the science is behind it (something to do with how glass conduces heat…), but it seems that the jar keeps my water cooler longer than my plastic bottles, especially if I put the jar in the fridge first.
I haven't had the opportunity to take the BNTO with me yet outside of our home, but I love the concept. The BNTO is designed for a large, wide-mouth glass jar. My large jars are all regular-mouth. The photo immediately below shows you the general idea, though. The BNTO is sitting in the wide-mouth jar in the left, but unfortunately the jar's a little small for what I want to do. I could still probably use it for a nuts/yogurt combo or something with a similar proportion. The large jar on the right is filled with arugula, and you can see how a little BNTO filled with salad dressing can sit nicely on top of the lettuce, inside the jar. Unfortunately, since it's a narrow-mouth jar, I can't put the BNTO in there. I need to get a big wide-mouth jar!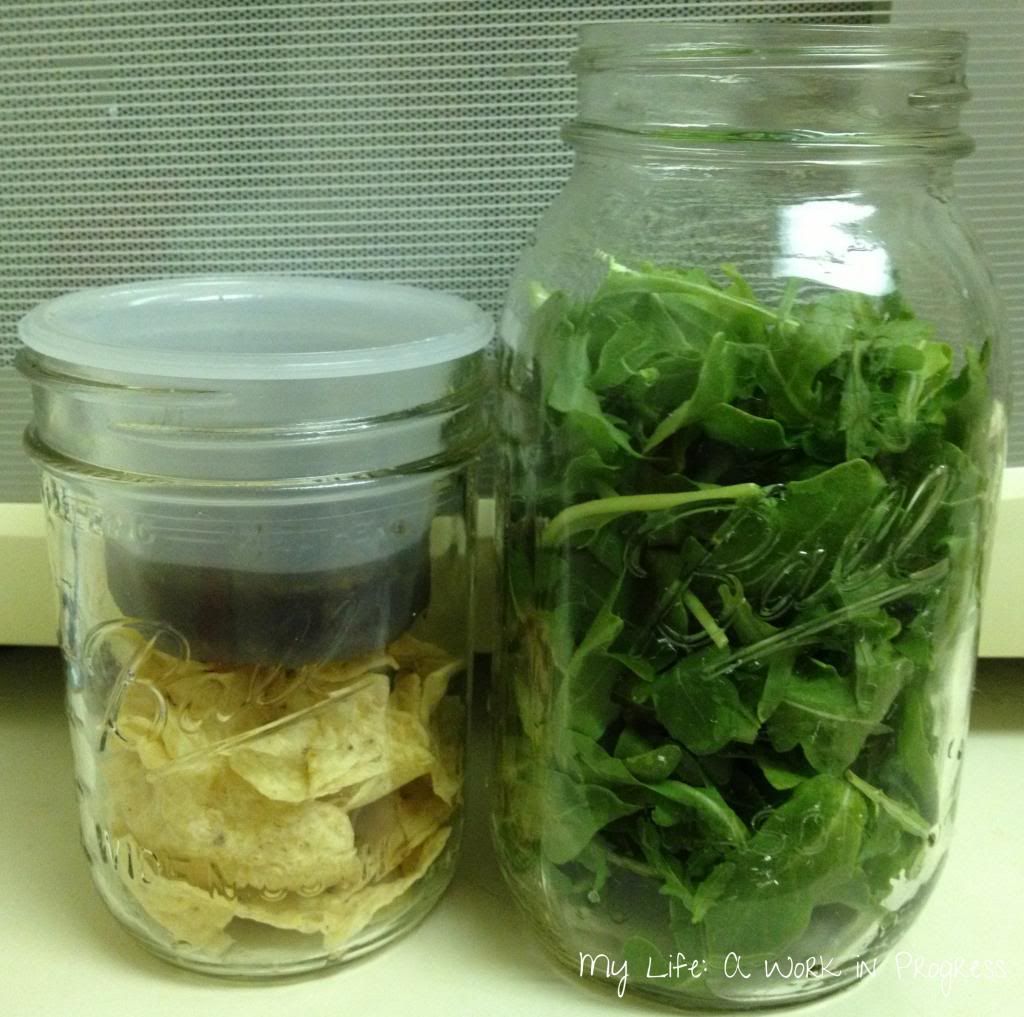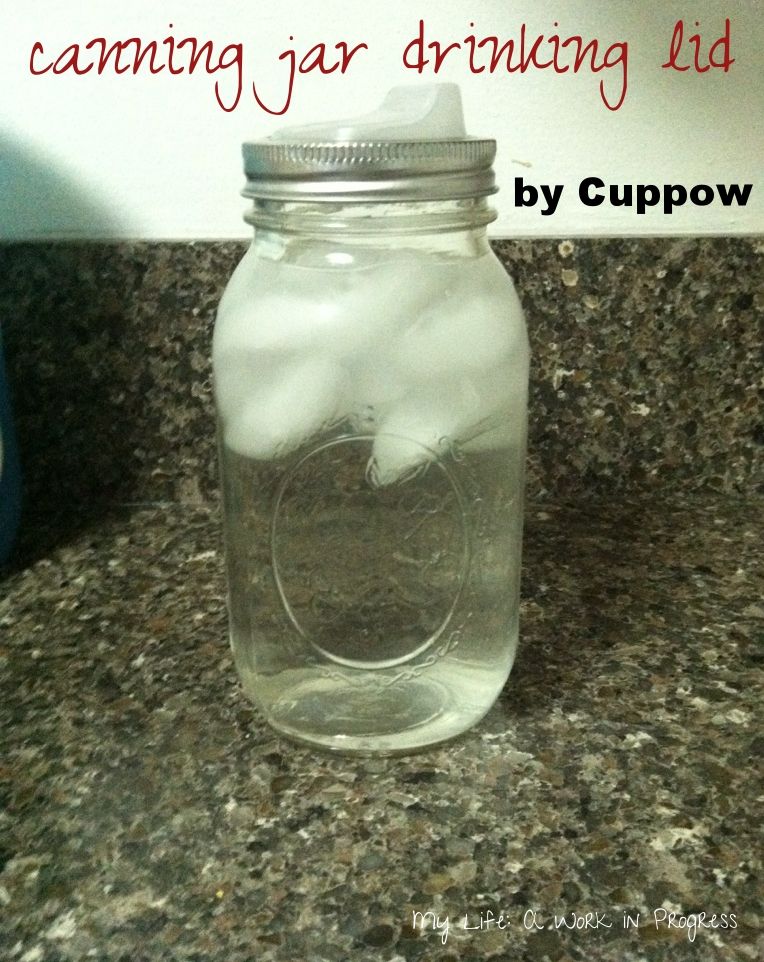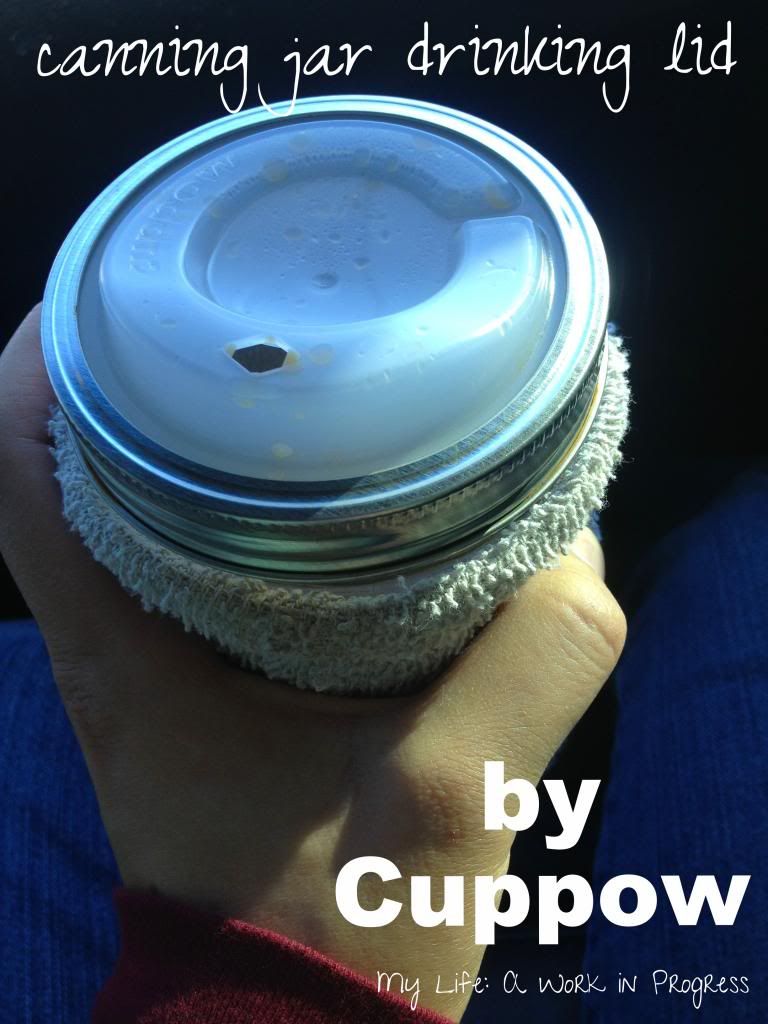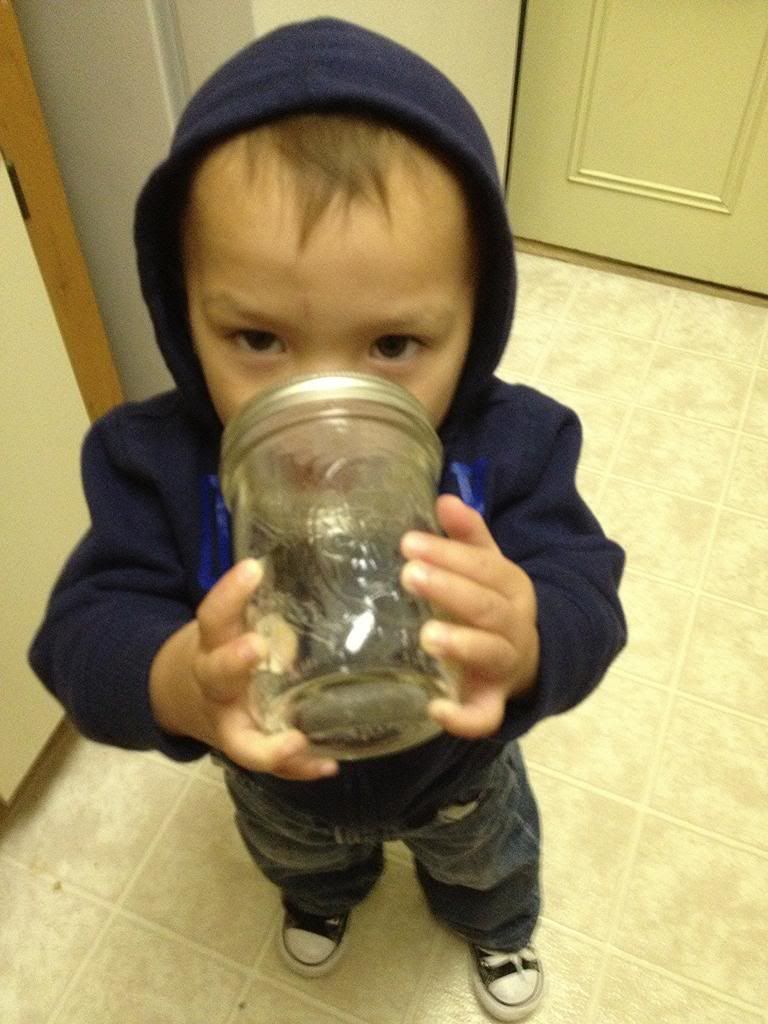 Visit Cuppow online to see their products. Use their store locator to find their products in a store near you, or purchase online. You can also follow Cuppow on Twitter and Facebook. Check their Facebook page to see all sorts of ways people have used their lids and BNTO.
What would you use your Cuppow lid/jar or BNTO lunchbox for? Where would you take it?