Brica sent me their Baby In-Sight Magical Firefly Auto Mirror to review.
About:
The Baby In-Sight Magical Firefly Auto Mirror by Brica lets you choose from two modes: entertaining or soothing. Each mode has up to 24 minutes of music (eight songs) available and features choreographed lights. In the entertaining mode, LED lights slowly flash in shapes and patterns along with the music. The lights fade on and off in the soothing mode. The included remote lets the driver control music, lights, and volume from the front seat. To conserve battery life, the mirror has an auto shutoff. The mirror is crash-tested and proven to be shatter-resistant, providing superior reflection and a distortion free image.
Our Experiences:
First, I want to mention that Brica sent me a handwritten, personalized note, and they actually spelled my name correctly. Trust me, that rarely happens. It really impressed me, because it means someone at the company cares about their products and, in turn, the bloggers they're working with. That alone is enough to make me pick this brand over another when I'm purchasing baby and kid items.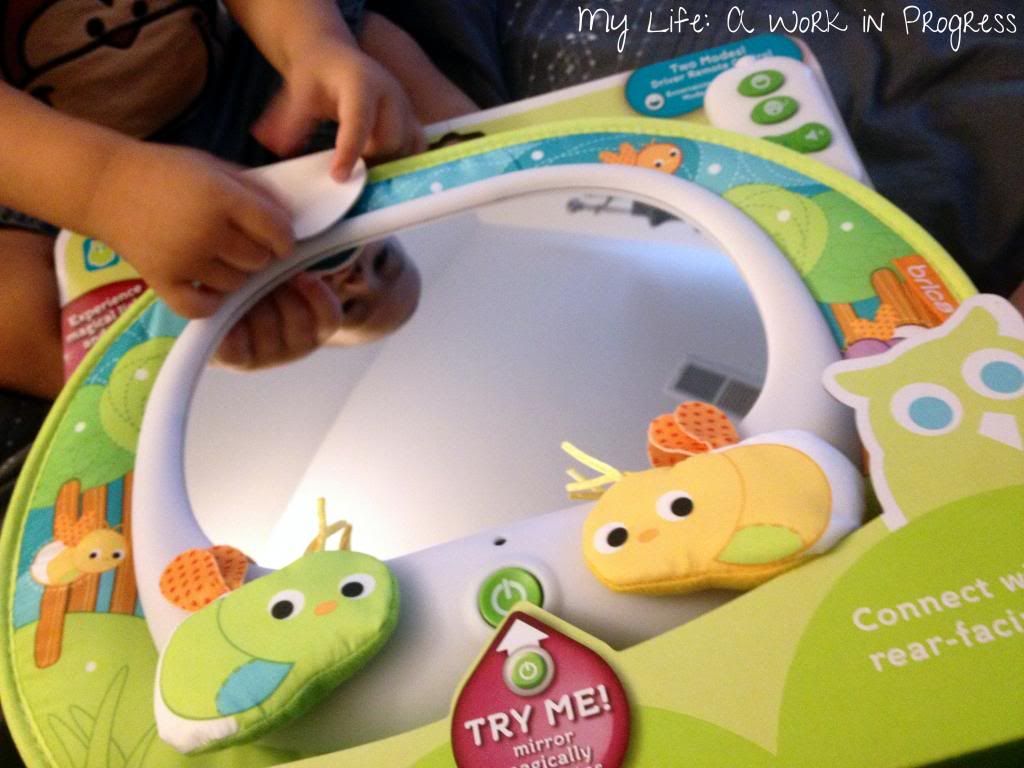 I wish I'd known about this mirror when Baby J was a newborn. For the first three to four months, he screamed every time he was in the car. We had a plain Brica (affiliate link>) mirror
 that stuck onto the back windshield. It worked just fine to see him and still does…but there was nothing on that mirror to entertain him. The reason I didn't buy a mirror like this Baby In-Sight Magical Firefly Auto Mirror is that I didn't think it would work since we don't have a headrest behind the middle back seat. Baby J is in the safest spot for a single child his size, rear-facing in the middle back seat. I was surprised and excited to discover the Baby In-Sight Magical Firefly Auto Mirror works for him! I just clip the mirror strap into the top latch system. There are actually a few different ways to secure this mirror for rear-facing and forward-facing children.
The music reminds me of elevator music, and it's a little tinny (you can listen for yourself in the video below). The music doesn't bother me though. For one, I can turn it down, so I really can't hear it. Second, I've always had the philosophy that I'd rather hear music, squeaks, or any toy sounds than my son's whining, crying, or flat-out screaming. At 14 months, he's extremely entertained by this mirror. We've had the mirror for about 3 weeks, and Baby J laughs and makes faces at himself every time he's in the car, unless he's sleepy. If he's sleepy, the flashing lights of both the entertaining and soothing mode knock him out. If I look back there when the car's stopped, I can see him just staring blankly into the mirror as his eyes begin to close. I can see my son really well. The reflection is quite clear, and I can even see what he's playing with. This mirror is great!
Currently, the remote doesn't come with a battery. You must purchase a lithium battery separately. Brica sent me one with the mirror and remote, and they also let me know that a plan is in the works to start including the battery with the remote, so that shouldn't be an issue for anyone down the road. The mirror takes three AA batteries, which are included for "try me" purposes.
You have to hit the button on the mirror itself to turn it on. Then you can operate it from the front seat using the remote, which attaches to the sun visor. The first week we had it, I had to remember to hit the button when I put Baby J in the car. The last week, he's started climbing into the car and into his seat by himself, and he pushes the button on the way.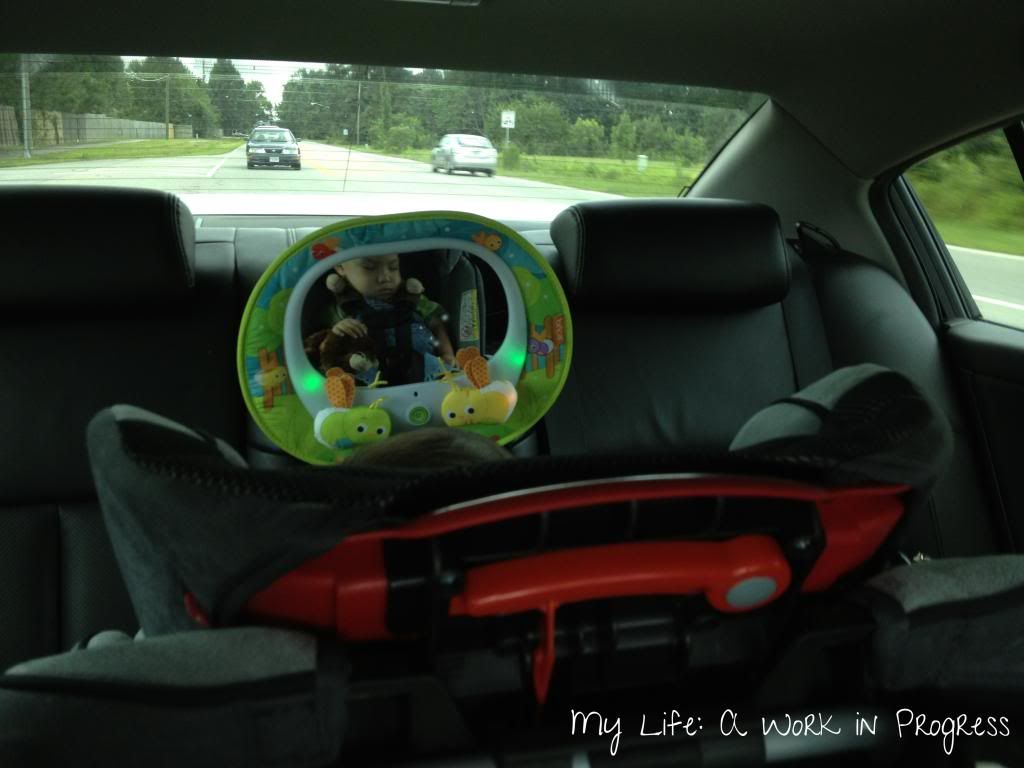 All in all, I really like this mirror. It's cute, entertaining, easy to install, and easy to use. I think it's a must-add to any baby shower registry!
Where:
Brica's Baby In-Sight Magical Firefly Auto Mirror can be purchased for $34.99 at several retailers, including (affiliate link>) Amazon
, Target, and BabiesRUS. Visit Brica's website by clicking HERE. You can even submit product ideas to them on their site, after filling out a Non-Disclosure form to protect your intellectual property.
To stay up to date on products and more, follow Brica on Facebook, Twitter, Pinterest, and Instagram.
Giveaway:
Click HERE.
If you liked my review, please vote for me at Top Mommy Blogs and the Picket Fence. Just click once HERE and HERE. Thank you! -Elisebet
Note: I received one or more of the products mentioned above for free using Tomoson.com. Regardless, I only recommend products or services I use personally and believe will be good for my readers.