I love anything that's useful and stylish! Why not be both?
Did you catch my post on Pocket Power portable chargers? And Ruth's post on the Scanner Mouse? Halo also sent me several of their flashlights that I then passed out to a few friends/family. I always love hearing someone else's opinion on a product.
The Halo Zoom metal flashlight comes as a set of three for $20.95. The zoom has an adjustable range of light, from wide to narrow. You can determine how much brightness you need for the task at hand. The on/off button glows in the dark, and there's an emergency flash feature (strobe). These flashlights are available in black, blue, green, purple, and red.
With an aluminum body and nine LED bulbs per flashlight, the Halo Animal and Floral Print Flashlights are functional and stylish. A set of five (floral print or animal print) costs $39.95, and each flashlight is packaged individually with a matching patterned box. This makes it easy to split the set up as gifts, prizes, or favors.
Now, for the opinions-
What I like about Halo flashlights: They're small, so great for a purse or diaper bag. They work, and the bulbs are surprisingly powerful. And I love the patterns available.
What "P" likes about his Halo Zoom flashlight: "The one I have is green with the adjustable size spotlight, a low, high, and strobe setting. They should ditch the strobe setting [he can't think of a good application], but everything else was great. I used it when working on the car."
What "N" likes about her flashlight: "It's been nice to carry in my purse. Used it several times. Very bright, and I like adjustable spotlight."
If I get any more feedback (*cough* That would be you, "E"), I'll add it in above!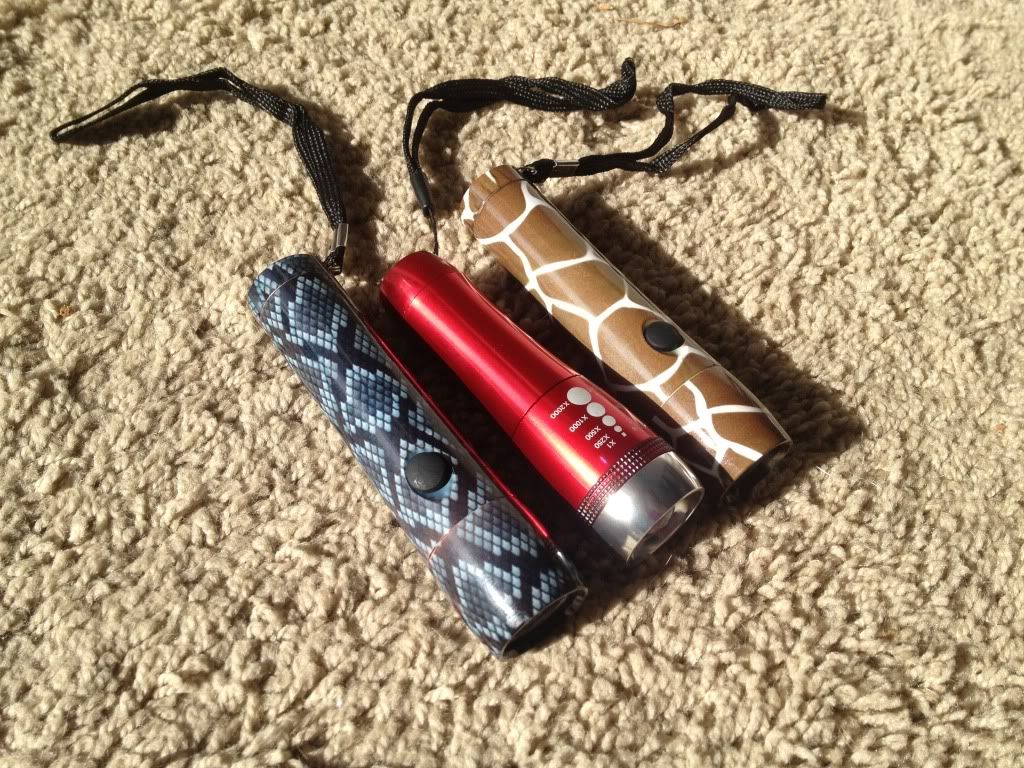 Visit Halo2Cloud.com to see what they have to offer.
Which flashlight would you love to carry?