Subscription boxes are a popular service right now, and I know they exist for all kinds of products- cat toys, organic samples, underwear, makeup, and more. But I was surprised to hear about Hello Fresh, a food subscription service! Through the Mosaic Reviews team (who, alas, are closing their doors soon), I received one complimentary Hello Fresh box, delivered to my door.
The classic box contained recipe cards and ingredients for three meals (two servings per meal). The meals were: steak and brussels sprouts stir-fry, chicken quinoa stew, and chile dusted shrimp with corn relish. Since the steak and Brussels sprouts were my favorite of the three (soooooo good), I'm sharing the recipe below.
Steak and Brussels Sprouts Stir-Fry
 

Ingredients:
Sirloin strips- 8 ounces, uncooked
Basmati rice- 1 cup, uncooked
Carrot- 1 large (about 7″ long)
Garlic cloves- 2
Ginger- 1 thumb (about 5 or 6 tablespoons)
Jalapeño- 1
Scallions- 2
Soy sauce- 2 tablespoons
White wine vinegar- 2 tablespoons
Vegetable oil- 2 tablespoons *Not included in Hello Fresh box
Directions:
Step 1- Quarter the Brussels sprouts. Peel the carrot and slice diagonally. Slice the scallions. Separate the white from green parts. Thinly slice the jalapeño. Mince the garlic and ginger.
Step 2- Combine the soy sauce and vinegar in a small bowl, then set aside.
Step 3- Bring 1 1/2 cups of water and rice with a pinch of salt to a boil. Reduce heat, cover, and cook for 20 minutes, or until tender.
Step 4- Heat a tablespoon of oil over medium high heat. Saute Brussels sprouts, turning occasionally, until golden brown and crisp tender, about four minutes. (I cooked mine for longer…just look for that golden brown color.) Move Brussels sprouts to a small bowl.
Step 5- Add another tablespoon of oil to the pan, season the steak with salt, and cook steak strips in a single layer. Cook approximately three minutes, until browned and cooked almost all the way through. (Like the Brussels sprouts, I cooked a little longer…just to make sure they were done, since I was giving some to Baby J.) Move steak to bowl with Brussels sprouts.
Step 6- Add ginger, scallion whites, and garlic to the pan. Cook until fragrant, about one minute. Add carrots and jalapeño. Cook an additional three minutes, until carrots are softened.
Step 7- Add steak, Brussels, and soy & vinegar mixture to the pan. Continue cooking a few minutes until the sauce is thickened.
Step 8- Fluff rice with a fork and serve steak and vegetable mixture over a mound. Garnish with scallion greens.
It seems like a lot of steps, but the preparation and cooking actually went quite quickly. It's just really broken down simply for anyone to follow!
The combination of the steak and Brussels sprouts was really nice. The sprouts weren't bitter at all. I usually cook with brown rice, but I love the texture of Basmati rice, so this recipe did not disappoint. A nice compromise would be brown Basmati rice (not as fluffy as the white, IMO, but close!). The steak was absolutely delicious- tender and flavorful. I plan to recreate this recipe, and when I do, I'll make sure to purchase a good-quality sirloin, because I think that really makes the dish.
I also thought the portions were huge. The photo above is a bowl for one person!
About Hello Fresh
I chose the classic Hello Fresh box, but there's also a veggie box. You can choose a box for either two people or four, and also make meal substitutions when checking out online. It's a flexible subscription service, meaning you can place your box on hold for however long you want. Check out the FAQ page on their site for specific details.
My box arrived mid-morning on the day it was scheduled. The packing inside the box kept the ingredients cool, including the meat. Everything was pre-measured and packaged together, so it was impossible to mix up meals. All the veggies looked as fresh as if I'd bought them from the grocery store that day.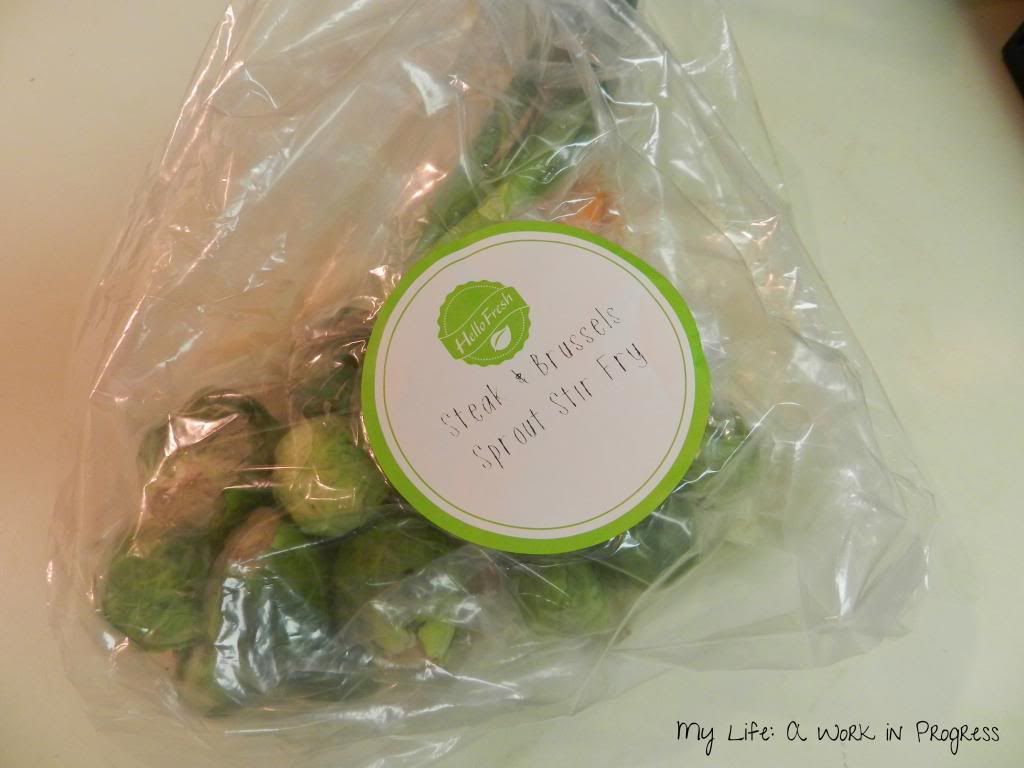 As I mentioned, the steak/Brussels sprouts meal was my favorite, and I plan to make it again, exactly as written. The chicken quinoa stew and shrimp/corn relish dishes were also good, but I'll make some changes next time. I cook with quinoa at least twice a week, and I enjoy the chewy, nutty flavor and texture. I felt that putting the quinoa in a stew negated the nice texture, almost like wasting the quinoa. When I recreate this recipe, I'll leave the quinoa out and probably use some lentils in the stew instead. The shrimp with corn relish dish was also good, but I always feel like a meal's incomplete without some sort of starch, so I added brown rice. The addition of rice also stretched the meal further, making more portions.
So will I be continuing my Hello Fresh subscription? Probably not at this time, but I'm torn about it. I'm still signed up for the subscription service, but I have deliveries placed on hold until I make up my mind. I was very happy with the quality of the food, the portions, and the recipes. It just doesn't makes sense for us, financially. I try to spend around $2-4 per person on a meal, and Hello Fresh averages out to $11.50 a meal, per person. I do think there's at least an extra serving for every meal, but that would still make it about $7.66 a meal, per person. However, take a look at the $20 off coupon code at the bottom of this post. Using a code like this one would definitely make at least trying out a box affordable!
If you have the food budget for it or disposable income, then I would recommend giving Hello Fresh a try. It's nice that you can try new recipes, and maybe use ingredients that you wouldn't normally. You can also do so, without buying a bunch of expensive spices that you may never use again. I could see Hello Fresh being indispensable to a busy, young professional or a newly-married couple. When I was working full-time for the Army Reserve and living out of a hotel, a Hello Fresh subscription would've been fantastic (and definitely healthier than eating out). It is something I'm going to keep in mind for when we have another child, because it's occurred to me this would be awesome to have delivered a couple of times that first month after giving birth!
You can check this service out at HelloFresh.com. Use code UQRX9L to receive $20 off your first box! And if you use it, I'll get $20 off my next box too. Sign up, and you get your own referral code to share too.
To see what other Mosaic reviewers had to say, click HERE.