When I first came across the invisibelt, I watched the promotional video and said, "This is genius! I NEED this!" Kathy -the creator of invisibelt- agreed to send me one of their new naked (clear) skinny versions to try out, so I can share my experiences with you.
Have you ever really needed to wear a belt, but opted not to because the belt buckle sticks out, making it look like you have a weird gut or something going on? I have- many times. Perhaps the way your body is shaped, your jeans are loose around the bum. My problem is I like the flexibility of stretch jeans, but by the end of the day, they've stretched to the point that they'll start sagging and falling down.
The belt issue is the worst when I wear a tunic top. Actually, my regular tops are quite long too (have you noticed that's the style in recent years?), so they'll cover my belt as well, and then it just looks like I have some strange protrusion right above my pelvis. And as a mother, the last area I want to call attention to is my lower stomach (*ahem* baby pooch).
That's what I love about my new invisibelt. It's incredibly slim and virtually undetectable under my shirts. The belt is easy to adjust before wearing, and just clasps together in the front. I usually twist the belt a little, so the clasp is a couple inches off center (the second photo does not show me doing this, however). Having the clasp off center makes the belt lie even more flat.
Check out my photos below, and let me know what you think! I want to apologize for my photos. My hubby's gone for training, and I have no way to take photos of myself other than my iPhone. The quality's not so great, but I think you'll get the idea. :/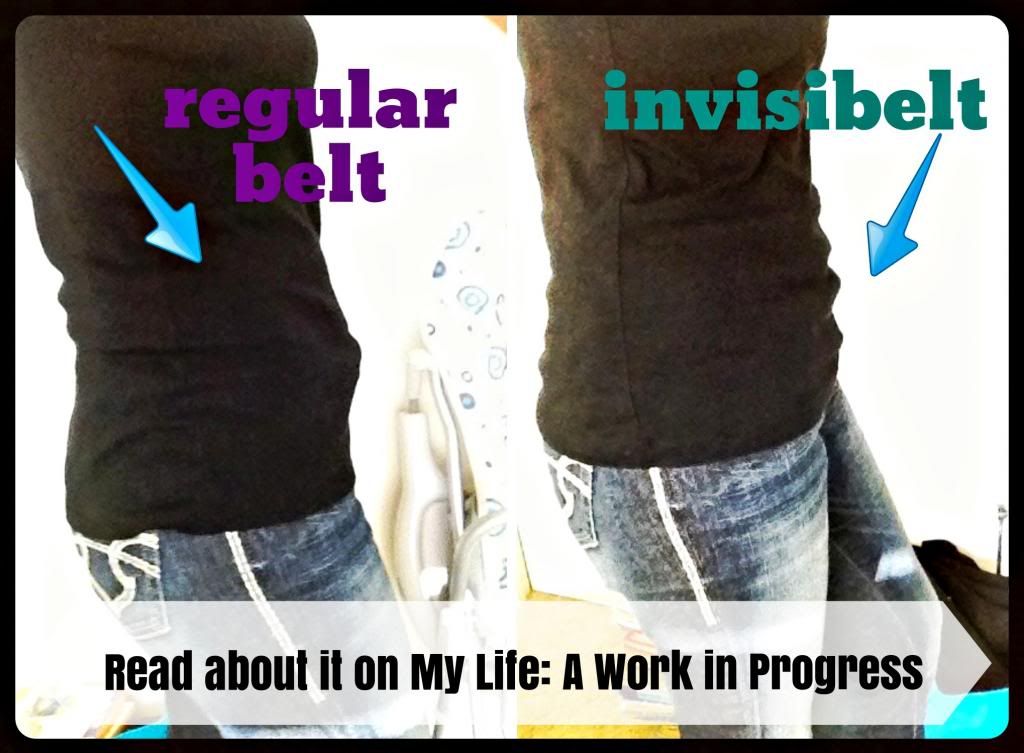 Adjustable to fit individual waists, the invisibelt is available in original size (0-14), plus-size (up to 4x), and girls. Choose from the original width or the new skinny width. Multiple colors are available, and right now invisibelt is available in limited edition colors: camo and zebra.
Invisbelt also sells other fashion fixes like: KCUFFS, quick fix sticks, bootywrap, and garment guard. Check them all out at the invisibelt site below, as well as their Facebook page for sales, giveaways, and more!
invisibelt online|invisibelt on Facebook
 Which of their belt colors is your favorite?
Want to win a belt of your choice? Two fans of invisibelt on Facebook will! Visit HERE to enter.