I know I've said this several times on the blog, but NĂ»by's teethers are my favorite. I even bought one at Target a couple weeks ago as part of a baby shower gift, because, yes, I love their teethers. Woohoo! NĂ»by sent another teether for us to review- their Elements Teether.
About:
Since it's made by Nûby, you can feel confident knowing this teether is BPA-free. It's designed to fit perfectly into small baby or toddler hands. The soft, crinkly fabric is colorful and fun for babies to play with while the multiple teething areas help new teeth surface.
Our Experiences:
Even though Baby J is 14 months old, he still loves to chew on things- anything! He's actually a late teether. He had zero teeth until he was eight months old, when he got six teeth in four weeks. Since then…nothing. Still six teeth. The bristly area of the teether is great for babies when they're just three or four months old. Baby J's favorite teether at the time was the (affiliate link>)Â Teethe-eez
. The bristles on the Elements teether is similar to the Teethe-eez but not as soft. Baby J's favorite part though is the fabric. I tease him sometimes (not that he understands) that he's like a cat. He loves that crinkly sound!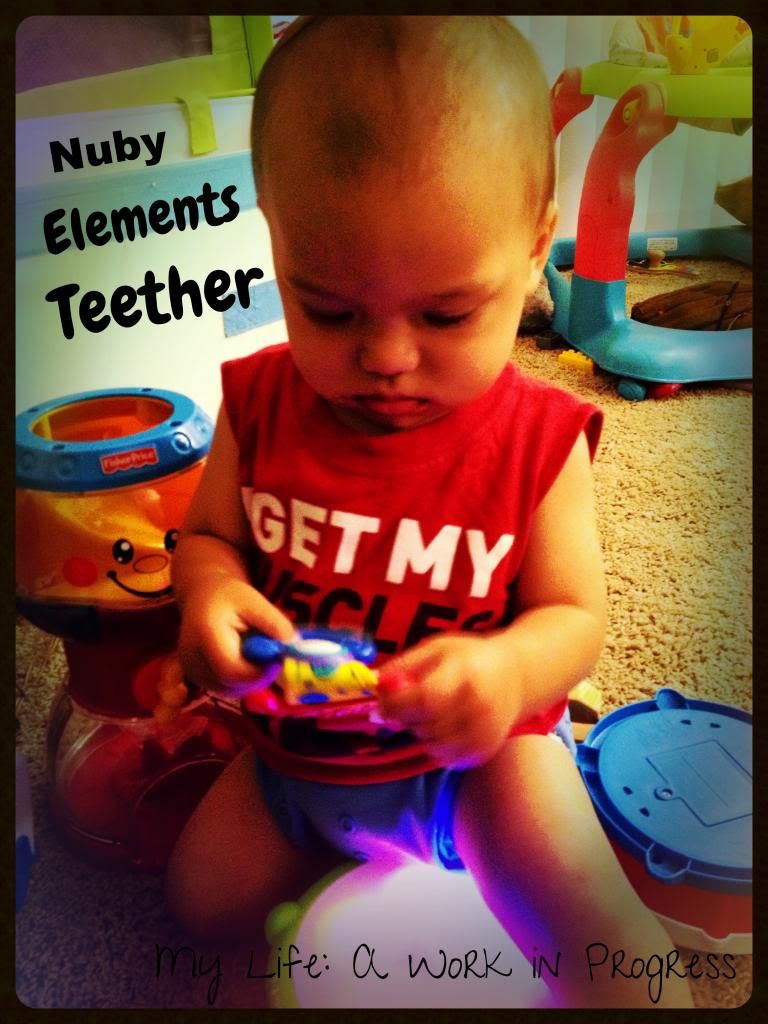 Where:
Look for the Nûby Elements Teether at your local retail stores that carry the Nuby brand like Target, Kmart, Bealls, Ross, and Kohls. For updates on new Nûby products, follow them on their social media accounts. Nûby is currently giving away some of their new Clik-it cups to fans, but this ends soon! Visit their Facebook page for more details.
Please support My Life: A Work in Progress and vote for me at Top Mommy Blogs and the Picket Fence. The more votes I get, the better review and giveaway opportunities I'll receive, which will benefit my readers in turn! Just click once HERE and HERE. Thank you! -Elisebet