Disclosure: I got this product as part of an advertorial.
I was sent two MIRA kitchen scales to review -one glass and one stainless steel. My plan was to give one to my sister-in-law, an avid baker, so she and I could give different perspectives about the scales. She lives two hours away, and getting up there just has not worked out. First we all had norovirus, then she had the flu, and we had a winter storm. Now everyone is well, but an even bigger storm is hitting the area, as I'm typing this. So I'll be reviewing both scales in two separate posts with different angles…just to show you that there is more than one reason to own a kitchen scale!
A couple of days ago, I had a conversation with a friend about portion sizes. We came to the conclusion that the portions you eat (and serve your family) affect two things- your wallet and your waistline.
It's no secret that America has a weight problem. More than half the US population is overweight. According to the CDC, more than one-third of adults are obese. Shockingly, almost 17 percent of adolescents are also obese. Some of the leading causes of preventable death -heart disease, stroke, type 2 diabetes, and certain cancers- are often conditions related to obesity.
Sure, many foods Americans eat are nutritionally deficient, genetically modified, and full of artificial ingredients and preservatives. And probably a lot of people don't get enough exercise, either. I know these factors all affect our health. But it's still obvious that we eat too much as a country.
I was shocked (and really depressed) when I used my MIRA scale to measure out 4 ounces of raw ground beef. I had no idea a proper serving was so small! (It definitely puts a 16 ounce steak into perspective.) Keep reading to see the photos.
Weighing your food to determine portions is a great idea whether you're trying to lose weight, gain weight, or maintain. Keeping the proper serving sizes also ensures you're getting the right amount of nutrition- it's not all about calories!
Finally, if you're eating less on a regular basis*, you'll buy less; therefore, you should end up spending less on food. Simple math!
*I want to make it clear that I'm not advocating starving yourself to save money! I'm just pointing out that when I started eating recommended serving sizes, I ended up spending less money on food.
The MIRA scale I'm reviewing today is their stainless steel model -ST 125. It's sleek, thin, and takes up very little drawer space in my tiny apartment kitchen. I used a tape measure, and the platform is about 8.75 inches long and 6 inches wide. Amazingly, the scale can weigh up to 11 pounds. I tried putting one of my cats on it to test that claim, but she wasn't very cooperative. It has a 2-year manufacturer warranty and takes lithium batteries (they're included). The tare function is awesome, as I'm about to explain.
In a nutshell, the tare function allows you to zero out whatever bowl or container you have on the scale, so the scale won't take that container's weight into account when you start putting food in it- the scale will only weigh the food.
You can turn on the scale, place your container on the platform, and hit the power button one more time. This enables the tare function, and you should see the scale go back to "0." The other way to do it is to put the container on the platform, and then turn the scale on. It'll immediately revert back to "0."
To adjust the units, just click the "unit" button. The scale weighs grams, millilitres, ounces/pounds, and fluid ounces. In the photo above and below, I have it set at pounds and ounces, so I can weigh ground beef.
A serving size of ground beef for an adult is 3 to 4 ounces. I went with 4, since I'm trying to build more muscle. I'm going to admit; I'm really depressed at how TINY an actual portion of meat is. If I hadn't weighed the beef, I would've ended up eating at least two servings.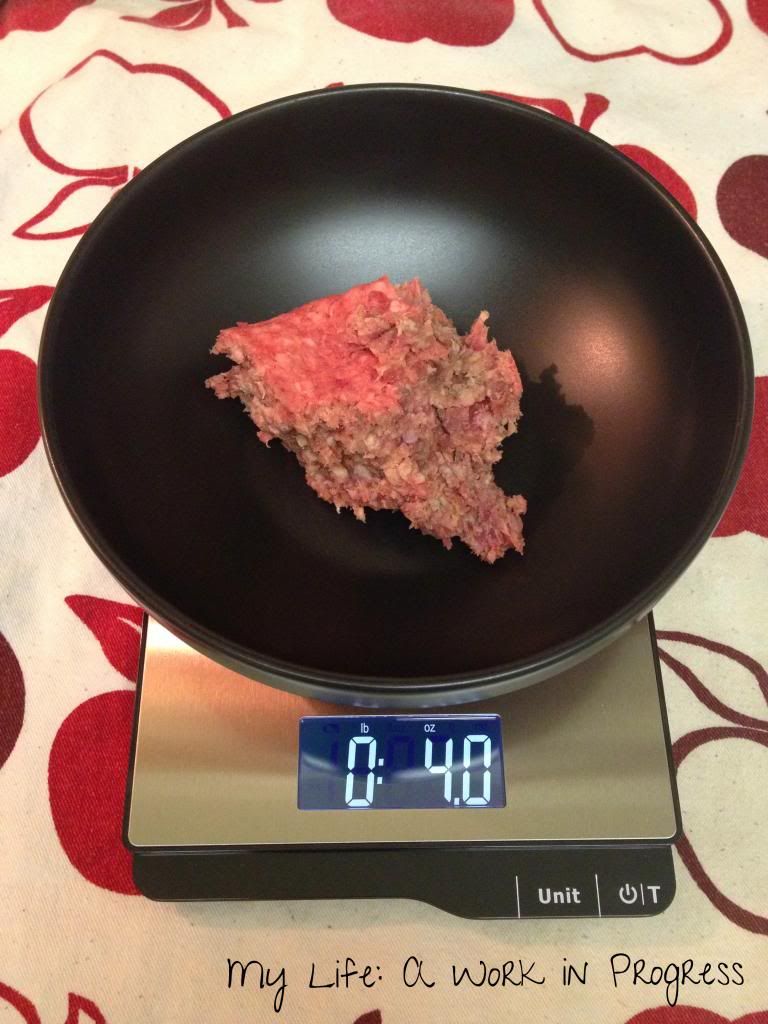 Measuring cups and spoons are not as accurate as scales. You can read about it here on this PBS food blog, but basically, particles of food are all different sizes and weights. That will even changed from raw to cooked, and there's air around many pieces of food. The 4 ounces of ground beef that I'd measured turned into about 3.4 ounces after I cooked it.
I read online that a serving of cooked quinoa is 185 grams or about 1 cup, so I used the scale to weigh 185 grams. Then I took the 185 grams that I'd weighed and put it into the measuring cup. Look at how much I had still left in the bowl! So if I'd gone by a measuring cup I would have eaten less than the proper serving of quinoa.
I'm surprised scales aren't more prevalent in American kitchens, especially when baking (more about that in the next post). It's also coming in incredibly handy for portion-control, and I think it will really help me in my goal to trim up and build more muscle.
(Affiliate link>) The MIRA stainless steel digital kitchen scale
 is on sale right now at Amazon for $29.99.
So what do you think? Do you have a kitchen scale? Would you use one?
Note: I received one or more of the products mentioned above for free using Tomoson.com. Regardless, I only recommend products or services I use personally and believe will be good for my readers.