This is a Sponsored post written by me on behalf of Puerto Rico, The All-Star Island. All opinions are 100% mine.
I'm excited to write about Puerto Rico today! Have you been? I've visited there twice, and loved each trip so much, that my life wish list includes buying a timeshare there. In fact, when my brother gave me a list of possible honeymoon locations he was considering, I immediately recommended Puerto Rico (he's taking my advice!).
What I like about Puerto Rico the most is experiencing a Caribbean paradise and island culture, without needing a passport or foreign currency. Just hop on a plane and go visit world-class attractions. Beach, forest, cavern, or city, you'll find it here. Live your own 5-star vacation story in Puerto Rico.
Did you know that Puerto Rico has 270 miles of coastline? The Travel Channel has even featured Puerto Rico in its list of the Top 10 Beaches. Specifically, Flamenco Beach is often cited as one of the most beautiful beaches in the world.
At night, visit the Bioluminescent Bay by boat or kayak and watch as beautiful micro-organisms light up the water around you.
El Yunque National Forest is the only tropical rain forest under the U.S. Forest Service. There are 24 miles of recreational hiking trails in El Yunque, including the popular La Mina Trail and the El Yunque trail. The first takes you to a gorgeous waterfall and pool you can swim in, and the second takes you to the Dwarf Forest. I haven't made it up there, but I've been told it's so high, that there are clouds around you.
Here's my dad and I on the La Mina Trail, during my first visit to Puerto Rico. Hiking this trail is a good workout!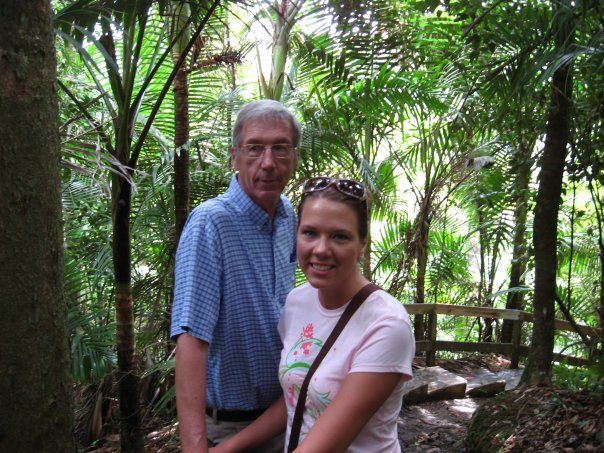 If you're a more adventurous type, you may love the caverns in Camuy. The world's third largest subterranean river runs through them.
Are you a history buff? If so, you absolutely must visit Old San Juan! The forts there are several hundred years old and massive. The battlements have been designated not only a National Historic Landmark, but also a World Heritage Site.
Here I am at one of the forts. See how high those walls are?!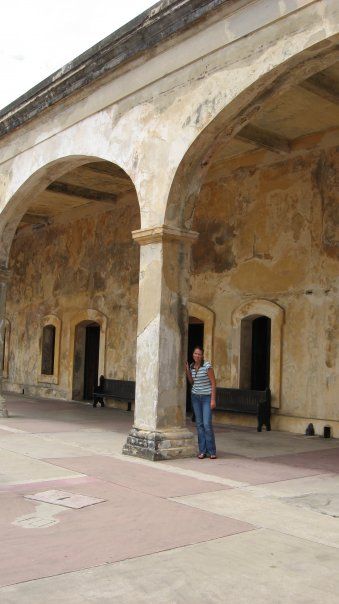 Outside the forts, the city and streets themselves have gorgeous, old, historic structures. It's not uncommon to walk down a cobblestone street and have each house you pass painted in a different, vibrant color. San Juan is truly a colorful city.
And never fear…they have a Starbucks!
The authentic Puerto Rican food is amazing. My favorites include fried plantains, pastelillo (like an empanada), and rice and beans. If you enjoy seafood, try the fresh-caught fish. I've also heard the local rum is good, but as I'm not a drinker, I couldn't say for sure!
Learn more- Like SeePuertoRico.com on Facebook and Follow @PRTourismCo on Twitter.
Tell me, why would you like to visit Puerto Rico?