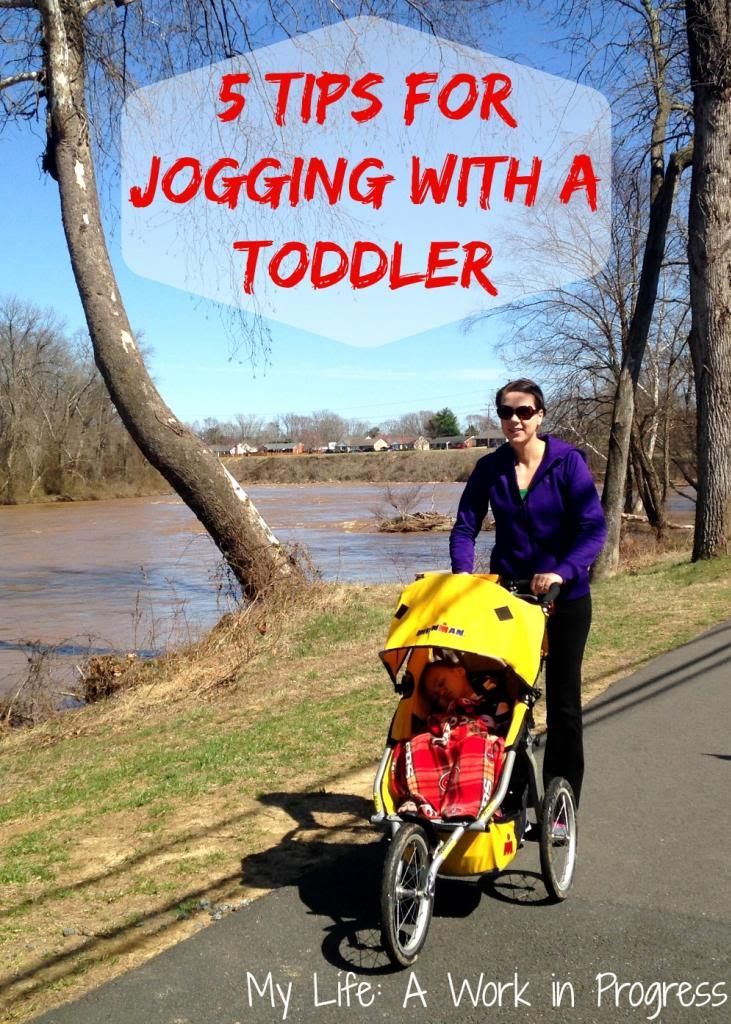 Although in the past I have self-professed to "hate" running, it's grown on me (can't believe I just typed that). There's something relaxing and freeing about not only hitting the path, but doing so with your child. I'm teaching Baby J from an early age that not only is it good to be active, it's fun!
Over the last six months, I've packed Baby J up several times a week -rain, snow/ice, or shine- and headed outside to jog. Some days we push for ten miles, other days we barely reach two. It's been a journey, but I'm proud that I've stuck with it and improved.
If you're thinking about taking up jogging with your toddler, I'd like to share with you my top tips garnered from our experiences.
First, something to keep in mind- although many jogging stroller brands sell attachments allowing you to use the stroller with certain infant car seats, your little one may not be ready physically for your jogging until six months or older. Babies must have sufficient neck control, so before jogging with your baby, always check with your little one's pediatrician.
1. Invest in a quality jogging stroller.
Your jogging experience will be less than enjoyable if you're fighting with the stroller the entire time, or if your toddler is fussing while being jarred from a poor suspension and bumpy ride. Go to a local running or sporting goods store and take a look at jogging strollers in person.
Currently, I own, use, and love the single BOB Ironman, but the BOB Revolution SE Duallie with its swivel lock wheel is a top contender for when we eventually need a double jogging stroller.
If you're not sure where to start looking for a jogging stroller, I came across a great article from Baby Gear Lab. They tested ten of the most popular jogging strollers and ranked them according to their findings.
Once you've decided which stroller you want, you may be able to find it in stock in a local store, or you can always order online from Amazon or PishPoshBaby. Many sites will have sales or release coupon codes you can put towards your purchase; just keep your eyes open.
The other option is to purchase your stroller used through a service like Craigslist. That's what we did! It's a great way to save on a quality stroller. Just make sure you check the stroller out thoroughly before money changes hands.
2. Plan the logistics: route, weather, and time of day.
The logistics will most likely depend on the individual child, and it may take a few times to figure out what works for you and your toddler.
Think about what route you're taking. What is the path like? Will you be on the road at any point; is there a danger from vehicles? If your little one is potty trained, then even something like a restroom needs to be considered ahead of time. I prefer to jog on a circular path at a local park. I know that every lap I pass a water fountain and a restroom with a baby change table inside.
Check the weather ahead of time. Should you bring rain gear, sunblock, blankets, jackets, or stroller covers? My rule is to take more than I think I need. Invariably, if I pack light, I always need something I didn't bring that one time.
Time of day matters too, for more than one reason. Obviously it's usually warmer in the afternoon. If it's winter, you may want to postpone your morning jog until the afternoon. Then again, if it's windier later in the day, earlier may be better.
Also consider when your child naps. If I'm planning a long jog, I prefer to jog during nap time, as I know my son will sleep soundly in his stroller the entire time.
3. Dress your child appropriately.
I touched upon this above, but make sure your toddler is going to be comfortable, no matter the weather and route. It's always windy at the park and even windier at the beach boardwalk, so that's something I have to keep in mind when dressing my toddler. I might get warmed up during a run from my rising body heat, but my son won't. He will get plenty of wind in his face, so I bring a hat and mittens for him when it's below 60 degrees.
I recommend dressing your toddler in layers. You can always take clothing off if he or she gets too warm. In freezing temps, I've been known to bundle Baby J in a snowsuit, even without snow on the ground. If he sleeps, I know he's comfy!
4. Pack food and diversions.
Always pack a snack and drink for your toddler. You never know when he or she may suddenly decide they're having a growth spurt and are hungry NOW. Or maybe you'll have an amazing run and decide to jog longer than planned.
Depending on your child, toys may also be a must. Baby J is usually happy now just watching the other joggers and doggies go by. But for a few weeks last fall, he went through a stage where he had to have several stuffed toy animals with him at all times. If this is your case, just keep an eye out for fallen toys. A stroller cover or toy leash may come in handy.
5. Be realistic.
It takes a while to get used to jogging with a stroller. Your form will be different (don't lean into the stroller and make sure to alternate your arms). You'll be slower…especially on windy days. Over time, you will get faster, but don't expect to reach a personal record when you first start pushing your toddler around.
Also, some days your little one may be happy and thrilled with the entire experience. Other days, you may have to pack it up early and head home to keep your sanity.
6. Take care of yourself.
Okay, I said five tips, and here's a sixth! But I think it's important to remember that your toddler can be happy and comfortable, and if you're not, the run is going to be miserable. Make sure YOU have snacks and water and dress appropriately.
It may take you and your toddler a few times to find your groove, but stick with it. Jogging with your little one can be not only a relaxing and fun time, but also a way to bond and develop healthy fitness habits as a family.
Have you ever jogged with your toddler? What tips do you have? If not, would you be interested in giving it a try? What are some ways you and your family stay active together?