Although I've slowed down my half-marathon training to running just twice a week during the holidays, I'll be picking up the pace soon in the New Year.
One of the things I dislike most about running is the sweat on my face. A good headband keeps my head/hair sweat from trickling down my face, but won't do anything about my forehead sweat, etc. It's gross talking about sweat, I know, but that's part of working out!
Sometimes I remember to bring a little towel with me that I toss in the jogging stroller, but it's not the most convenient thing to reach for while I'm running. If I'm running without the stroller, then the towel's just not an option, since I have no way to carry it.
The folks at MyHandana.com sent me one of their Handanas to review. Made of a soft, durable Supplex™ Lycra™ fabric, the handana is worn wrapped around your hand. Use both sides of the Handana to easily wipe sweat from your eyes, forehead, etc. You still have complete movement of your hand and fingers, which is important if you're biking or want to use your water bottle or open snacks.
Use your Handana for running, yoga, tennis, Zumba, etc. Multiple size and colors are available, and Handanas retail from $13.99 (on sale) to $15.99. Best yet, Handanas are made right here in the USA! See the styles HERE.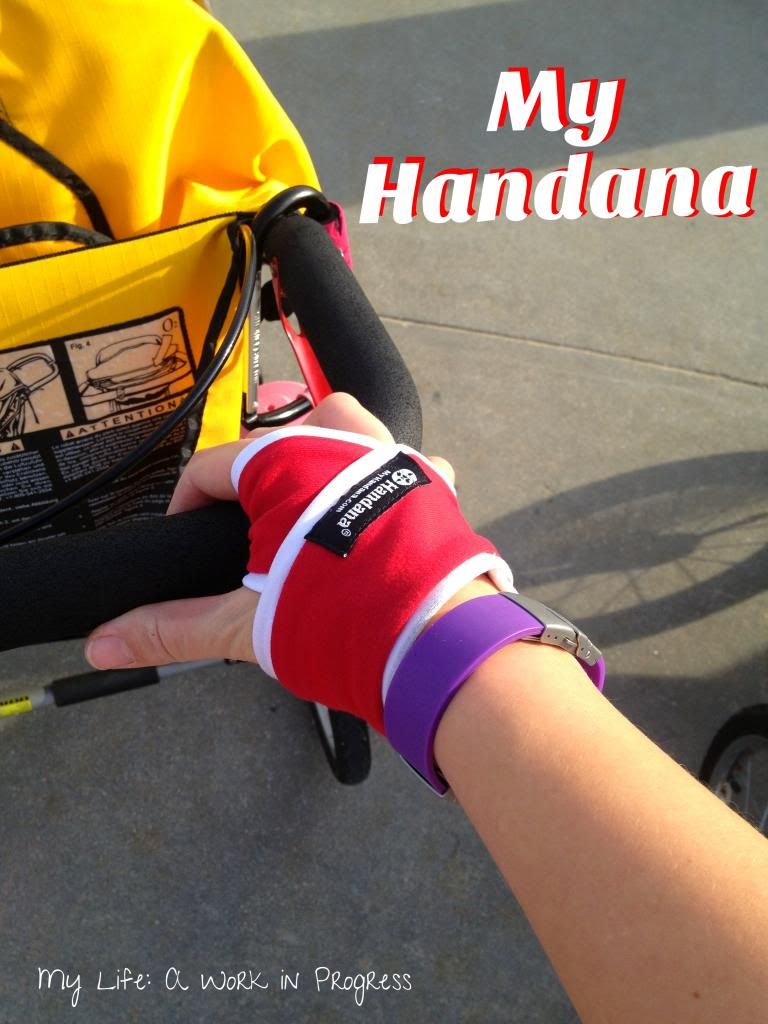 I received the True Red on White Handana in size medium. It's stretchy and very comfortable to wear, and I got used to the feeling of having something on my hand in just a few minutes. It fits on either hand, which is convenient. I've also worn the Handana over my Nike tech running gloves on a cold day.
I haven't used one of the wrist sweatbands, so I can't compare the two, but the Handana does a great job of soaking up sweat from my face, and it's easy to toss in the washing machine with my workout clothes. From looking at wrist sweatbands in the store, I'd say the Handana has a much larger surface area. I'd also assume it's easier to reach areas of your neck and face with your hand than your wrist.
You can check out Handana and follow them at the links below:
MyHandana.com | Handana on Facebook | Handana on Twitter | Handana on Pinterest