A few weeks ago Yochi Yochi sent me a pair of their Prince Kairu toddler shoes to review.
About:
Yochi Yochi toddler shoes come in four different styles: Prince Kairu (frog), Captain Zuga (skull and crossbones), Princess Sakura (panda), and Miss Mushi (ladybug). Check them out HERE.
The shoes are made with nylon and comfortable on the inside. They're quick and easy to put on your little one's feet thanks to the velcro closure. These shoes also feature a rubber sole and small removable diaphragm in each heel that makes a small squeak with each step.
Yochi Yochi even has an updated printable size guide to ensure you order the correct size.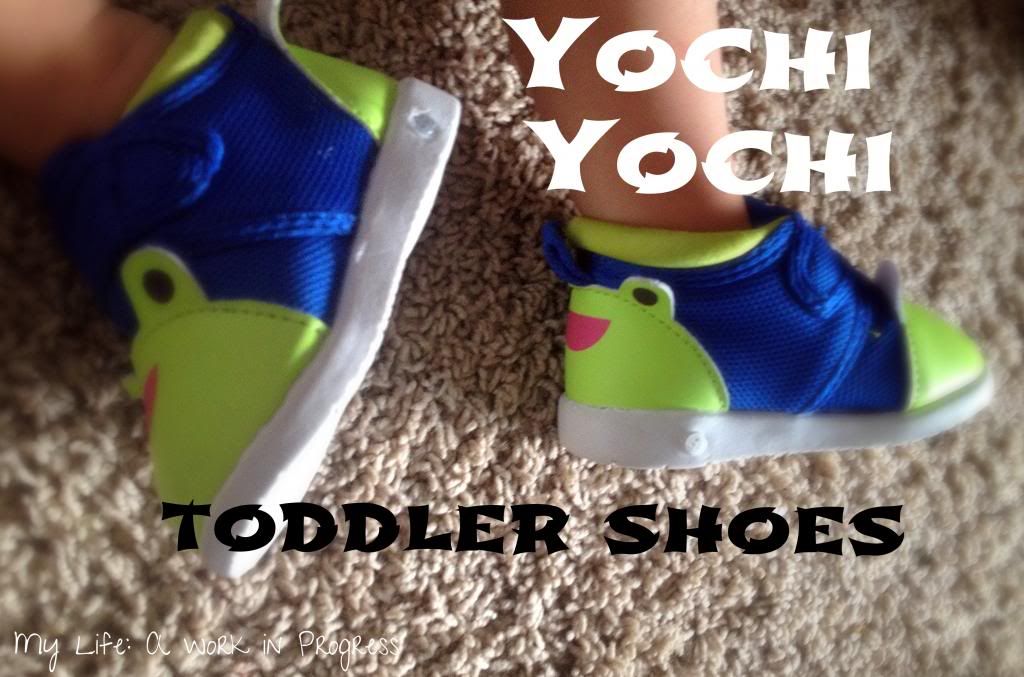 Our Experiences:
Baby J loves, loves these shoes. In fact, check out this video of him the first time we put the shoes on and hear them in action:
The Yochi Yochi website has a size chart that you should print and then use to measure your child's feet, which is what I did. This way you can determine accurately the size your child will need. We ordered a size 6, and he's wearing about a 5 right now in his other shoes. The first time I put the Yochi Yochi shoes on Baby J, I thought his toes were all the way up against the front and that he wouldn't be able to grow into them for long. But then I realized I just didn't have his heel back all the way! He does, in fact, have room to grow.
I like that I can hear where Baby J is when he walks away. Obviously I still monitor him and keep him close by wherever we go, but the shoes give me a little peace of mind. I also love that they're easy to put on. Baby J's feet slide in easily, and I get a firm closure with the velcro. Since Baby J thinks they're awesome too, he's not constantly taking them off like all the other shoes and sandals he has!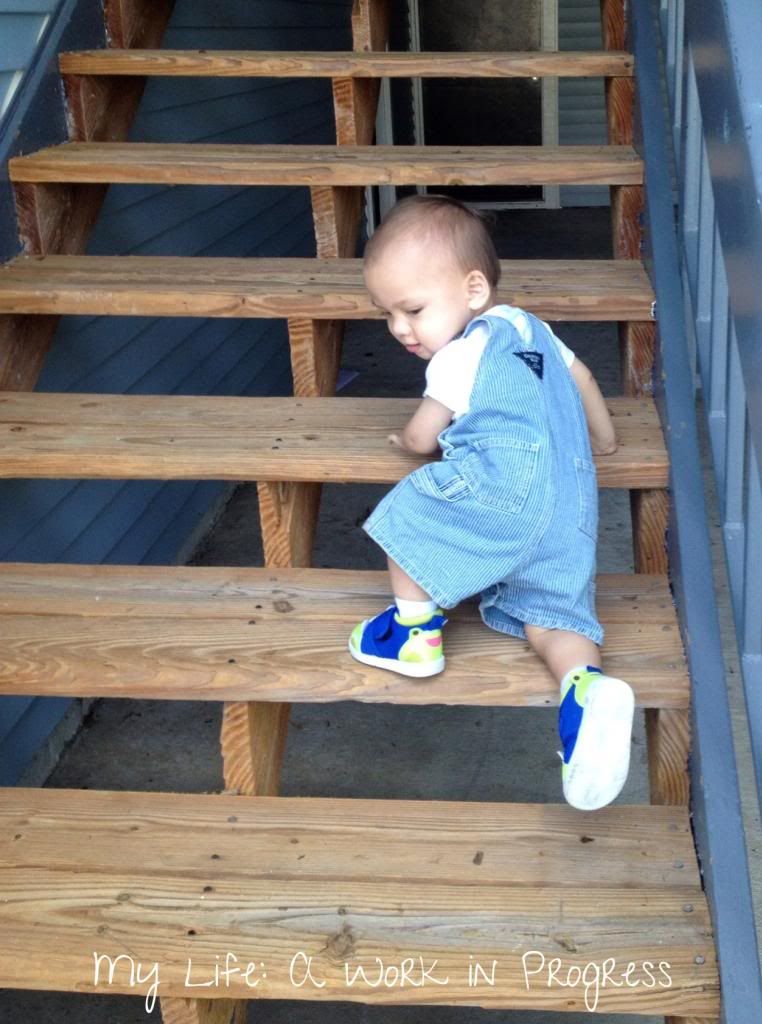 A note on the washing: I would recommend spot cleaning these shoes though or hand washing rather than machine washing, because I'm sure they'll last longer that way, but I machined washed them, and they were fine. While at the playground, Baby J walked into a big muddy puddle in the grass and the shoes ended up covered in all sorts of grossness. I ended up putting these shoes through the wash on the gentle cycle on warm and then letting them air dry. I'd resigned myself that the squeakers probably wouldn't work anymore afterwards, but I was surprised and happy that they did. I discovered after the fact that the squeaking diaphragms are removable.
Information is one area in which the brand could improve, I think. I didn't find out the squeaker was removable until IÂ scrolled through posts on the Yochi Yochi Facebook page. Also, it would be nice if their website would include washing instructions. The only other negative factor I can think of regarding these shoes is the price. They retail $29.95 which is a bit more than we usually pay for baby or toddler shoes (Target clearance is usually what we get!). However, after doing an online search for squeaky toddler shoes, I discovered that many squeaky shoe brands are priced from $19 to $40, with most being on the higher end of that scale.
When it comes down to it, I really like these shoes. Everywhere we go, Baby J gets compliments and smiles! The shoes are really cute and fun, and he's so adorable stomping around to hear them squeak.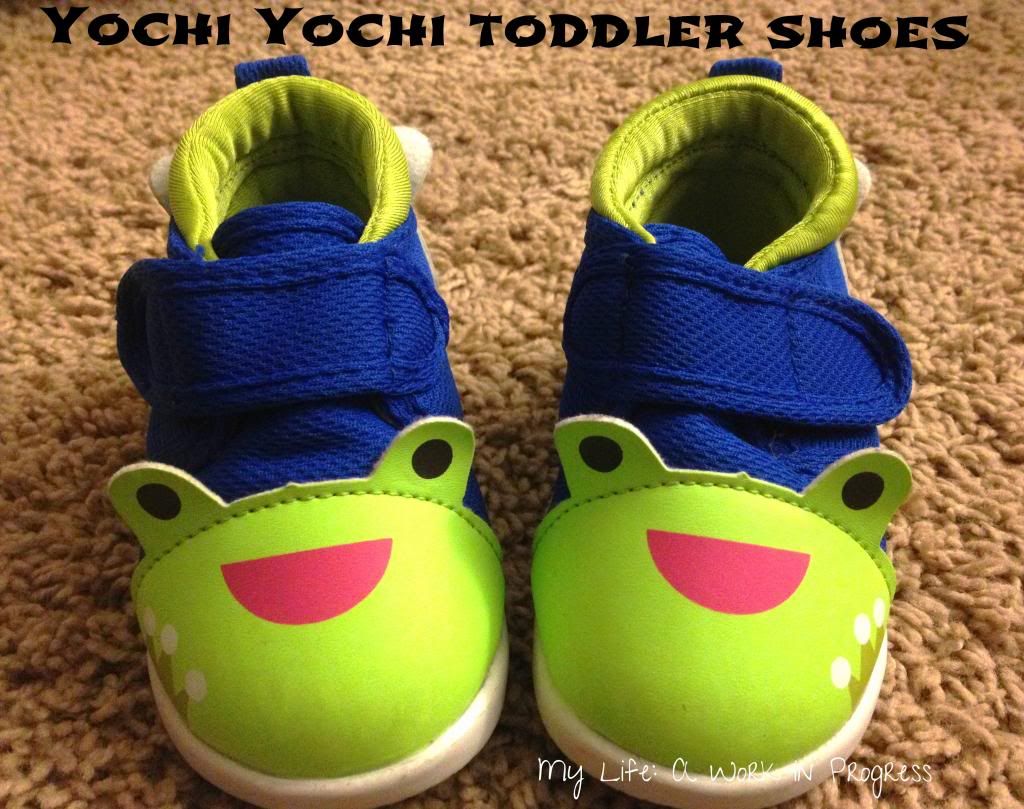 Visit YochiShoes.com to browse and buy. They recently came out with a line of interactive socks for 0-12 months that rattle with each step. Check out the Yochi Yochi Shoes Facebook page for news, updates, and polls on their new line of shoes, coming soon!
Please support My Life: A Work in Progress and vote for me at Top Mommy Blogs and the Picket Fence. The more votes I get, the more review and giveaway opportunities I'll receive, which will benefit my readers in turn! Just click once HERE and HERE. Thank you! -Elisebet
Note: I received a complimentary pair of toddler shoes from Yochi Yochi to review, but was not otherwise compensated for this post. My opinion may differ from yours or the opinions of others.