The last time I had my teeth whitened was just before my wedding, when I forked out hundreds of dollars to get my teeth whitened professionally. As an avid coffee drinker, it's inevitable that my teeth would start getting yellow again. I was happy to receive an LED Accelerator Kit and one Whitening Gel Pen to review from Smile Brilliant.
Before you see the photos, I want you to know that I did not make any any adjustments to these photos. All the photos were taken on my iPhone and no photo editing software was used. I took photos inside in my bathroom, in front of the mirror. I tried my best to get the same angle and distance from the overhead light. There were no adjustments made to the brightness, saturation, lighting, etc. of any of these photos. I'm even wearing the same lip gloss. If anything, my after pictures are a little dark, because I was standing too far from the overhead light.
Smile Brilliant's LED teeth whitening system is designed to be more effective than the easily-found store bought whitening strips, but still affordable. Smile Brilliant claims their high-intensity LED light accelerates the teeth whitening process. I've read mixed reviews/reports/etc. about how well LED lights actually work for teeth whitening, but I was willing to give it a try.
The formula in the gel is 77.1% glycerin, 22% carbamide peroxide, 0.5% carbomer, 0.2% menthol, and 0.2% EDTA.
So does it work? I think it does. You can check out the photos below, yourself, but I think my teeth are about a shade whiter. I only had one whitening pen (usually 5-8 applications). If I really wanted drastic results, I'd probably buy the three-pen kit and use it for a month.
The photos below were taken before starting and then after 9 applications of the gel (so over 9 days). Each time, I used the LED light for approximately 45 minutes, and then left the gel and trays on for another 20 minutes or so. As I mentioned above, I did not enhance or adjust these photos in any way. The after photos are a little dark, because I'm apparently standing further back from the overhead light. I think my teeth would be even whiter if I were more in the light.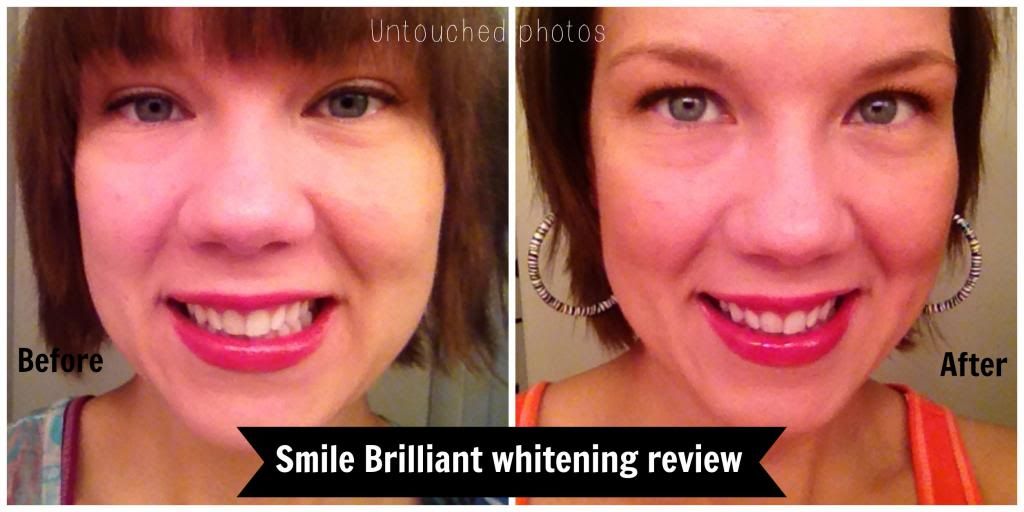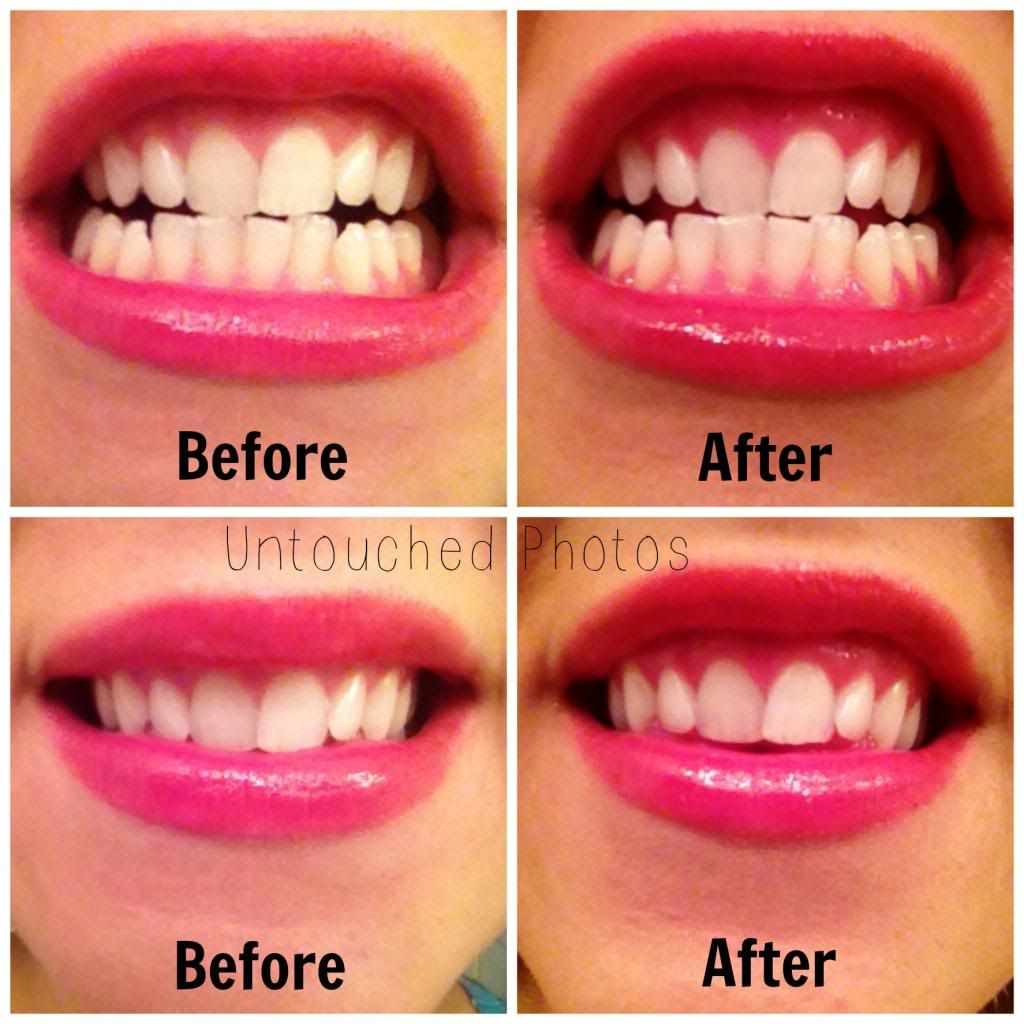 The trays and even the LED were surprisingly comfortable in my mouth. I was able to blog, fold laundry, read, etc. with it in, and I didn't even notice the trays and light after a few minutes.
I had trouble with the LED light the first time I used it, because I didn't have the battery in properly. The light kept going off, and I started to think I had a faulty product. Well, the second time around, I took the batteries back out and faced them a different way. Then the light finally stayed on after the button was pressed! I'm surprised it even semi-worked the first time I used it, since the batteries weren't in right.
If you're interested in teeth whitening, make sure you read the product information on the Smile Brilliant website. It talks about product ingredients, realistic results, and who should (or shouldn't) whiten their teeth.
What do you think? Can you see a difference?
The Giveaway:
Smile Brilliant is sponsoring a giveaway. One winner will receive the same kit (ARV $40) that I did! This giveaway will be open to US, CAN, UK, and AU residents. Make sure to read the terms and conditions before entering. The giveaway starts at midnight, so get your entries in after that! 2/19-2/25.