Disclosure: I got this product as part of an advertorial.
My co-writer, Ruth, is back today! She received the Original Butter Bell® Crock to review. Owned and distributed by L. Tremain, this crock allows butter to be kept safely at room temperature for up to 30 days and has been featured on The Food Network. Keep reading for Ruth's review and scone recipe. -Elisebet
If you are serving real butter for that Sunday company dinner or on your breakfast toast, then you are going to want a Butter Bell® crock among your kitchen tools. The concept is simple. The crock's lid is a one-half cup receptacle holding one stick of butter. The lid sits upside down into the crock bottom in which you have placed one-third cup of cold water. The lid forms a tight seal on the bottom while the cold water moves up around the sides of the immersed oval lid. The butter stays fresh and spreadable at room temperature, as long as you're changing the water out every three days.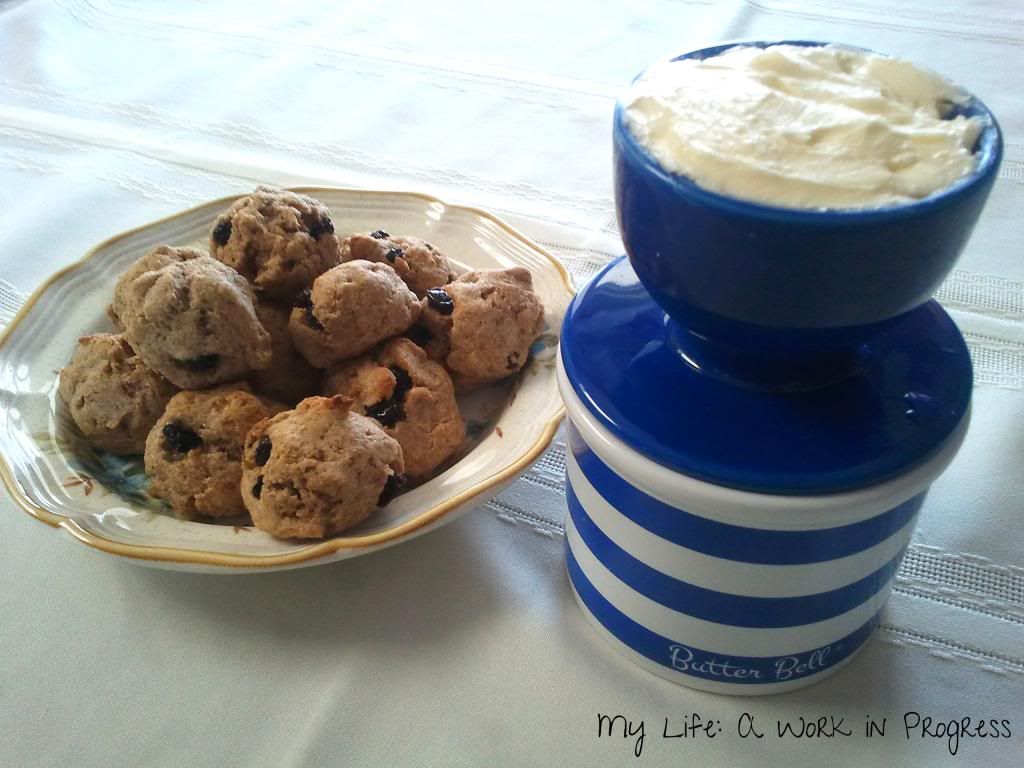 The Butter Bell crock has worked as advertised in my kitchen for the last few weeks. The instructions warn not to set the crock near a heating source or in direct sunlight. If your kitchen heats to an unusual temperature (no air conditioning in the summer in Florida?), then I could foresee a problem. The only inconvenience for me was squishing the stick of butter into the lid. Even that didn't take much time, and if I had started with a soft butter as instructed, it probably wouldn't have been an issue.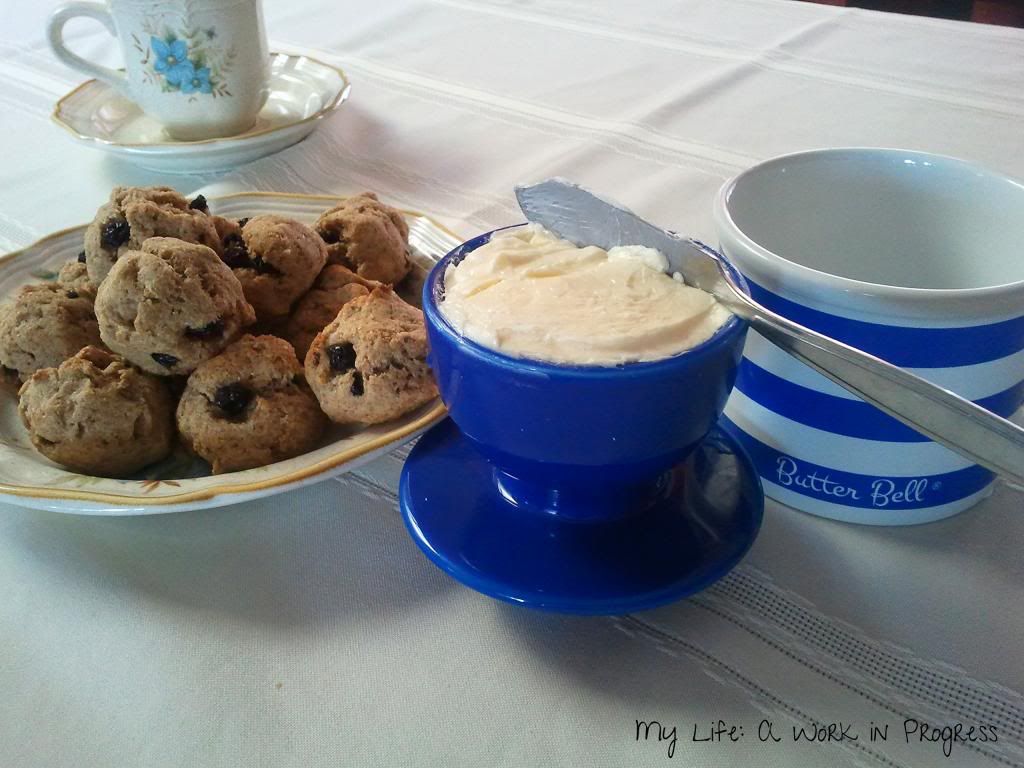 My husband told me he's been using less butter on his bread since we've had this crock. Previously he'd cut butter from a cold slab in the fridge, but now that it's soft and sitting out on the table, he's able to easily get a smaller amount, and exactly what he needs.
When I checked online, there were more than 35 attractive colors and designs for the Butter Bell crock with prices ranging from $19.46 to $24.95. They are 4″ in height and 3.5″ in diameter. The crock is dishwasher safe and lead free.
From April 2, 2014 until May 15, 2014, receive a FREE butter crock for every two that you buy. Visit ButterBell.com for more info on this Mother's Day offer.
Try butter from the Butter Bell crock with my mini-scones recipe: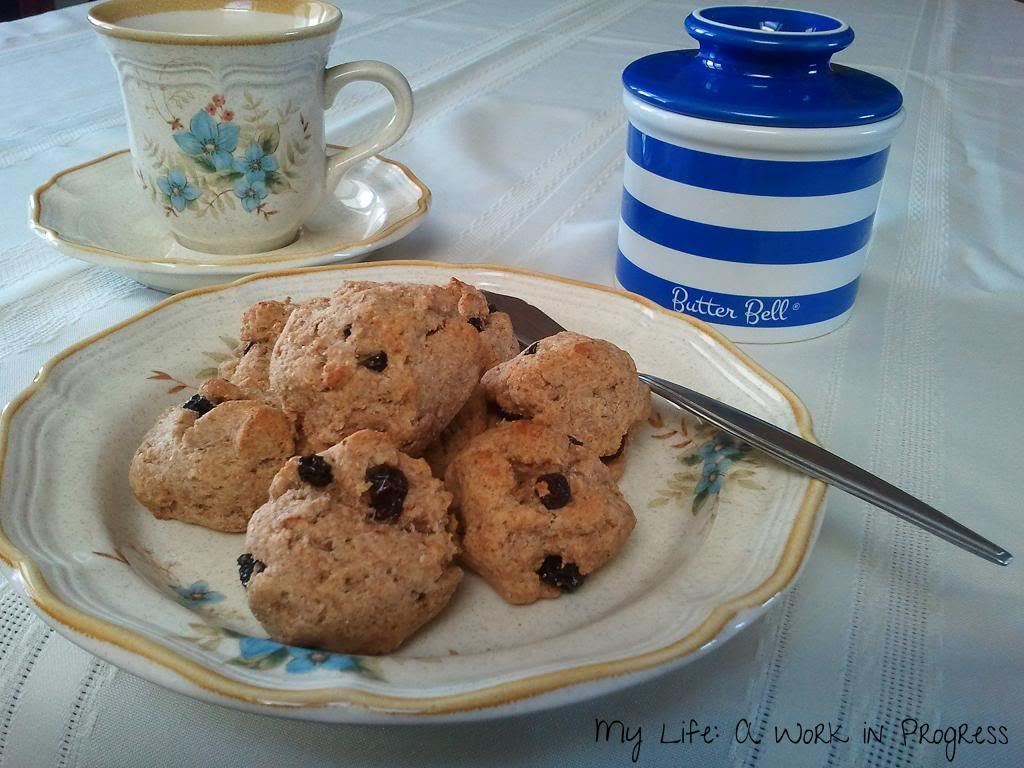 Mini-Scones Recipe
Maybe these aren't real British mini-scones, but just like the "real" scone—they're great with an afternoon cup of tea or coffee. They taste good alone or with a little something on the top; and they're not too sweet. Even better than the "real" scone—these are easier to make.
Ingredients:
2 cups flour (white or whole wheat or mixture—see note below*)
3 teaspoons baking power
½ teaspoon cinnamon
¼ teaspoon nutmeg
½ teaspoon salt (optional)
1 cup milk (skim or 2%–see note below*)
¼ cup honey
¼ cup oil (I use canola)
½ cup raisins
Combine ingredients; drop or form into tablespoon sized balls first and then drop* on sprayed baking sheet; bake at 425 degrees for 8 minutes or so. Do not burn; the scone top will not change much in color when done; the bottom will be brown. Makes about two dozen.
*If using white flour, these work well with skim milk. However, be sure to mix the dry and wet ingredients separately, and then combine just until mixed. The dough will be sticky and will not form into balls well, so just drop unto baking sheet. If using whole wheat flour, milk with more fat content (such as 2%) seems to make the final product less heavy. The dough is less sticky and can be formed into balls before putting on the baking sheet.
Do you like scones? What's your favorite kind?
I received one or more of the products mentioned above for free using Tomoson.com. Regardless, I only recommend products or services I use personally and believe will be good for my readers.