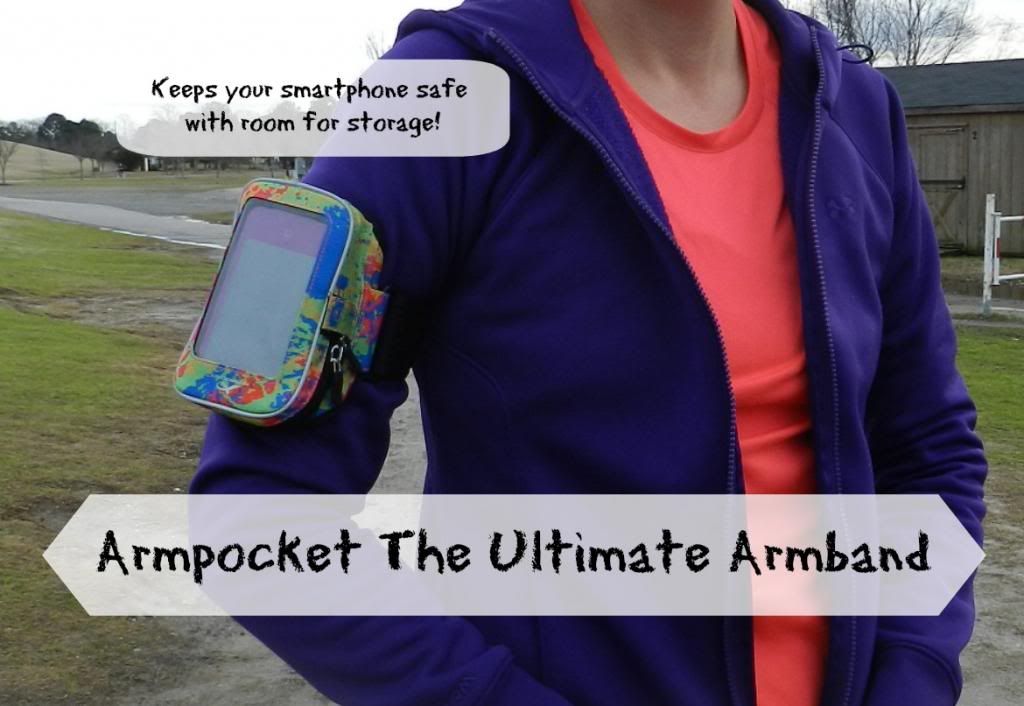 I'm incredibly excited about today's review! The folks at Armpocket agreed to send me one of their armbands (model i-25 in "Splash") to review.
In the past, I've used a few different armbands, some better than others. None of them, however, were as comfortable as the Armpocket and there was never room for any storage once my phone or iPod was in these other armbands.
The Armpocket was designed by runners who understand that people and their cell phones are not one-size fits all. Not only are there several models of the Armpocket available, you can even choose the strap size to fit your arm! And the multiple colors and patterns are awesome. No generic colors here!
Parts of the Armpocket are even made from recycled plastic bottles, which is really cool. =D The back mesh fabric and strap edges are from a sustainable bamboo rayon that is moisture-wicking and resistant to bacteria and mildew. A layer of memory foam is in between the mesh fabric and outer water-resistant fabric, making the Armpocket truly comfortable to wear.
There are little slits at the bottom (or top, depending on how you wear it) of the Armpocket for you to feed headphone wires through too.
Depending on the model, there are little storage compartments inside the Armpocket, so you can carry your essentials all together in one place.
I love the storage idea for several reasons. When I had a gym membership, I used to carry my keys, small wallet, and my phone w/ headphones. Add to that my water bottle and sometimes a hand towel, and my hands were always full. It was awkward placing my stuff on the floor or in that little bottle holder on a machine.
Now that I run outside, it's nice to carry essentials with me, in one spot. I've never felt comfortable leaving my wallet or IDs in the car. And as a busy mom, I often go from the track or trail, straight to the grocery store or elsewhere. In my Armpocket, I can fit my house key, car key with remote, mailbox key, several ID/debit/credit cards, a couple bills of cash, ChapStick, a pack of face blotters, and of course my iPhone 4s in its Lifeproof case.
It's surprisingly comfortable to wear thanks to the memory foam. I figured that because of the Armpocket's size, it would be a little heavy, but after a few minutes, I don't notice it. In fact, last night I wore it for a run and forgot it was on! I had a moment of panic in the car when I couldn't remember where my wallet or phone was; then I realized I was wearing my Armpocket! It's definitely something I plan to wear during races, especially since I can even fit a gel pack in there.
The only thing I don't like about the Armpocket is that between my Lifeproof case screen and the screen on the Armpocket, it's almost impossible to see a text message, etc., on my phone. My phone screen is just really dark at that point. I don't usually run while listening to music, because either I'm running with a friend and chatting or I'm running alone and paranoid about my situational awareness, BUT…if I were planning on listening to music, I'd have to set my phone to shuffle through a playlist and then just let it be. Manually selecting and skipping songs won't be an option, since I can't see the screen that well. The other option would be to forego the Lifeproof case and just put my caseless phone in the Armpocket, because then I can see the phone screen fine.
By the way, I can operate my phone through both the Armpocket and Lifeproof screens at the same time, so the touch-capability is still functional.
Overall, I love my Armpocket and can't imagine there's a better case out there! If you're a gym rat, runner, cyclist, walker, or anything in between, I recommend checking the Armpocket out at the links below:
Armpocket.com | Armpocket on Facebook | Armpocket on Twitter
And remember, right now you can win your own Armpocket! Click HERE to find the giveaway.