It's no secret I'm a fan of reusable squeeze pouches for kids (and adults too). They're eco-friendly because they eliminate waste, and since you're filling the pouch yourself, you know exactly what's going into it.
BooginHead sent me a 2-pack of their Squeez'Ems to review.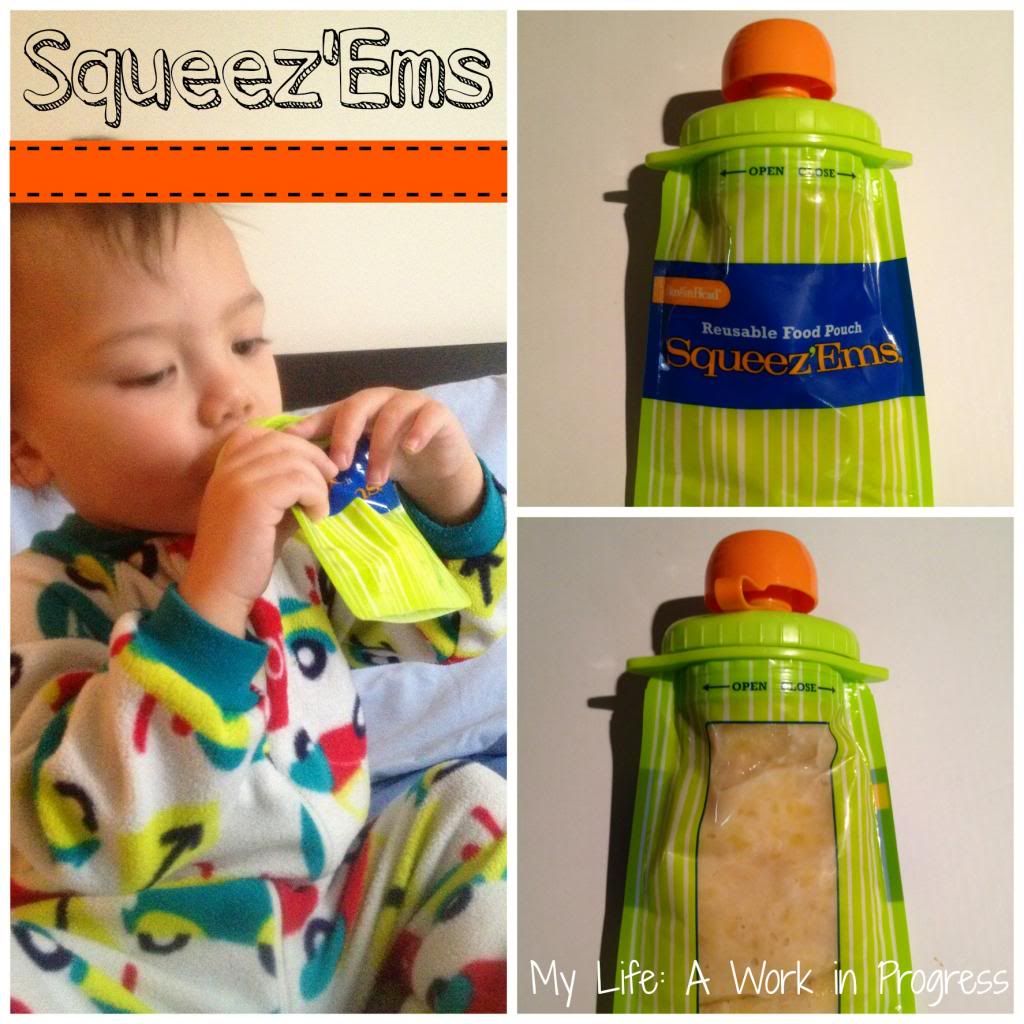 The Squeez'Ems I received are designed a little differently than other reusable food pouches I've tried or seen on the market. BooginHead also does sell the typical zipper-pouch style (think Ziploc), if that's what you're looking for.
The design I'm reviewing here has plastic parts that screw together, instead of the "zipper." The pouches are free of BPA, PVC, and phthalates. Each pouch functions as a one piece design to eliminate lost parts. The cap is attached to the rest of the pouch. Squeez'Ems are freezer and microwave safe. You can even wash the pouches on the top rack of the dishwasher (although, hand washing is recommended for longevity). Each pouch holds approximately 6 ounces of pureed food.
I went ahead and washed one pouch in the dishwasher, just to make sure it wasn't going to fall apart. It didn't, so no issues there. From that point on, I have hand washed the pouches; I do want them to last. I recommend rinsing out your pouch as soon as possible. If you're not able to get to it right away, soak the inside with water for an hour or so before washing. I use a bottle brush to wash.
The easiest way to fill these pouches is to use a funnel. I have a small, collapsible funnel from Target that I bought for a few dollars. I've also filled the Squeez'Ems without a funnel, and just used a long-handled baby spoon. A regular spoon would work too, but my goal was to make the least amount of mess possible, of course.
Squeez'Ems are easy to use with any pureed foods. We've used ours with apple sauce, yogurt blends, baby cereal, and mashed banana. I've given a pouch to Baby J as a breakfast when I was busy. Of course the pouches should only be used under adult supervision, but even so, I didn't have to worry about an enormous mess when Baby J was eating baby cereal from his Squeez'Ems. Clean up is much easier!
The Squeez'Ems pouches are also good for snacking on the go. In the summer, I'll probably either have to place the pouch in a freezer container with an ice pack, or I'll have to freeze the pouch contents ahead of time and let it thaw in the diaper bag. During the winter, I don't have to worry about the contents getting too warm. I just toss the pouch into the diaper bag, and on we go! It's great for my morning jogs outside. Baby J easily eats his breakfast from a Squeez'Ems while sitting in the jogging stroller.
BooginHead also sells the PaciGrip (and there's a Create-Your-Own option), the SippiGrip, the SplatMat, and the PaciPouch.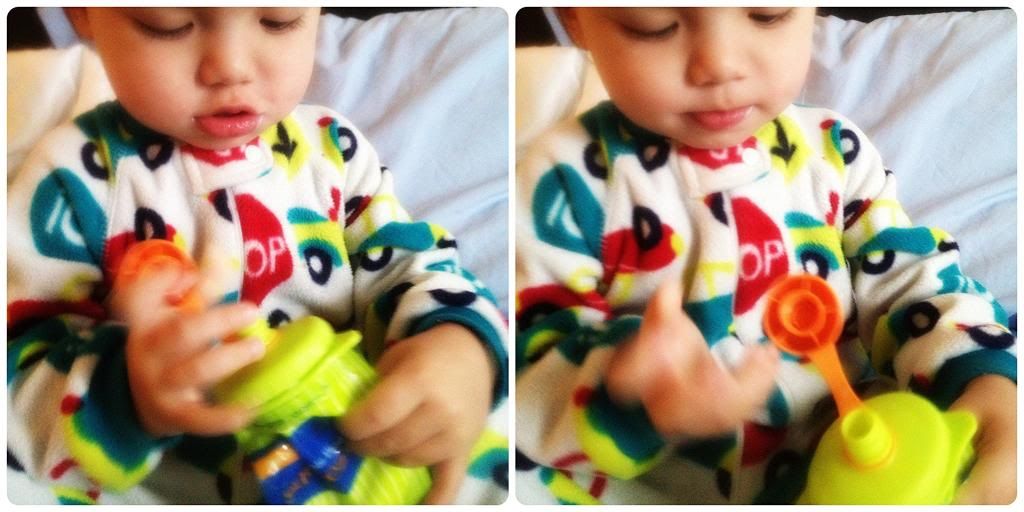 You can find BooginHead products in stores like Walmart, Babies'RUs, and TJMaxx. Purchase online from Amazon or directly from BooginHead.com. Follow BooginHead on Twitter and Facebook for more info and product updates.