Disclosure: I got this product as part of an advertorial.
This was a tough review to write, because there's so much to write about! I can't possibly include everything, so I'm just trying to highlight what I found important to know. Simply put, the Cook'n recipe software allows you to manually type in and save your own recipes, as well as grab recipes from the Internet. It also helps you meal plan, prepares your shopping list, and shares nutritional information.
When I first opened the program, I was intimidated and thought the software would be difficult to use. It really only took me about 10 minutes to get the hang of it, clicking through and browsing tabs. If you hover your cursor over an icon a little box will pop up, identifying that icon. That helped. There are also video demos on the Cook'n website.
The recipes are arranged in specific categories: breakfast, desserts, main dishes, salads, sides, sandwiches, soups, and "my favorite recipes." The software comes pre-loaded with dozens of recipes, but if you're not sure what to make, Cook'n has a Live Recipe Feed to give you ideas. The feed shows recipes popular on the Internet. You also can search for a recipe from this page.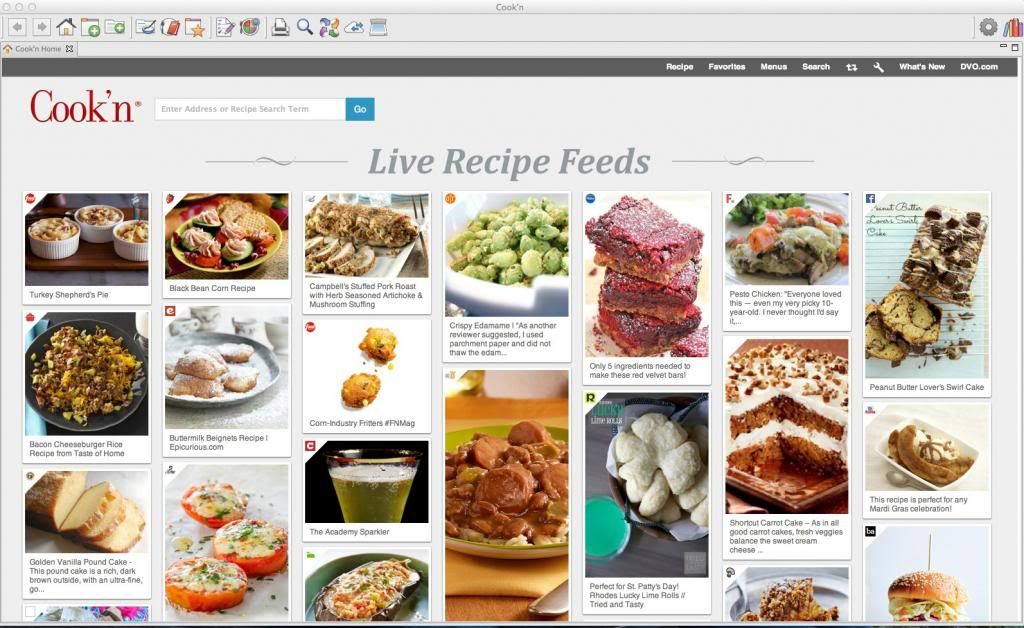 I searched "beef," and found a recipe on SmittenKitchen.com that I wanted to save with my new software. Because of the way the Smitten Kitchen website is formatted, the recipe won't automatically import into Cook'n. But that's why Cook'n has a Snip-It bar. I can use that to move portions of the recipe into my Cook'n software. For example, I just highlight the ingredients on the Smitten Kitchen recipe. Then I click "Ingredients" on the Snip-It bar. Cook'n then immediately imports the ingredients into my new recipe card. It's really easy! Just make sure you save any recipes you import, and into the right category.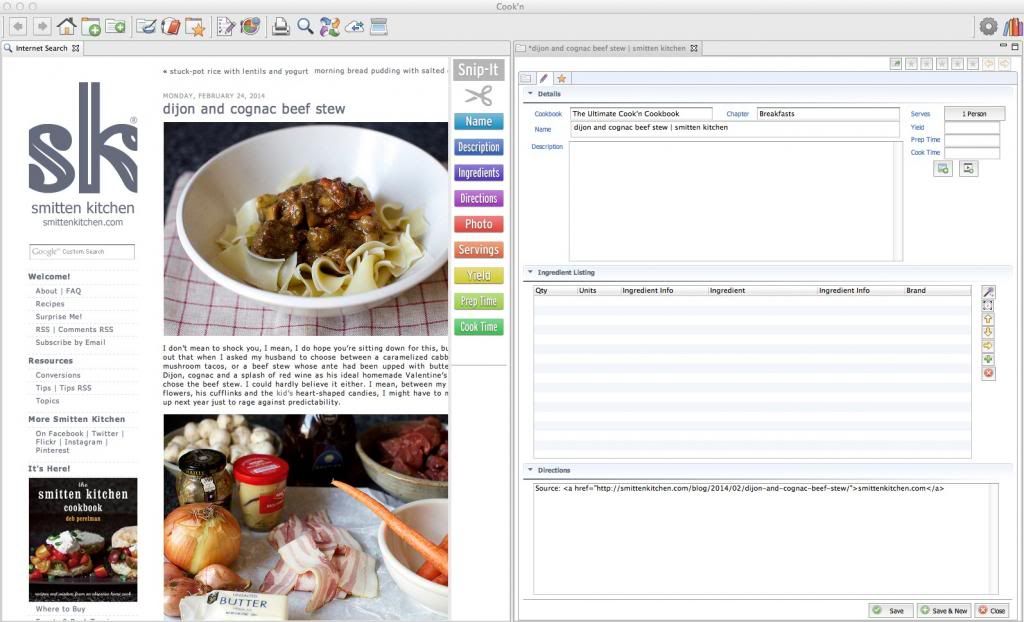 The importing or "capture recipes" option did work with MyRecipes.com, FoodNetwork.com, and Food.com. No need for the Snip-It bar; Cook'n just automatically imported the recipe when I clicked the icon. I'm sure there are other recipe sites this feature will work with too, but these three are the ones I tried.
Besides typing in your own recipes or manually importing recipes off the web, you can also buy Cook'n compatible cookbooks off their website. Download and import them directly into your Cook'n library.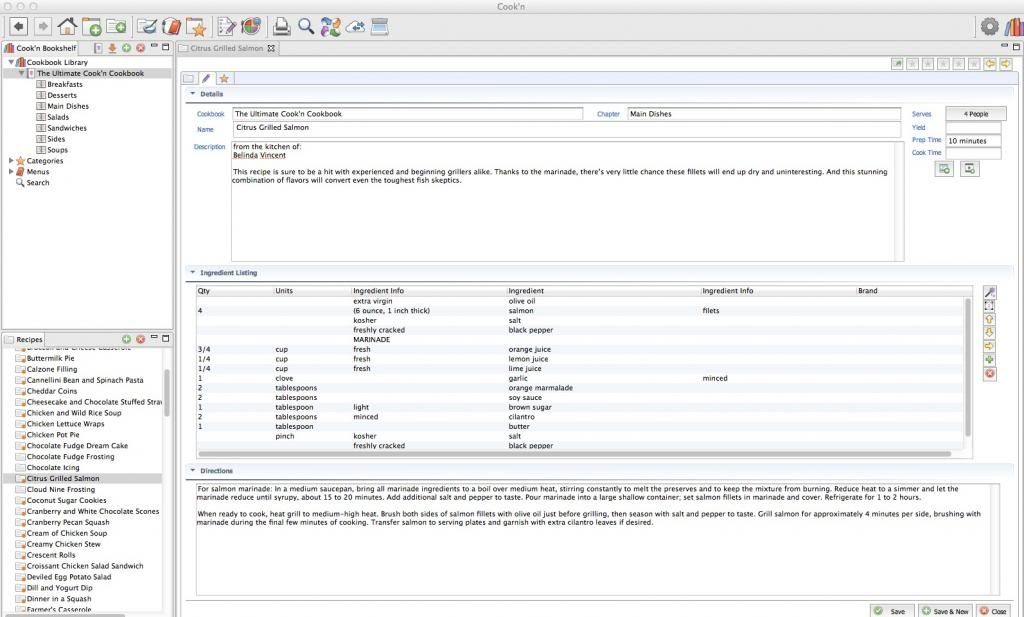 Cook'n also prepares your shopping list and determines nutritional data, even for the recipes you download off the web! Just make sure you have the right number of servings in the recipe info, or your nutritional value is going to come out skewed. (I was confused for a minute why my tuna burger had more than 1,700 calories! I had the servings set to 1, instead of 4.)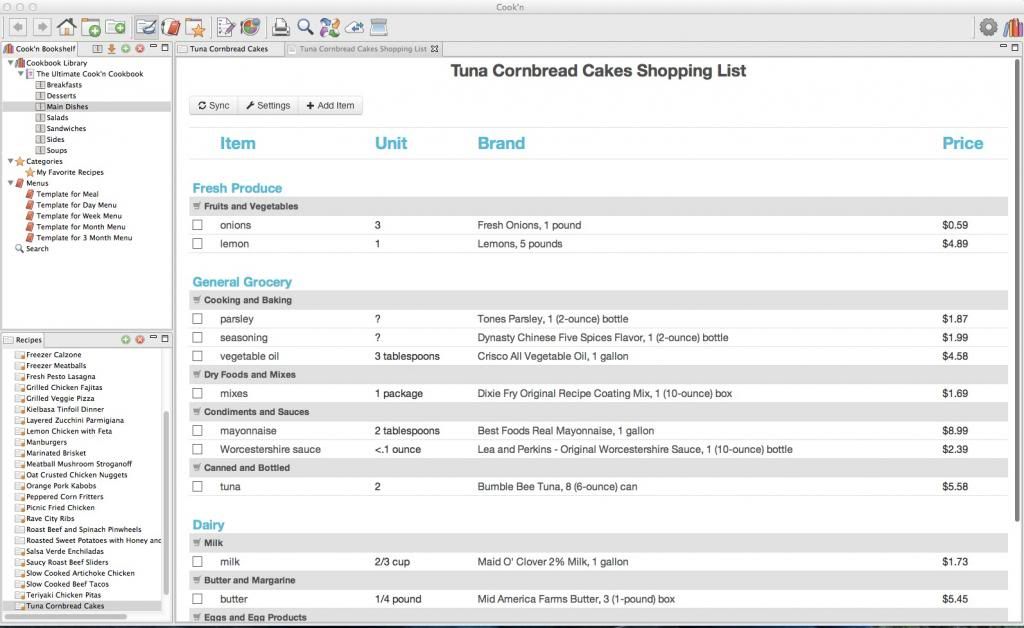 There are a few other things I want to mention. You can scan your paper recipes into Cook'n. The software won't be able to read the nutritional info or create a shopping list, but at least you'll have all your recipes in one central location. Also, print your recipes from Cook'n or create a family cookbook to be printed. (Wouldn't that make an awesome present for your son or daughter who's moving out?) And don't forget, (I know I mentioned it briefly at the beginning), but this software can also help you menu plan: daily, weekly, monthly, or even by 3 months at a time. Cook'n also has a cloud. After creating an account, you can upload your recipes to the cloud (could take minutes to hours, depending on your files); then you can access the recipes from your mobile devices.
I'm really impressed by this software. I have recipes scattered all over the place, on the web and my countertop. This is an easy way to bring them all together in one location. I also love the idea of creating a family cookbook of favorites. And as someone who monitors the nutritional data of nearly everything I put in my body, I love that this software does it for me. I used to sit down with a calculator and determine calories and saturated fat, etc., on my own.
Both the download and the CD are currently $79.95 each, so I'm glad I received a free copy to review. It seems like a lot, but if you look at it as a family investment that you can use for years, that spreads the cost out. The program does have a lot to offer.
I think this software would make a great Christmas present too. I did notice that the cost to upgrade to the latest version is almost as much money as just outright buying the new version as a new customer. Maybe the upgrade is the same as the new software. Anyway, I would suggest to Cook'n to consider making upgrades a little more affordable to repeat customers.
To learn more about Cook'n, visit them on the web at dvo.com. You can also follow them on Facebook and Pinterest for giveaways, coupon codes, and recipes.
Want to win a free download?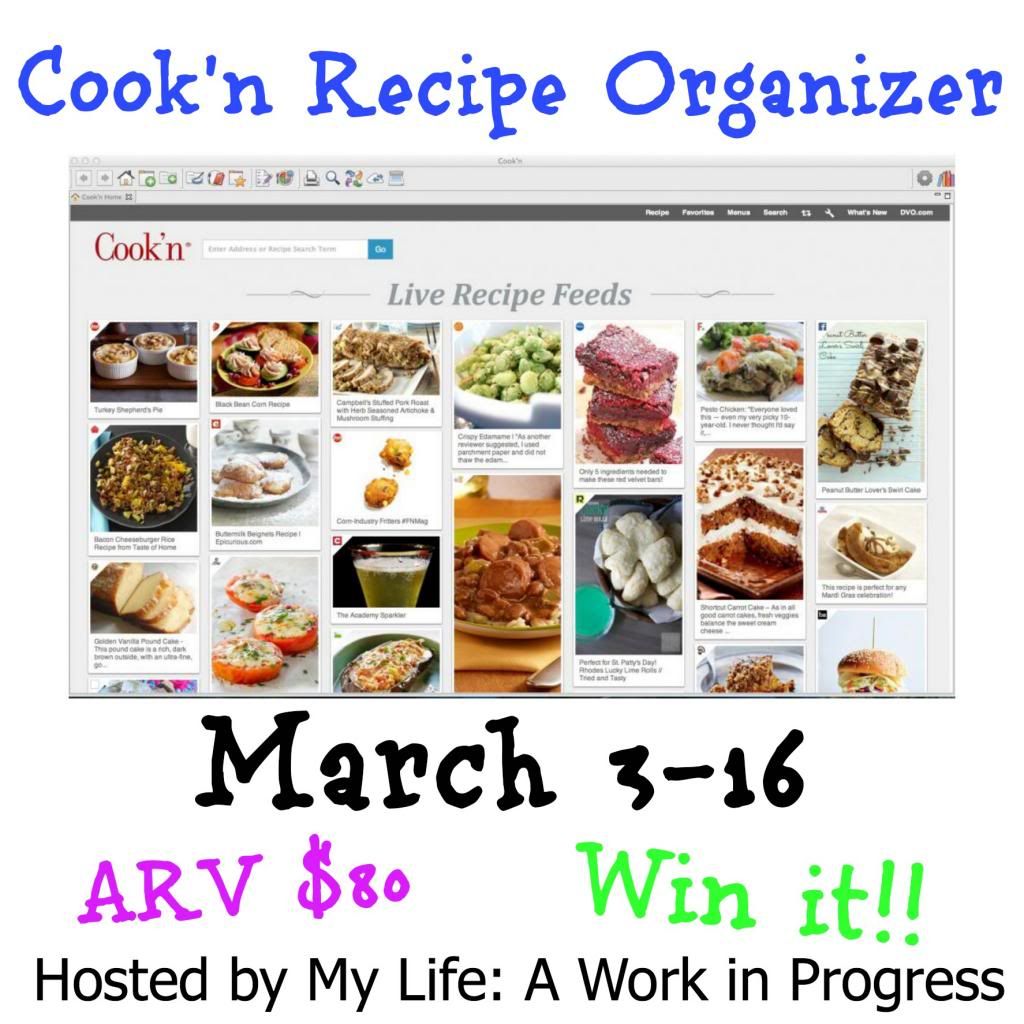 Giveaway:
Thanks to Cook'n, I'm giving away one free download of the Cook'n Recipe Organizer version 11. This giveaway runs from March 6-16, and is open to US and Canadian residents. Please read the full terms and conditions, listed below. If you agree, keep scrolling down and enter to win!
Terms & Conditions: Sweepstakes open to residents of the US and Canada (excluding Quebec). Must be 18 years or older. Void where prohibited by law. Two entrants allowed per household. Odds of winning depend on total number of eligible entries received. Once winner has been selected and emailed, winner will have 48 hours to respond or new winner will be selected. If winner is Canadian resident, he or she must answer skills question before receiving prize. Winner's name may be posted on this blog and other social media and websites. My Life: A Work in Progress is not responsible for prize fulfillment. Sweepstakes not associated with Facebook or any other social media platform. Entrance into the sweepstakes indicates acceptance of these terms and conditions.
Note: I received one or more of the products mentioned above for free using Tomoson.com. Regardless, I only recommend products or services I use personally and believe will be good for my readers.