I was sent a free gift card to eat at Bonefish Grill with Hubby and Little J this past Saturday. You may remember my previous review of Bonefish Grill at their Virginia Beach location. While living in Florida, I ate at Bonefish Grill a few times a year, and always enjoyed the food and my experience. That VA Beach location didn't live up to my expectations, so I wasn't sure what to expect this time around.
Today is our first day in our new home (woohoo!) in Maryland, but prior to that we were staying with friends a couple towns away. The Bonefish Grill location we reviewed is in the Waugh Chapel Towne Centre in Gambrills, MD.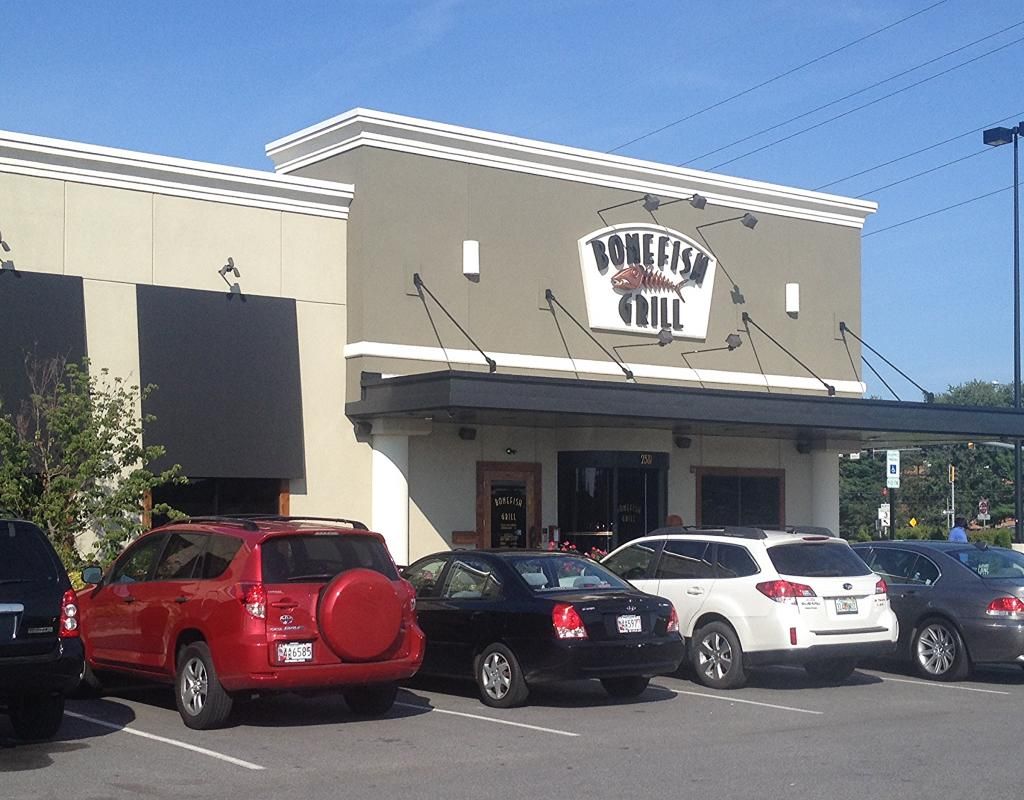 I'm just going to apologize right now for the photos. Part of the ambience at Bonefish Grill is dim lighting, which isn't conducive to great photography…especially with my iPhone.
The new menu includes a Rib-Eye Steak, Bang Bang Shrimp Flatbread, Cold Snap Fresh Ceviche, Watermelon Salad, and more.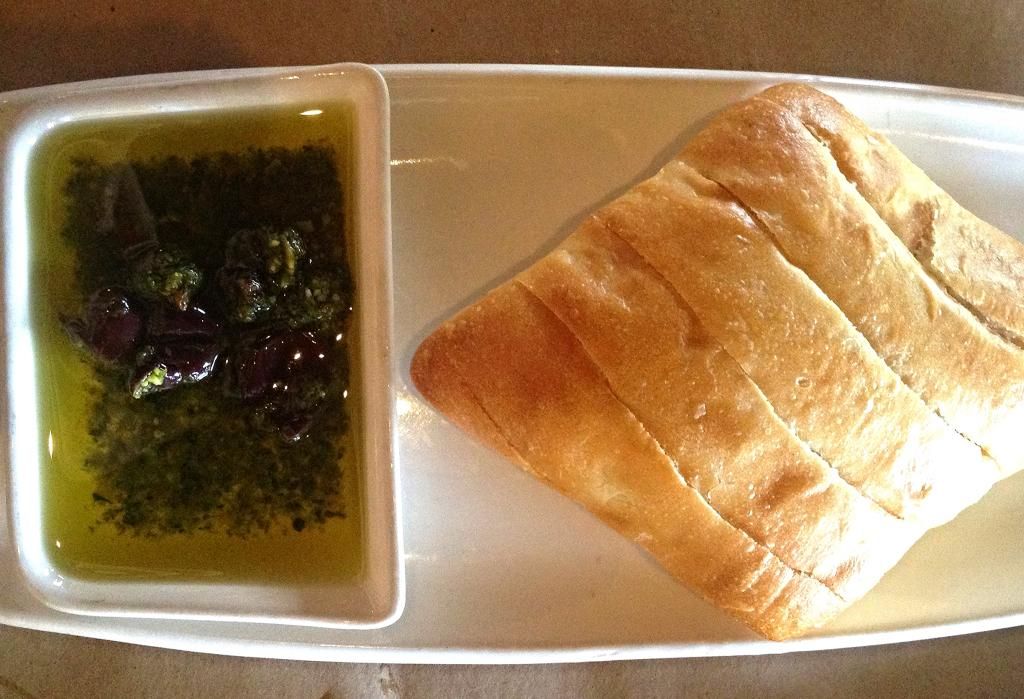 I always order the regular Bang Bang Shrimp as an appetizer and did so before I realized there's now flatbread version! Oh well…next time.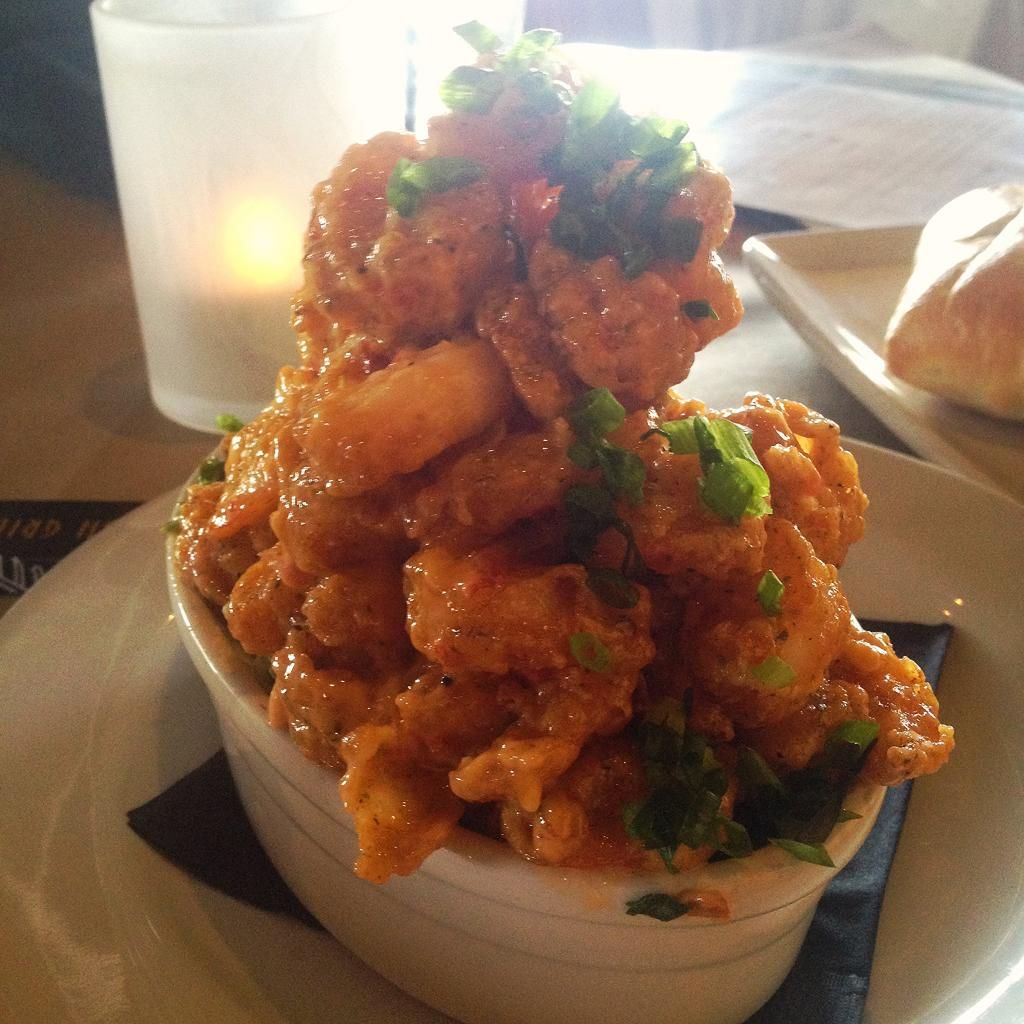 Hubby was really considering the new Shrimp Pad Thai Bowl, but ended up ordering the new Ahi Tuna Steak instead. The steak was a wood-grilled yellowfin tuna. It included little bowls of all their signature sauce choices: the new Lime Tomato Garlic, Warm Mango Salsa, Herb Pesto, Pan Asian, and Lemon Butter. He chose the new Herbed Couscous as his side.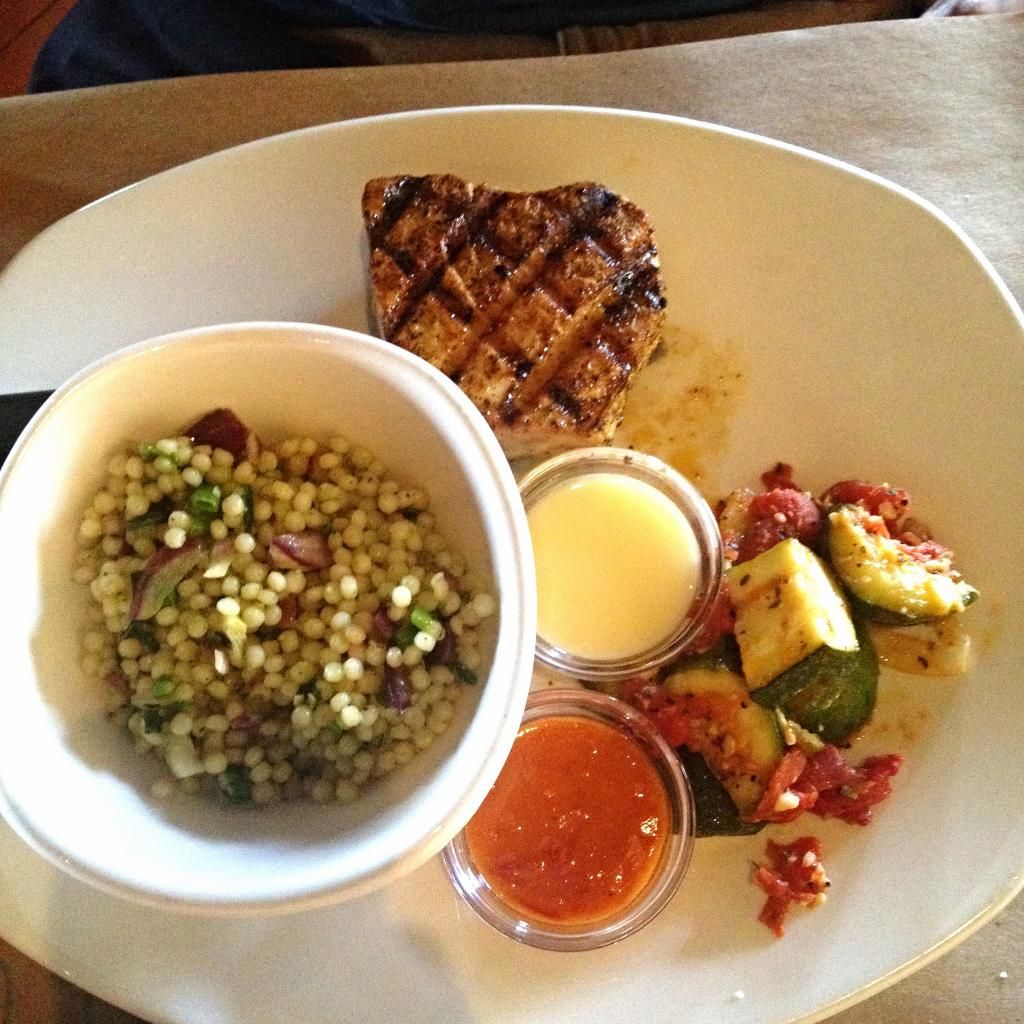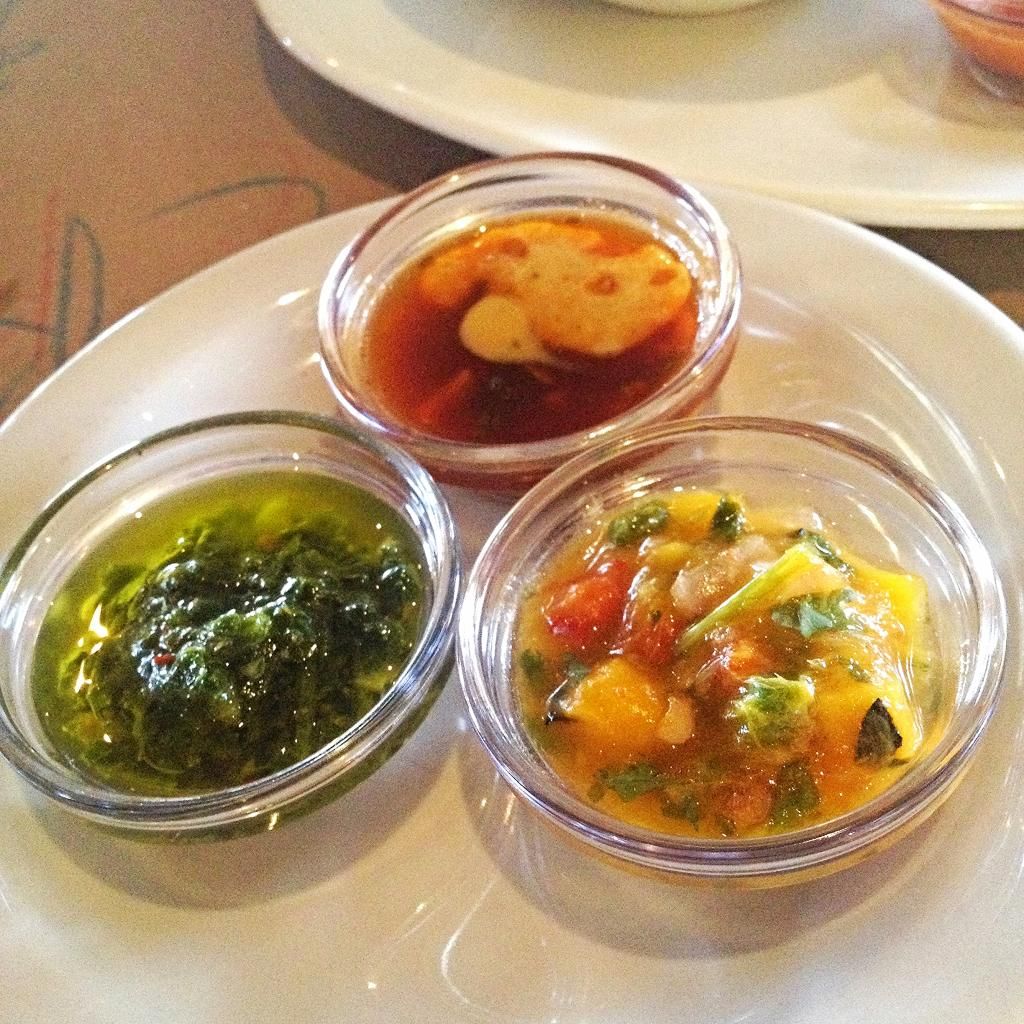 I almost went with the new Lobster Grilled Cheese (how amazing does that sound?!), but instead ordered the Spicy Tuna Bowl. I'm a sucker for sushi. My bowl included sushi-grade, sesame-seared rare tuna; avocado; sweet chile sauce; jasmine rice; and passion fruit salsa.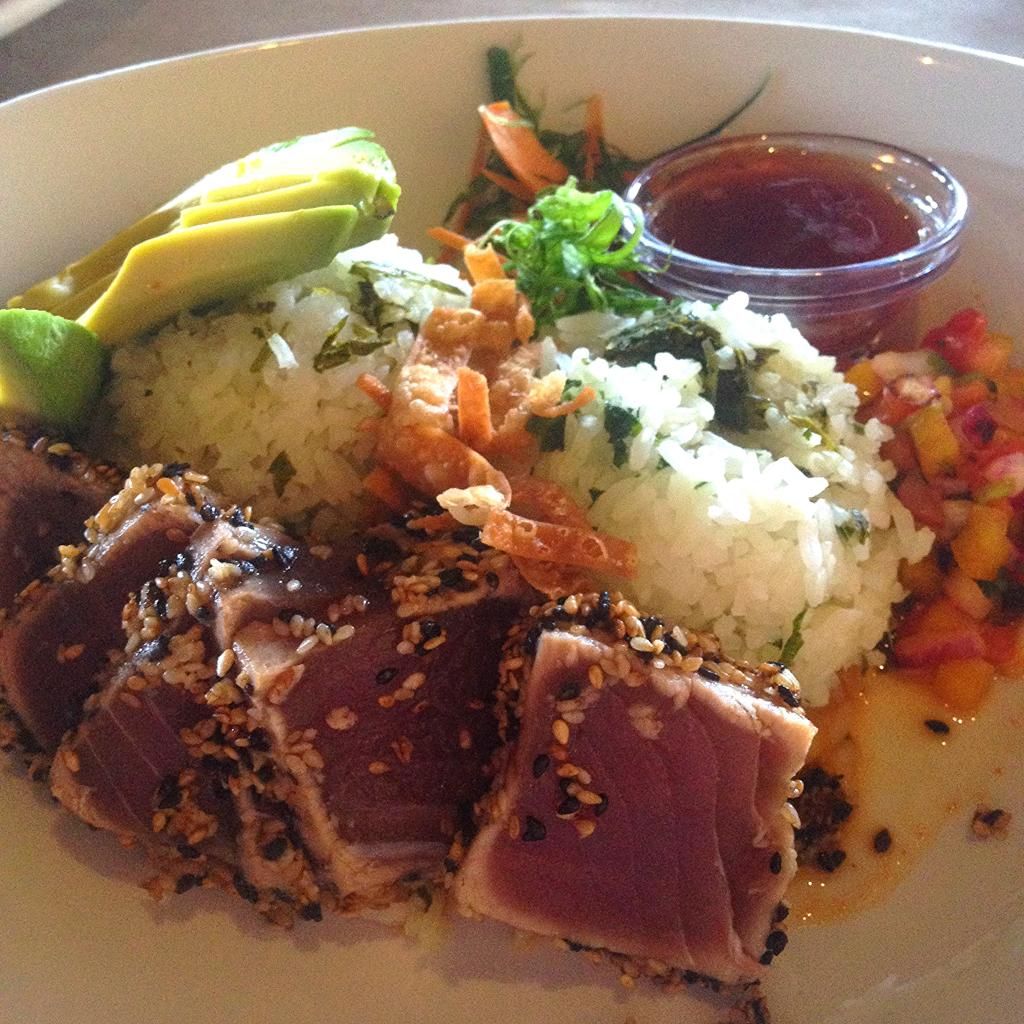 For Little J, we ordered his fail-safe restaurant dish: chicken tenders and french fries. Bonefish has a great multi-page menu with coloring pages for kids to draw on, as well as crayons to do so. Also, the table cloth is made of paper, so Little J loves to go to town drawing all over it.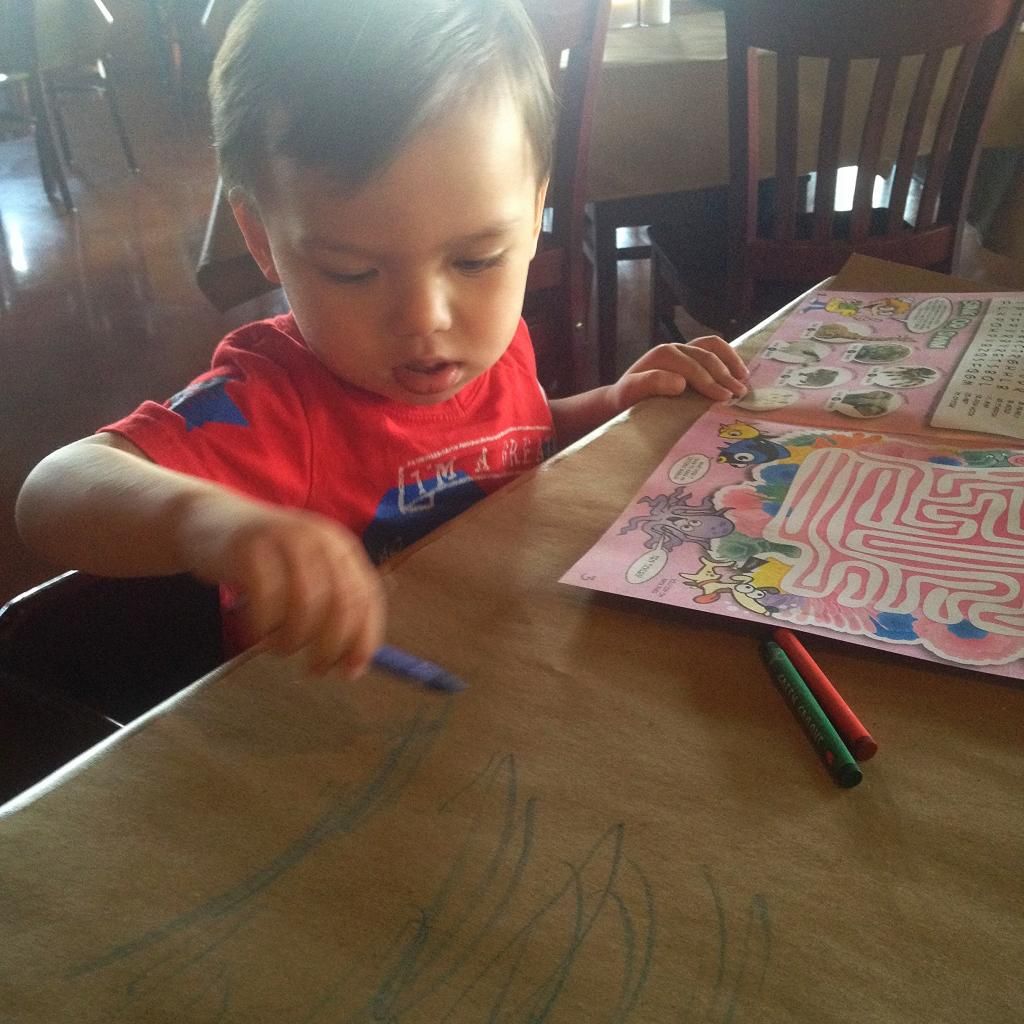 When we eat out, we usually skip dessert, but this time we couldn't resist the new S'mores Flatbread- creamy chocolate, toasted marshmallows, with sliced almonds, and sprinkled with graham cracker crumbs. Looks delish, doesn't it?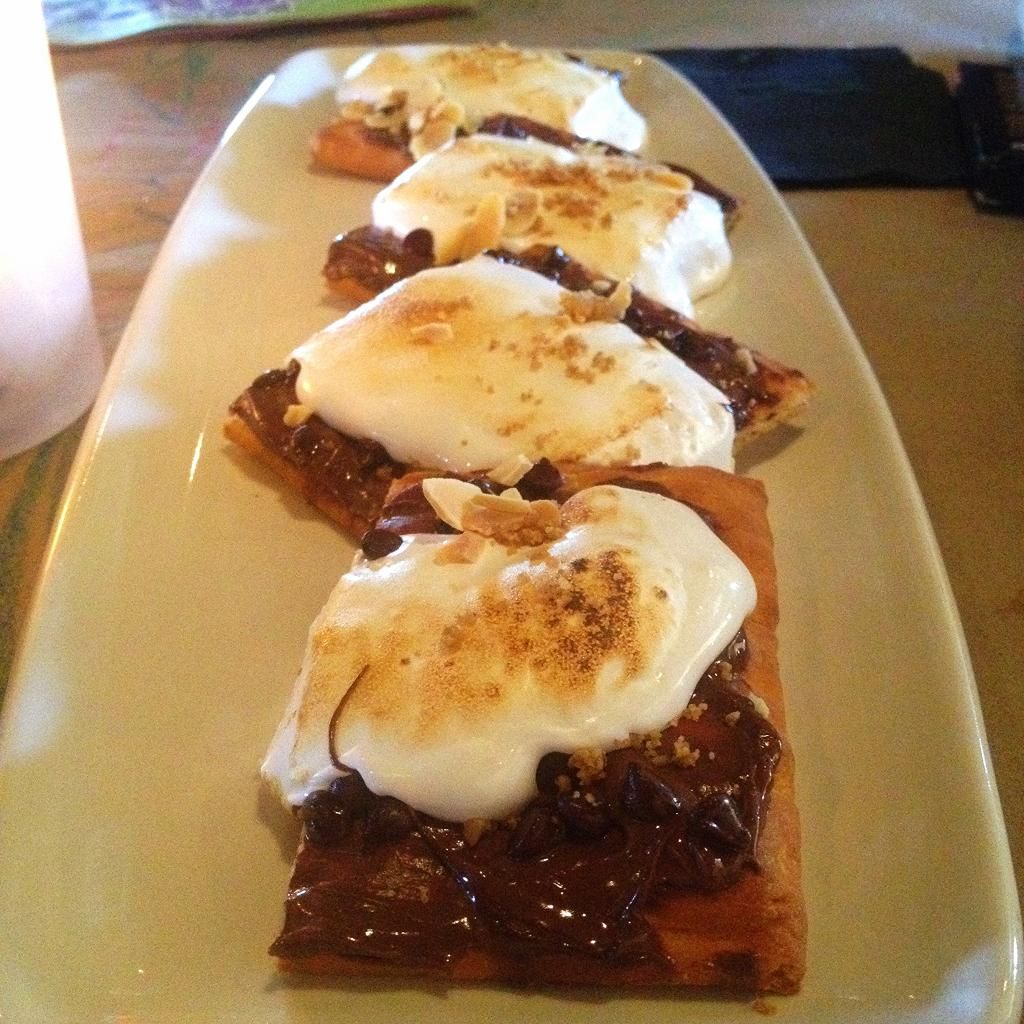 Thoughts on the new menu:
I was much more impressed this time around. I really enjoyed my Spicy Tuna Bowl. Between the sweet chili sauce and passion fruit salsa, it had a lot of flavor. Hubby loved his Ahi Tuna Steak, and so did I (obviously, I had to test his out too, right?). The tuna steak is worth going back for, in my opinion! Hubby liked his tuna steak dipped in the Pan Asian sauce, but I preferred the Herb Pesto. I've already mentioned the other new menu items that we were considering, and I would definitely like to try those down the road (date night, maybe). The S'mores Flatbread was delicious and a big enough serving to share. All in all…my faith in Bonefish Grill has been restored.
To see the full new Bonefish Grill menu, as well as locations visit their website at www.bonefishgrill.com. And don't worry; if you're not a seafood fan, there are beef, chicken, and all-veggie options.
Have you eaten at Bonefish Grill? What dish would you like to try off the new menu?
Note: I received a free gift card to visit Bonefish Grill and try out their new menu. I was not otherwise compensated for this post.