*Thank you, Nûby, for sending us the Sea Scooper!*
Nûby recently unveiled their new bath line, and these toys are cute! My favorite so far is the Sea Scooper. Okay, it's not exactly a toy, but from a mom's perspective, it sure is handy!
About:
This BPA-free bath toy scooper makes cleaning fun, quick, and easy after bath time is over. Grab the handle and scoop up your baby's toys into the whale's tummy, entertaining your baby in the process!
The built-in drain holes allow excess water to drain away from the toys and out of the pail. Use the easily installed wall hook to hang your scooper and toys out of the way until the next bath time.
Our Experiences:
It's great! Before the sea scooper, I just left Baby J's toys in the bottom of the tub. He's the only one that uses that bathroom unless we have guests. But when people stay with us, I gather them up and find a place to stick them. This is much better! I actually place the scooper into the tub during bath time, because he likes to play with it.
The hook was easy to install. After I first stuck it to the shower wall, I waited about an hour before placing the sea scooper on the hook. It stayed and has never fallen.
As reference, all of our bath toys fit inside of the scooper: the Nûby stacking cups, Nûby tub time turtle, a couple of rubber duckies, and some little bath squirters. There's still space to add more.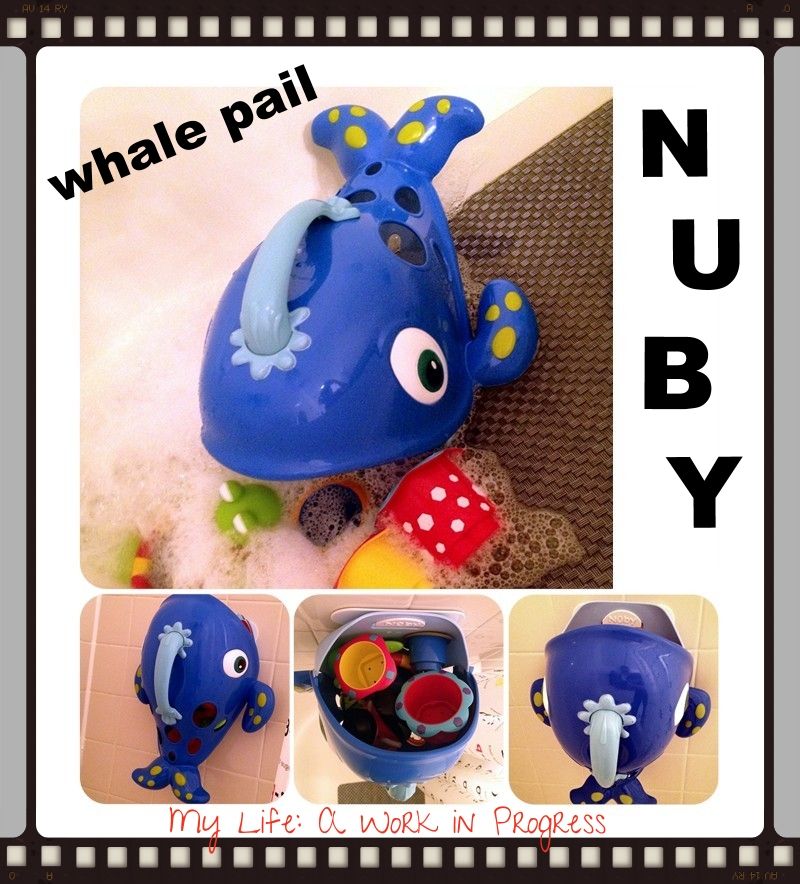 Where to buy:
Nûby's Sea Scooper is available from several retailers, including: Buy Baby Direct, Buy Buy Baby, Bed Bath and Beyond, Amazon, and Bealls. Prices vary, so make sure you shop around.
For updates on new Nûby products, follow them on their social media accounts (listed below). They always have great giveaways going on and other fun stuff!
Please support My Life: A Work in Progress and vote for me at Top Mommy Blogs and the Picket Fence. Just click once HERE and HERE. Thank you! -Elisebet