If you haven't seen my Holiday Gift Guide yet, I've been working on gathering a variety of products my readers may find interesting. Many of you are interested in eco-friendly products, so that's something I've specifically been looking for. I came across MailAMonkey.com, and loved their concept. When I reached out to them, they graciously agreed to send a Joel the Recycled Monkey for me to review and provide one for a giveaway prize.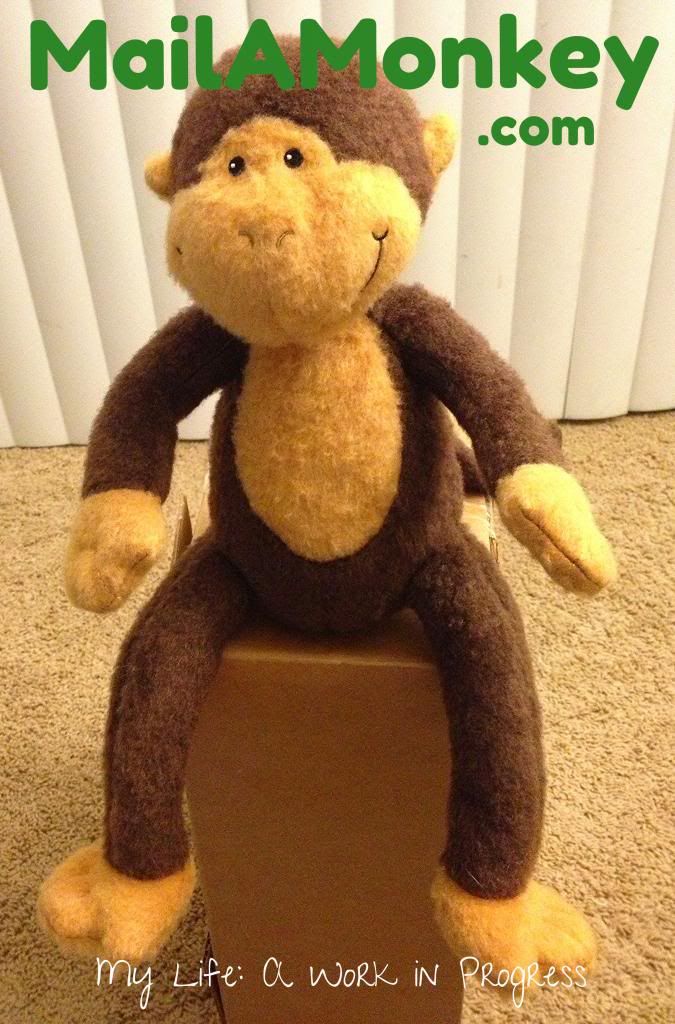 About:
With the idea of "Make People Happy," Mail a Monkey was founded by a husband and wife team, Carl and Laura. The site offers a variety of bright, colorful stuffed animals that ship to their new owners in reusable, recycled, clear tubes. When your friend or loved one opens their mailbox, they'll see their monkey or other animal staring up at them, along with a personalized note. Mail a Monkey has a variety of animals available, some made from recycled materials, others organic, and even corduroy. They even have Oscar the Organic Squeaky Monkey. Oscar is a dog toy!
Our Experiences:
As I mentioned in my introduction, I love what this company offers. The way these little guys and gals arrive in the mail is so fun and unique. I think it would appeal to all ages too, and the fact that they're an environmentally-conscious company is always a plus.
Carl suggested that I have the monkey mailed to someone who would enjoy opening the mailbox and seeing Joel. After thinking about it, I really wanted to surprise my husband. He deserved a light-hearted present. He's had a busy year, and things have been tough on him at work. Since he's been considered "essential," he's consistently been denied leave (even a single day) over the last year, even though his co-workers have had leave granted. Right now, J is FINALLY on a much-deserved leave from the Navy, but soon he'll be heading to school to learn a new rate (job) and from there…we don't know where he'll be stationed or where we'll be living! These last few weeks, J was working 6-days each week. I'm proud of him for making it through the stress and still being a good husband and father through it all. J was definitely surprised and pleased to see Joel sitting in our mailbox. He also thought it was "cool" that Joel was recycled from plastic bottles!
If you haven't yet, visit MailAMonkey.com to see how you could send a gift this holiday season and make people smile! You can also find them on Facebook, Instagram, and Pinterest.