Disclosure: I got this product as part of an advertorial.
Buttons Cloth Diapers are a brand I'd heard little about before getting the chance to review their one-size cover with insert and doubler.
The Buttons brand is founded by a husband and wife team from Washington State. They believe cloth diapers should be easy to use and affordable.
Their system is quite easy to use. This system is generally referred to as an all-in-two or AI2 diaper: the diaper cover and snap-in insert.
The diaper cover is one-size, fitting many babies from birth until potty training (approximately 9 to 35 lbs). The cover is adjustable by using the snaps on the front across the waist and up/down the rise.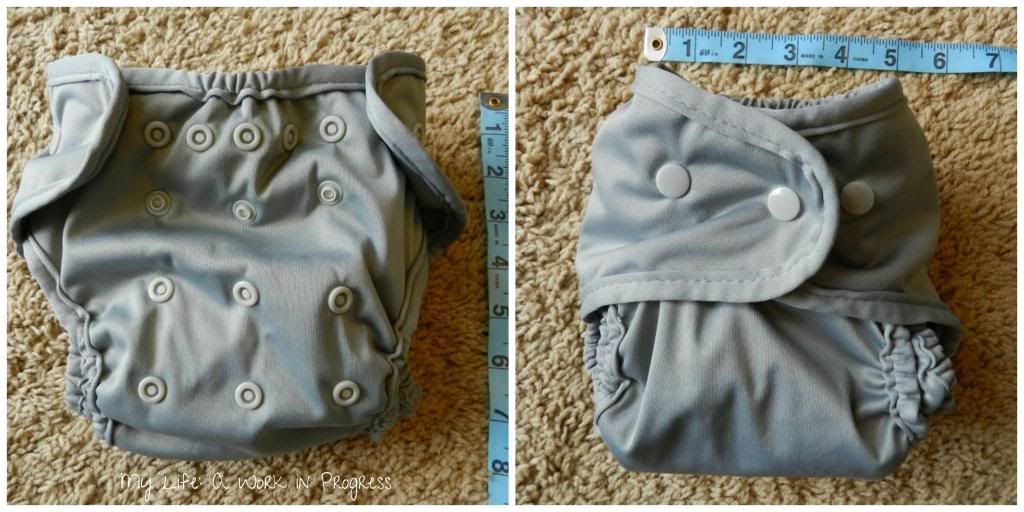 Since the cover is made from PUL, it's waterproof. You can also wipe the inside clean and air it out to use again before washing. The cover also features double gussets around the legs. I don't find double gussets absolutely necessary, but they're a nice bonus in holding poo in, especially with a young or small baby. There's also elastic at the back and front of the diaper, which I love. I'll go into the why further down in this post, when I talk about nighttime diapering.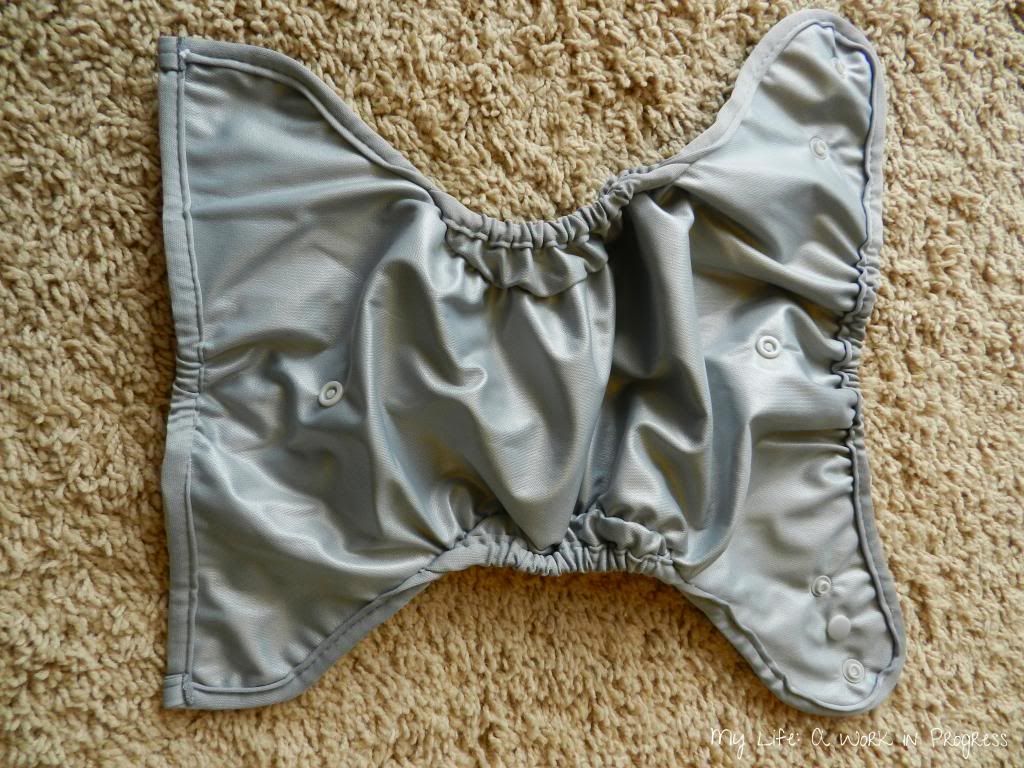 We received the large daytime insert (fits babies 20 to 35 lbs), and it snaps right into the diaper cover. This insert is really absorbent! It's probably the most absorbent microfiber insert we own. The insert is made from four-layers of microfiber. The downside, obviously, is that the insert is quite thick, so there's lots of bulk on Baby J's bum. That's just a normal part of cloth diapering.
The daytime insert is topped with a moisture-wicking fleece that goes against your baby's skin. The fleece is really soft, and I'm a fan of using fleece against Baby J's skin to prevent rash. I often cut strips from an old fleece blanket and place a strip inside his cotton diapers for the moisture-wicking properties.
Notice how the insert reaches past the front of the diaper in the below photo? I'm going to bring that up when I'm talking about nighttime diapering in a minute.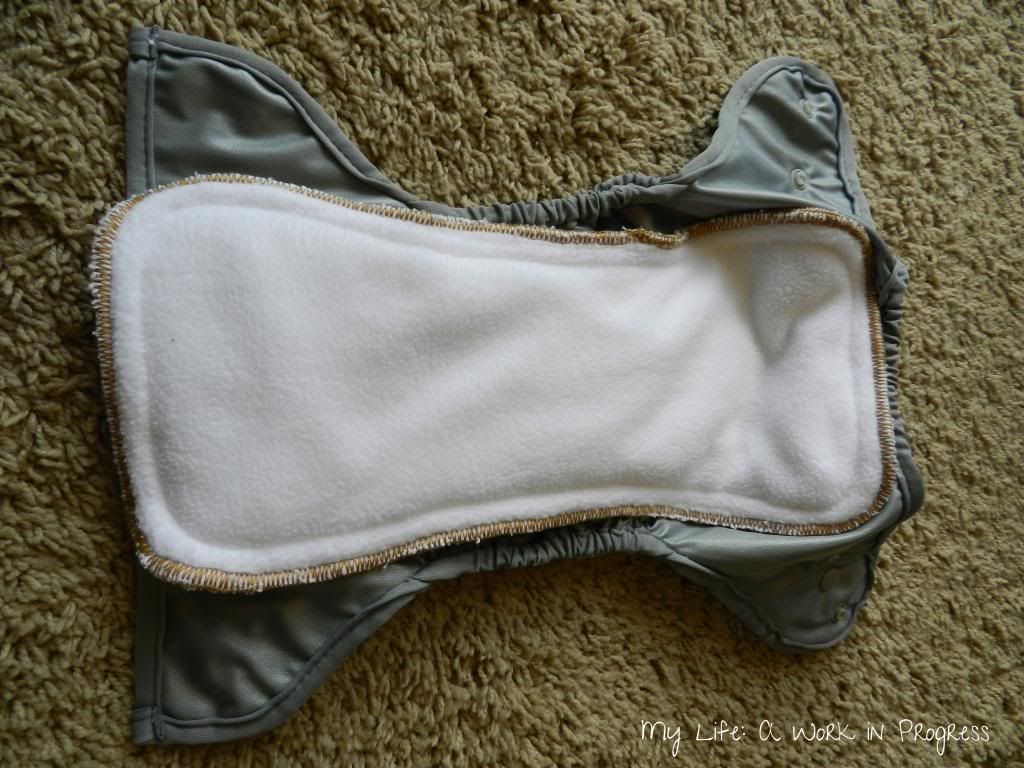 We also were sent the large nighttime doubler. It is not topped with fleece, so it's not meant to be used alone. You snap it underneath the daytime insert, and the entire thing then gets snapped into the diaper cover. The nighttime doubler has 6 layers of microfiber. So when the two are used together, Baby J has TEN layers of microfiber. He does not pee out of this diaper (probably won't ever, hahah).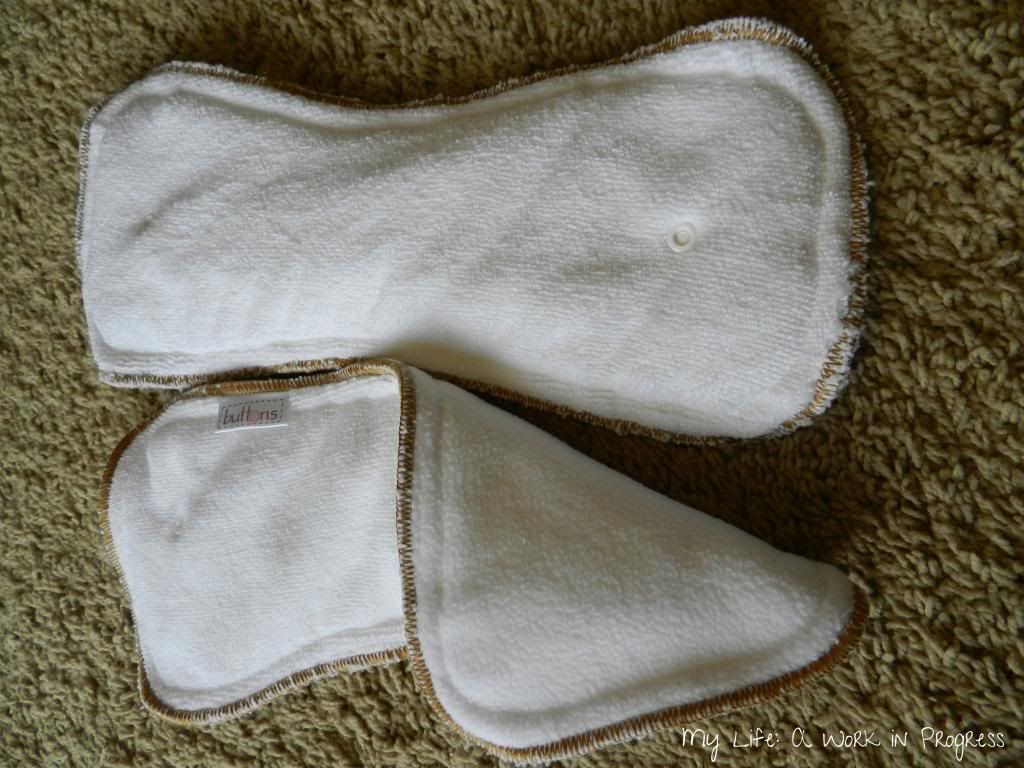 Again, the downside is ten layers make it a very bulky diaper, but it doesn't end up being bulkier than what I usually put on him at night. In order to go all night in a single diaper, he always has multiple layers.
So about nighttime diapering…I've already mentioned in this post that the daytime insert is a little long and that the diaper has elastic in the front. This is the only diaper cover we own that has elastic in the front and that is very, very handy for nighttime diapering.
When I double or triple diaper layers for nights, the covers that we have usually gap at the top of whatever diaper Baby J is wearing. Sometimes the fitted diaper and/or inserts (whatever combination we're using) poke up above the diaper cover, so by morning, Baby J's PJs are wet. Not so with this Buttons diaper cover! The elastic in the front folds and fits snugly over both the bulky daytime insert and nighttime doubler. Even though the inserts are quite long, the Buttons cover still manages to just cover the inserts, thanks to the elastic. I wish more diaper covers had this feature!
Washing is simple enough. Rinse on cold. Wash on hot with a cloth-diaper appropriate detergent (read about my cloth diaper laundry routine HERE). I then tumble dry the insert and doubler, and hang the cover to air dry.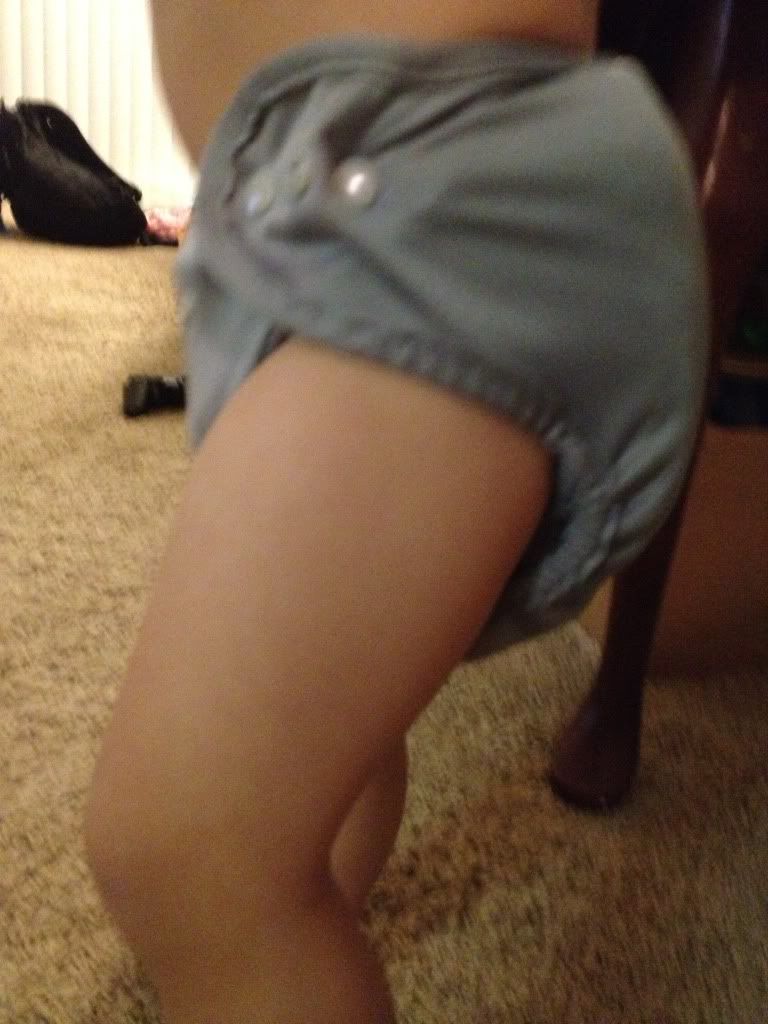 Currently, Buttons diaper covers retail for $11 each, the daytime inserts for $3.50 each, and the nighttime doublers for $5 each. Buttons also sells flushable bamboo liners and wetbags. You can also find their products on Amazon.
Overall, I'm very impressed with the quality of diaper and features for the price. If you're looking for affordable cloth diapering, especially affordable nighttime options, check out Buttons diapers.
Connect with Buttons Diapers at the links below:
Buttons Diapers website | Buttons Diapers on Facebook | Buttons Diapers on Twitter | Buttons Diapers on Pinterest
Note: I received one or more of the products mentioned above for free using Tomoson.com. Regardless, I only recommend products or services I use personally and believe will be good for my readers.