My co-writer, Ruth, is back today, bringing some of her yummy oats recipes! For those of you who don't eat gluten, oats are themselves gluten-free but often cross-contaminated with wheat, barley, or rye before they reach your table. Several companies like GF Harvest, Holly's Oatmeal, and Bob's Red Mill sell oatmeal that is tested to be uncontaminated. The oatmeal should be labeled as "gluten-free." If you're a diagnosed celiac or suspect you may be, always consult with your doctor first. РElisebet 
Oats, or at least oatmeal, is one of those comfort foods that should bring to mind family breakfasts around the table on winter mornings. In some cultures today, as well as earlier history in others, it's considered a holiday treat or dessert!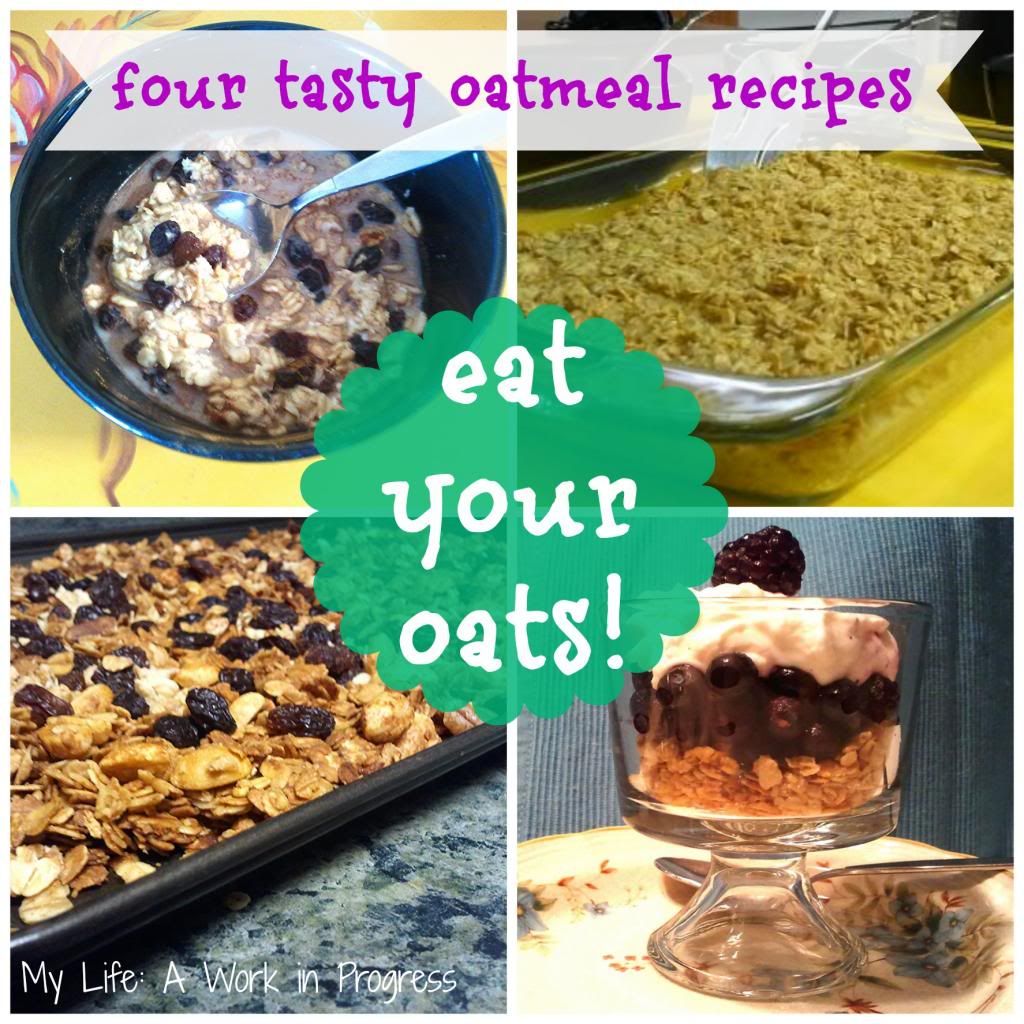 Regardless of your memories or experience with this 'Äúhearty'ÄĚ grain, it is one of the heart-healthy foods. That means it'Äôs low in saturated fats, low in cholesterol and sodium, and has no trans-fats. Plus, oats are high in dietary fiber and valuable minerals. This grain has been cultivated on our North American shores since the time of the Puritans.
Oats have always been a staple in my home. Cookies and muffins are well-known favorites'ÄĒboth make great breakfasts for the family on-the-go. There are a myriad of other possibilities, however, so try some of the recipes we'Äôve provided. Experiment and create variations that fit your family'Äôs tastes. Get more of this valuable grain in your diet. Eat your oats!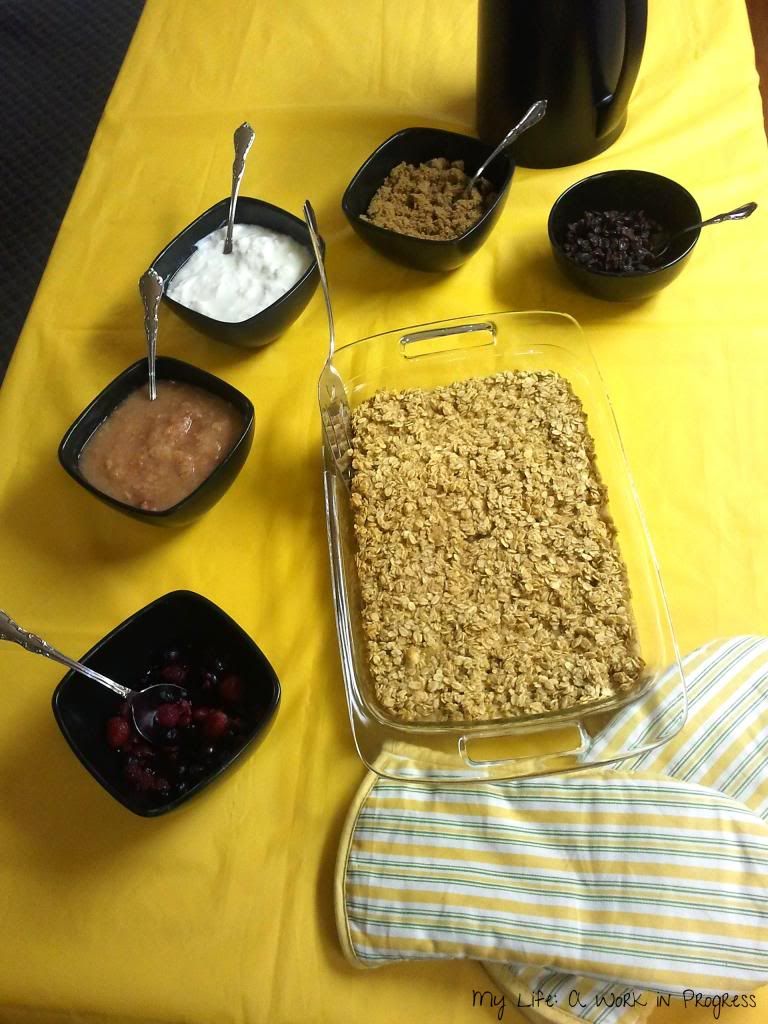 Basic Baked Oatmeal
6 cups old fashioned oats
1 cup brown sugar
1 T. baking powder
1 cup oil
2 cups milk
4 eggs
1 t. salt (optional)
1 t. vanilla extract (optional)
Beat the eggs, add the oil and milk; stir the baking powder into the sugar and then add to the wet ingredients with the oats.¬† Mix together well and pour into a greased 9×13 inch pan and bake for about 25 minutes (toothpick should come out clean) at 350 degrees. Spoon into dishes (or cut into squares first); add milk or yogurt and fresh fruit, as desired.
Once you'Äôve got the basics down'ÄĒstart experimenting with what your family likes best. Replace part of the oil with applesauce. Reduce the sugar or try honey or maple syrup instead as a sweetener. Add raisins, nuts, blueberries or other fruit to the mix before baking.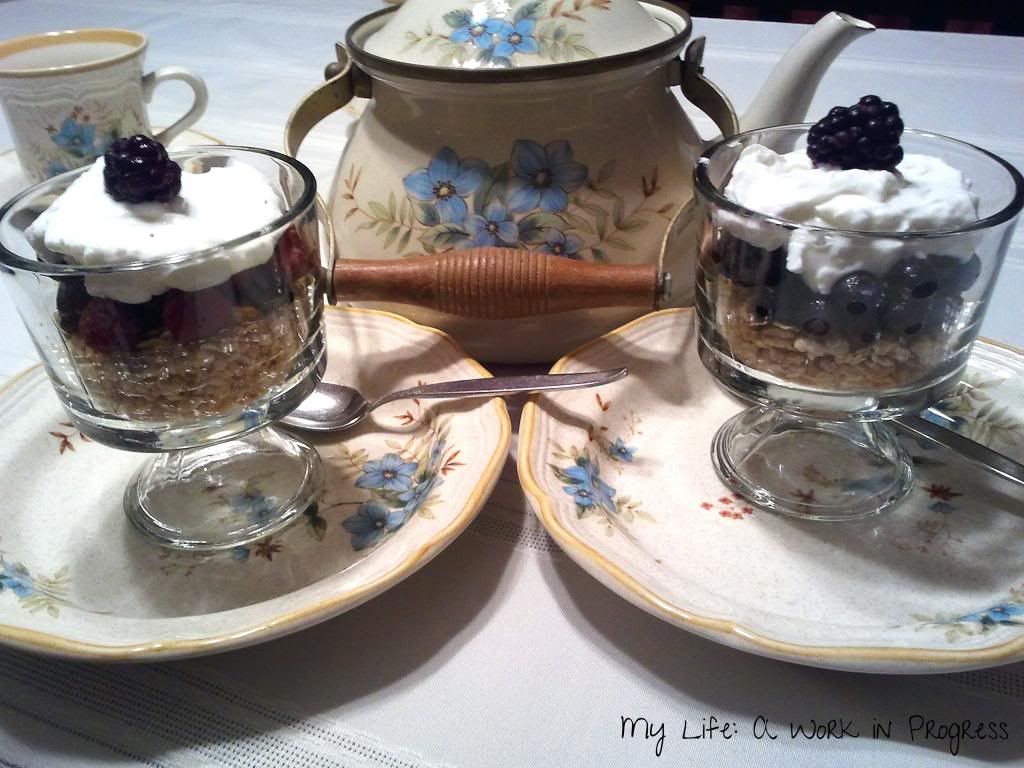 Granola Yogurt Parfaits
Kids love making these, but I've also found them my favorite company breakfast dish served alongside a quiche. If you can find mini-trifle glasses (I purchased mine from Walmart), everyone can make their own and include as much or as little of any ingredient that they desire. Alternatively, layer the ingredients in a glass bowl and let everyone dig in. It's a fun, tasty dessert or breakfast that is pleasing to the eye.
2 cups of granola (recipe included)
2 cups yogurt (I like to purchase non-fat, plain Greek yogurt with live cultures)
2 cups berries (fresh or thawed frozen)
Honey for sweetening the yogurt layer (optional)
Applesauce (alternative to the fruit layer)
Makes four mini-trifle dish servings. Double the ingredients for a regular size trifle and make six layers instead of three.
Basic Homemade Granola (or Muesli*)
At least 5 cups of oats plus a total of 2 cups from the following:
chopped nuts
wheat bran
wheat germ
seeds (sunflower, sesame, pumpkin, flax)
wheat or barley-based purchased cereals such as a shredded wheat or wheat berry
spices (cinnamon, nutmeg)
At least 1/3 cup of oil plus a total of 2/3 cup from the following:
honey
molasses
maple syrup
peanut butter
brown sugar (2 T. fruit juice with ¬Ĺ c. sugar)
After baked and cooled, add any dried fruits desired.
Stir the liquid ingredients together, add to the dry and mix thoroughly. Bake at 300 degrees on a large greased cookie sheet (or two 15×10 inch), stirring frequently, for 30 minutes or so until oats are dry and just golden'ÄĒdon'Äôt burn them; though if you prefer a crispier granola, baking will be slightly longer. Allow the mixture to cool, add dried fruit, and store in a covered container. You may be able to leave your granola at room temperature depending upon your liquid ingredients and how crispy; otherwise, store in the refrigerator.
*For muesli (uncooked oat cereal), use the dry ingredient proportions listed for the granola, then add 1 cup of dried fruit and ¬ľ cup brown sugar (no liquids and no baking). Store in a sealed container in the fridge or keep at room temperature for a month.
Overnight Oatmeal
Usually the overnight oatmeal recipes that you find are for steel cut oats which work for a Crock-Pot make-the-night-before breakfast. Regular oats, however, generally cook too fast for overnight Crock-Pot cooking. Of course, instant oats can be cooked in a microwave for a quick meal, but I like to use regular oats, and neither family-size nor single portion regular oats are that easy to microwave. I  have to keep turning on and off the microwave to get a creamy porridge consistency without the oats boiling over.
So, try this trick. Place ¬Ĺ cup oats for each portion you desire in a bowl and pour an equal amount of milk over; cover and refrigerate overnight. In the morning add your flavoring. I like to use raisins and cinnamon without any sweetener. No additional milk or cooking is needed. The oatmeal has a lovely, creamy texture and, if you like, may be warmed up briefly in the microwave.
How do you like your oatmeal? What's your favorite hot or cold breakfast?