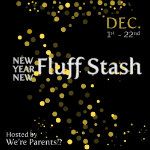 Over the next two weeks I'll be participating in some awesome giveaways as part of the New Year New Fluff Stash event hosted by We're Parents?
This giveaway is sponsored by LooHoo Wool Dryer Balls. This Handmade in the USA company was started in October 2010 by a cloth diaper mama. Dryer balls are a wonderful alternative to dryer sheets. Made with felted wool, these dryer balls are approximately the size of a tennis ball and reduce static and drying times by up to 25 percent. They also soften clothes!
Although my hubby still likes dryer sheets in his laundry, I use dryer balls in all of my son's cloth diaper and baby clothes laundry. That way I can ensure there's no chemical residue touching my son's skin. Dryer sheet residue on cloth diapers can also cause them to repel moisture…not a good thing!
You should start with three dryer balls, but the more you have, the better your results and the quicker your clothes will dry.
LooHoo Wool Dryer Balls is giving away one Starter Pack of 3 dryer balls (ARV $26.85). Open to the US and Canada. Enter to win below!
Note: My Life: A Work in Progress is not responsible for shipment of prizes.
Winner:
Entry #705 Miranda L.