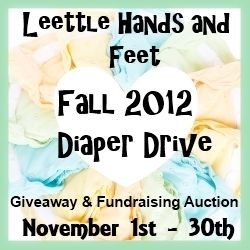 Fall 2012 Cloth Diaper Drive – Supporting The Tomahawk Sustainment Mission. . . 
Sign ups are OPEN!
Leettle Baby will be hosting the Leettle Hands and Feet Fall 2012 Cloth Diaper Drive, which will run from November 1st – 30th, 2012. Not only will there be a giveaway for a stash of cloth diapers, but there will be charity auctions in efforts to raise money to start a cloth diapering program that will benefit at least 500 babies in the impoverished areas of the Kentucky Appalachia!
DID YOU KNOW? The Appalachia region covers 13 different U.S. states, encompasses 420 counties and includes 25 million people? Sadly, some of the most distressed areas have 150% poverty rate over the average U.S. rate.
Read more here about the Tomahawk Sustainment Mission and their cloth diaper outreach program.
Head on over to the Leettle Baby blog and sign up today if you are interested in participating in this giveaway hop event which includes a FREE blogger opportunity! The deadline for sign ups is October 30th, so don't hesitate to sign up for this wonderful event!
Also…sponsors for the giveaway and auction are still wanted and greatly appreciated! Please contact Alanna at leettlehandsandfeet@gmail.com if you would like to help.
EVENT DETAILS
DATES: Â November 1st – 30th (Giveaway will run from November 1st – November 30th), 2012
COST: Â FREE with announcement post, $5 for 2 links, $1 each additional, & $10 for host follow pages
GIVEAWAY PRIZE:Â  Â A cloth diaper stash & accessory package…and more! Click here to view prize listing & sponsors
Sign & Learn More @ LeettleBaby!