*Post contains sponsored content.*
It's no secret to my friends and family that I gained too much weight while pregnant. I always said I wouldn't be one of those women who blimped and gained 70 lbs. while pregnant. But I totally was! I have a few excuses why, but the biggest reason is that I just wasn't active enough. I'd come home to an empty apartment after a long day at work (my husband was deployed), and all I'd want to do is eat and sleep or eat and watch TV. So that's what I did.
After I had my son, I made a point of walking several times a week. If the weather was nice, I went to a local park. In bad weather, I walked around inside the mall. I'd go months without seeing a lot of results, and I wanted to give up. But I always felt better after exercising, so I continued to do it. Eventually it paid off. After 18 months postpartum, I finally reached my pre-pregnancy weight. I attribute my weight loss to a healthy diet and frequent exercise.
Running has never been my "thing." Walking is enjoyable, but I've always claimed to hate running. This fall I finally got tired of my negative mentality and decided the only way to get over it was to train for a half marathon in the Spring! In just a couple of months, I went from barely being able to run 3/4 of a mile to running 10 miles!
Here are my two tips for making running a little less sucky for moms:
Run with a buddy (or several!).
Buy a quality jogging stroller.
I have another mom that I run with regularly, and occasionally, other women join us. That's the only way I could've made this much progress in a few months. If you don't know anyone who wants to run…well, first try to persuade them. Maybe bribe them with coffee afterwards or something! You could also check out local meet-up groups for moms. A quick Google search should help you find other mamas in the area.
Once in a while, I still do run by myself (and Baby J, of course), but it's difficult. I usually run longer and faster than I would've this summer though, before I started my running journey.
Also, a good jogging stroller is very important! I've only run without Baby J a couple of times. Normally, I have him with me. If it's a cold day, I bundle him up. He's even worn his entire snow suit before, sitting in the stroller on a cold, windy day! Baby J loves to come with me on runs. He'll fuss if I stop moving! And if you have a baby that struggles to nap, running with a jogging stroller could be a great way to soothe your little one to sleep.
We're approaching the new year, but before starting your resolutions…why not finish this year the right way? You still have a week and a few days. Sure, enjoy the delicious holiday foods. But why not get out there and bump up your exercise routine before 2014!
PishPoshBaby.com is an online and brick & mortar store that I've recommended numerous times. They have an innovative showroom in New Jersey, and their online mom expert chat support is really helpful. The site has a huge inventory of strollers and stroller accessories. Whether you're looking for a single, double, light weight, jogger, or more, you can probably find it at PishPoshBaby.com!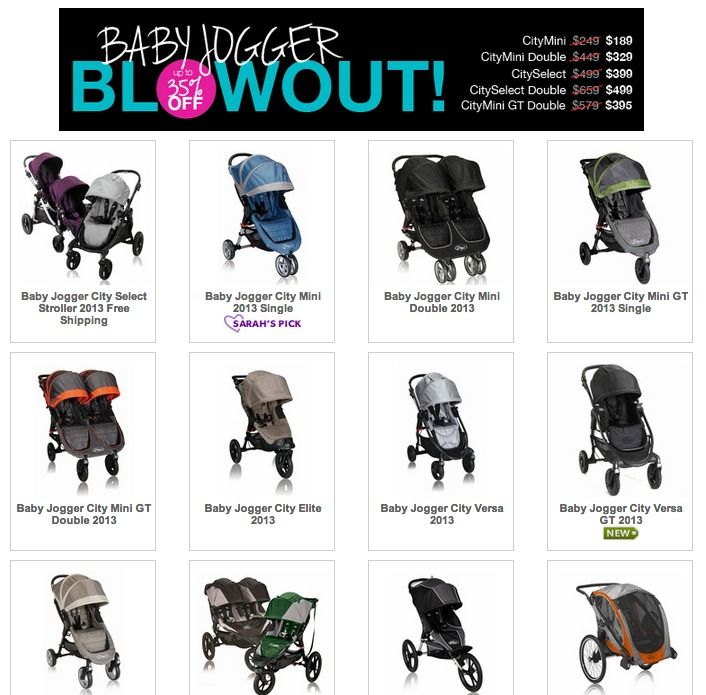 Currently, PishPoshBaby.com has a great sale on Baby Jogger strollers. You can save up to 35 percent during this year end clearance event. You can also take a sneak peek at the 2014 Baby Jogger line and sign up to be notified when they're available. All orders $75 and up ship free from PishPoshBaby.com. Click HERE to see the sale!
How do you stay active?
Note: I received monetary compensation to promote the Baby Jogger sale at PishPoshBaby.com. However, all opinions stated are my honest opinions. They may differ from yours. Get out there, walk, and run!